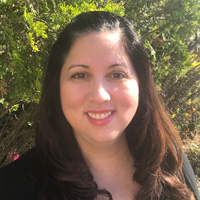 Jeanette Lopez-Urbina, LCSW
Part-Time Faculty
jlopez-urbina@wi.edu
Pronouns: she/her
BA Psychology - UC Santa Cruz, 2002
MA Social Work - University of Southern California, 2007
Professor Lopez-Urbina is a licensed clinical social worker and has worked in the mental health field since the year 2000 in various settings in Northern and Southern California, including providing individual and family services through various models, such as Wraparound, community-based psychotherapy, and violence prevention work. Professor Lopez-Urbina has worked extensively with youth and families, especially in the area of trauma, including in specialized services that address gang involvement, childhood abuse/foster care, sexual exploitation, immigration trauma, and issues related oppression, racism, and acculturation issues.
Professor Lopez-Urbina holds partnerships with a couple of community agencies to support their service delivery, including providing Spanish consultation services, as a Spanish Native Speaker, to support clinicians, at a community-based agency, in practicing their bilingualism as well as to learn culturally responsive services that align with the LatinX community. Professor Lopez-Urbina also provides trainings throughout the Bay Area in English and Spanish on topics related to the LatinX population, trauma-informed care, and culturally responsive services.
Professor Lopez-Urbina currently holds a group private practice in Berkeley and enjoys practicing mostly from a social justice, relational, and psychodynamic approach. Professor Lopez-Urbina is currently expanding her private practice to hold a vision that involves increasing the representation of clinicians of color in the private practice setting by building a team of clinicians that are representative to the community that we are serving.
In her personal time, Professor Lopez-Urbina enjoys spending time with her husband and daughter. She enjoys taking walks in nature, reading, and traveling.
Professional Memberships
National Association of Social Workers (NASW)
LatinX Therapists Action Network
Teaching
Community Mental Health
Family Therapy
Family Violence and Protection
MFT Professional Development Seminar