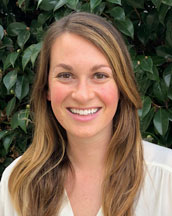 Katherine Tarnoff, M.A., L.M.F.T.
Core Faculty
ktarnoff@wi.edu
B.S. Communications - Boston University, 2007
M.A. Counseling Psychology - The Wright Institute, 2012
Professor Tarnoff is a Licensed Marriage and Family Therapist with extensive experience and a passionate commitment to working in community mental health. Her primary focus has been in home and school based settings in Alameda and Contra Costa County, serving families, children and adolescents in individual and group therapy. Professor Tarnoff is a staff clinician and supervisor for Bay Area Community Resources (BACR) in Richmond, CA with attention toward systemic change within the school district, focusing her efforts through a restorative practices model and trauma-informed care.
Professor Tarnoff's clinical work in community mental health offers collaborative and culturally sensitive approaches toward treatment including Narrative, Solution-Focused and Brief Strategic Family Therapy. Professor Tarnoff has organized community efforts in Richmond to write grants that engage environmental support such as starting a wraparound program, provide trainings to educators around complex and developmental trauma, as well as starting a school garden. Professor Tarnoff has experience working closely with Children and Family Services (CFS) as well as direct response and foster care providers, offering support around reunification with children and their caregivers.
Professor Tarnoff also has a part-time private practice in Berkeley where she works with adults, families, adolescents and children in a group and individual capacity. Her private practice work also focuses on providing psychological assessments, screenings, consultations and counseling for donors and surrogates involved in the process of Assisted Reproductive Technology (ART). Professor Tarnoff has worked with various fertility centers such as: Northern California Fertility Medical Center, Stanford Fertility and Reproductive Health Center, UCSF Medical Center, California IVF: Davis Fertility Center and Woman to Woman Fertility Center.
Professor Tarnoff has received post-graduate training in play therapy, expressive arts, specialized counseling for individuals engaging in the process of assisted reproductive technology and ongoing facilitator training around multicultural awareness and sensitivity.
In her spare time, Professor Tarnoff is exploring running trails around the Bay, enjoys backcountry trekking and travel with her partner, cooking and discovering new live music.
Professional Memberships
American Association of Marriage and Family Therapists (AAMFT)
American Society for Reproductive Medicine (ASRM)
Association for Play Therapy (APT)
California Association of Marriage and Family Therapists (CAMFT)
Teaching
Community Mental Health
Family Therapy II: Postmodern Theory
MFT Professional Development Seminar
Multicultural Awareness and Sensitivity