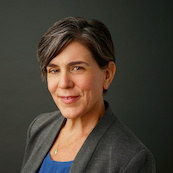 Kristin L. Dempsey, EdD, LMFT, LPCC
Full-Time Faculty
kdempsey@wi.edu
Pronouns: she/her
BA Women's Studies - San Francisco State University, 1989
MS Counseling: Marriage, Family, and Child Counseling - San Francisco State University, 1994
EdD Organizational Change and Leadership - University of Southern California, 2018
Dr. Dempsey is a licensed marriage and family therapist (LMFT) and professional clinical counselor (LPCC). She has provided psychotherapy in the Bay Area for almost 25 years in public non-profits and county mental health settings, schools, and medical clinics. Her current psychotherapy practice is located in San Francisco and Burlingame.
Dr. Dempsey's areas of clinical interest include treatments for co-occurring mental health and substance use disorders, complex trauma in childhood and adolescence, eating disorders, panic/anxiety, and many behavioral challenges such as anger management and impulse control disorders. She has worked with adults, senior adults, transitional age youth, adolescents, and children in individual, family, and group modalities.
In addition to clinical work, Dr. Dempsey trains community behavioral health providers in a number of evidence based and promising practices. She is a member of the Motivational Interviewing Network of Trainers, and has experience teaching and training cognitive behavioral therapy (CBT), cognitive behavior therapy for psychosis (CBTp), and dialectical behavior therapy (DBT). She has been a master trainer for Applied Suicide Intervention Skills (ASIST), and has been trained in the Neurosequential Model of Therapeutics (NMT) to assess trauma impacts in youth and adults. Dr. Dempsey also provides additional programmatic consultation regarding behavioral health system redesign and implementation of evidence-based practices. Dr. Dempsey is the incoming board president for the California Association for Licensed Professional Clinical Counselors.
Dr. Dempsey is engaged in behavioral health workforce development research and organizational change projects. She is especially interested in investigating and promoting best practices to recruit and retain underrepresented clinicians in the mental health and substance abuse treatment fields.
Professional Memberships
American Association of Marriage and Family Therapists (AAMFT)
California Association of Marriage and Family Therapists (CAMFT)
California Association of Licensed Clinical Counselors (CALPCC) Board of Directors; President, 2023-24
American Counseling Association (ACA)
Association for Contextual Behavioral Science (also Bay Area Chapter of ACBS)
Motivational Interviewing Network of Trainers