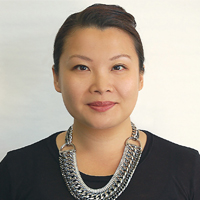 Stephanie Z. Chen, PhD
Full-Time Faculty
schen@wi.edu
Pronouns: she/her
BA Psychology and Asian American Studies - Wellesley College, 2001
MA Clinical Psychology - Alliant International University, 2005
PhD Clinical Psychology with Multicultural and Community emphasis - Alliant International University, 2008
Dr. Chen is a licensed clinical psychologist with passion and commitment in providing mental health services to children, youth, adults and families. She has many years of extensive training and experience working with diverse children, adolescents, young adults and adults who struggle with emotional, behavioral and interpersonal difficulties including but not limited to anxiety, depression, complex trauma and grief and loss. She has provided individual and family therapy, in-patient and mental health consultations and crisis assessments in various settings of outpatient clinics, medical facilities and schools.
As a bicultural and bilingual psychologist, Dr. Chen's areas of expertise include working with individuals and families who grapple with the impact of immigration, problems with acculturation and the tension of navigating between conflicting cultures, values and worlds. Her clinical and research interests consist of ethnic/cultural identity formation, and the integration and application of relational psychodynamic theories and techniques with a multicultural and social justice lens.
In addition to a private practice, Dr. Chen has worked at a community mental health agency in San Francisco as a therapist and supervising psychologist where she provided psychotherapy to child and adolescent clients and supervision to trainees and staff from different stages of their professional development. She also managed a school-based partnership that provides onsite mental health services to Special Education students in several SFUSD middle and high schools.
Outside of her professional life, Dr. Chen enjoys travelling and unwinding by watching marathon reality TV shows. Other activities include spinning and boxing with her husband; and as a former New Yorker, she has passionate opinions about food, especially about bagels and pizza, and loves exploring culinary experiences throughout the Bay Area and around the world.
Professional Memberships
American Psychological Association (APA)
     Division 2, Society for the Teaching of Psychology
     Division 39, Psychoanalysis
          Section II: Childhood and Adolescence
          Section IX: Psychoanalysis for Social Responsibility
     Division 45, Society for the Psychological Study of Culture, Ethnicity and Race
Asian American Psychological Association (AAPA)
Bay Area Therapists Specializing in Adolescence
Northern California Society for Psychoanalytic Psychology
Teaching
Child and Adolescent Counseling
Clinical Assessment and Measures
Common Therapeutic Factors
Diagnosis and Empirically Supported Treatments
Law and Professional Ethics
MFT Professional Development Seminar
Multicultural Awareness and Sensitivity