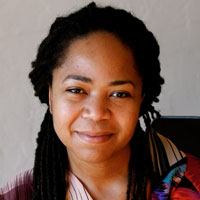 Taquelia Washington Toland, L.C.S.W
Part-Time Faculty
twashington@wi.edu
B.A. Sociology with minor in African American Studies - UC Davis, 2002
M.A. Social Work - San Jose State University, 2004
Professor Washington is a licensed clinical social worker and holds a pupil personal services credential. She has extensive experience working in community mental health, specializing in providing services in the school systems. For over 10 years she worked at a continuation school, providing mental health related services to "at risk" and "hard to engage" youth while also developing systems of care to help best support them. In addition, she has direct experience providing intensive therapeutic services to youth and their families in outpatient clinic settings. She utilizes an integrative approach in her clinical practice and strongly believes in the importance of building relationships and utilizing a culturally inclusive and trauma informed lens.
In addition to her direct practice work, Professor Washington is the sole proprietor of EmpowerMe! Services. Through this business she provides contracted supervision to aspiring mental health professionals, teaches workshops designed to help those in helping professions provide more culturally inclusive services, and facilitates courageous conversations as requested by a variety of organizations. Additionally, Professor Washington provides consultation services to help support in developing systems of care related to providing more culturally inclusive services. Professor Washington is an engaging and dynamic speaker who brings all of herself to each of her endeavors.
When she is not working, Professor Washington loves spending time with her wife and son, exploring nature, running, and eat yummy food.
Professional Memberships
National Association of Social Workers (NASW)
California Association of Marriage Family Therapists (CAMFT)
Teaching
Multicultural Awareness and Sensitivity
Community Mental Health
MFT Professional Development Seminar