Alumni Spotlight: Ian Vianu, Class of 2014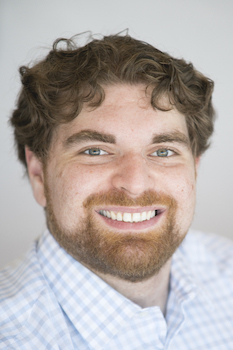 "I don't think there's ever been a better time in our history to get into the mental health field," says Ian Vianu. "There are so many different ways to help people, and those different ways are becoming more widely accepted every year."
A 2014 graduate of the Wright Institute Counseling Psychology Program, Ian Vianu has spent his career exploring different ways to help people. An East Bay native, Vianu studied psychology at UC Santa Cruz before working as a research assistant around the Bay Area. When deciding upon a graduate program for psychology, he wanted to stay local and find a program that would allow him to work while taking classes.
Like many other Wright Institute graduates, such as his cohort-mate and current Counseling Psychology Core Faculty member Beth Greivel, Vianu's practicum experience had a significant impact on him. He spent his practicum at San Leandro's Fairmont Hospital, where he gained experience working with serious symptoms of mental illness. Vianu worked in both the partial hospitalization program and the intensive outpatient program, seeing clients with diagnoses of schizophrenia, schizoaffective disorder, major depressive disorder, and bipolar disorder.
"One of my favorite aspects of the Wright Institute is that they are so well-connected to the community of local mental health organizations," Vianu says. "The insight that I've gained from that experience has stayed with me, and I have been happy to pass some of that along to the students who have followed me at Fairmont."
While still taking second-year classes and completing practicum, Vianu began to work part-time at Lincoln, a large children's mental health nonprofit serving schools in Alameda and Contra Costa counties. After graduation, he took part in Lincoln's Multidimensional Family Therapy (MDFT) program, where he gained experience with juvenile justice under an unconventional framework.
"That experience was very taxing on me as a clinician, but it gave me the opportunity to explore types of work that I never would have otherwise," Vianu reflects. With the MDFT program, clinicians have a "boundary-less" relationship with clients, in which they are empowered to assist clients outside of the typical scope of therapy. In practice, this could mean clinicians would assist their clients with tasks from getting groceries to even finding a place to sleep. "It's not for everybody, and I was certainly skeptical of the model when I began," says Vianu, "but that program enables clinicians to integrate with families that are often very distrusting of social services."
After departing Lincoln, Vianu joined Humanistic Alternatives to Addiction Research and Treatment (HAART), where he found another opportunity to push his limits as a clinician. At HAART, he began working with people actively struggling with addiction, as well as those in recovery from addiction. "People in those situations are doing the best with what they have, and the work that will help them live better lives can really test you as a clinician" says Vianu.
After earning his MFT (marriage and family therapist) license in 2017, Vianu started his own private practice in Berkeley, serving individuals, couples, and families. "It's been an amazing experience," he says. "It's great to have a wide variety in the types of people you work with, and private practice has allowed me to see different types of clients than I do in community mental health." Vianu is currently meeting with clients with video and phone appointments as a result of the COVID-19 pandemic.
Despite the success of his private practice, Vianu wants to keep his focus on community mental health. Even with a growing network of practicing clinicians in the Bay Area, he still sees a desperate need for those focusing on community mental health. "I see a lot of folks entering the mental health field who intend to go straight to private practice work," he says. "Meanwhile, there are entire segments of society that are still being neglected."
In some ways, Vianu aspires to run his private practice like a community mental health organization. "I do my best to make all decisions based on a clinical decision-making process," he says. "It might hurt the bottom line of a private practice, but you can't be afraid to refer a client out if they're not right for you or if they could be better served elsewhere."
Now six years out from graduation, Vianu works for Alameda County Behavioral Health as a clinician in the crisis services division. In this role, he works on the mobile crisis and mobile evaluation teams, which both work directly with the Oakland Police Department to respond to mental health crises in the community.
Along with his role with Alameda County and his private practice work, Vianu is excited to embark on a research project that will explore the efficacy of psychotherapeutic interventions, such as Eye Movement Desensitization and Reprocessing (EMDR), after a major physical trauma. A friend connected him with the head of orthopedic surgery at Oakland's Highland Hospital, who had found a link between recovery from physical trauma and the emergence of mental trauma, such as stress, anxiety, and sometimes even PTSD symptoms. "Doctors can feel like they're not equipped to handle physical trauma in a timely manner after a surgery," Vianu says. "The goal of this study is to help those in situations like these to get treatment or support as soon as they need it, rather than having to wait indefinitely for a diagnosis." Vianu and his colleagues are still in the early stages of development, but are looking to complete their analyses within the next year. However, work on the project has been postponed due to the COVID-19 pandemic.
Like countless others in the mental health field, Vianu's career has been impacted by COVID-19 as he has transitioned all of his private practice clients to telehealth. "I don't think most clinicians got into this field to work with clients on a computer screen, but our work is needed more now than ever before," he says. "The ability to be flexible based on changing circumstances and continue to support our clients is an important skill for clinicians to develop."
Aside from his research goals, Vianu has his sights set on teaching one day. "Given my experience and passion for community mental health, I feel that I'd be well suited to teach about that subject in some capacity," he says. Some of Vianu's other goals are leading community trainings, and publishing research papers, which he hopes to accomplish with his upcoming research.
In his career, Ian Vianu has consistently relished new challenges, especially as he has continued to grow within the world of community mental health. "As a clinician, I haven't shied away from being tested," he says, "and I'm so proud that I've accomplished some things that I never thought would be possible when I entered this field."


Click here to learn more about the Wright Institute's Master of Counseling Psychology program.
Click here to learn more about the Wright Institute's Doctor of Clinical Psychology (Psy.D.) program.