Student Spotlight: Lena Murphy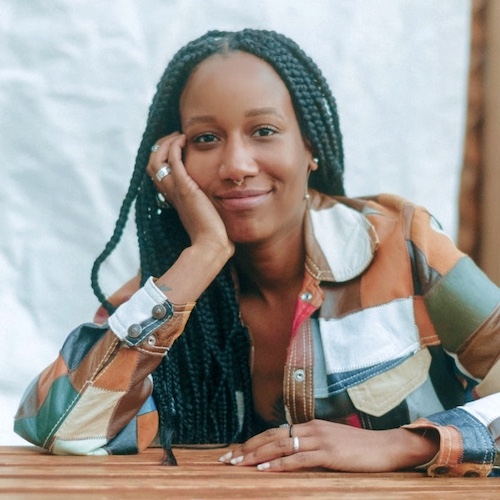 "Continually getting to know myself more and observing myself change and grow has been invaluable," Lena Murphy (she/they) reflected. "This program has really challenged me to practice "both/and" thinking, which is definitely a growth edge for myself at the moment." Lena is beginning her second year in the Wright Institute Counseling Psychology Program this fall.
Lena was born and raised in Seoul, Korea for the first decade of her life while her mother worked for the Army. During her time there, she attended a Korean-immersion school where half of all instruction was in Korean. "I have some really great childhood memories of Korea," Lena shared, "and I think that experience definitely shaped who I am today."
When Lena was ten years old, her family moved to Prince George County in Maryland, which she described as a "major culture shock." This was made more difficult by the fact that Lena was an only child and felt lonely following this move. "I don't think I ever fully acclimated to PG County, which probably explains why I decided to leave as soon as I turned eighteen," she reflected.
Lena attended the University of Maryland, where she earned a BA in Media and Communication Studies with a minor in Print Media. "I've always loved writing and feel like I was able to build on those skills while working towards my communications degree," she shared. "I've also always had a creative spirit and chose Print Media as a minor to explore that part of myself." The communication techniques she developed during her undergraduate studies have "come in handy when it comes to writing papers, case conceptualizations, and treatment plans."
"I've been somewhat interested in psychology since undergrad but never thought of myself as a "science person" and doubted that I'd be successful if I pursued it," Lena admitted. When she moved to the Bay Area in 2018, she began volunteering at the Pacific Center in Berkeley as a Peer Group Facilitator and at the Berkeley Free Clinic as a Peer Counselor. "Those experiences combined with my own mental health history and desire to help folks all ultimately made me interested in psych as a career," she shared.
"Once I realized how much diversity is lacking in the field," Lena reflected, "it deepened my desire even more." At that point, she began her search for a graduate school where she could pursue her master's degree in psychology. Lena was drawn to the Wright Institute Counseling Psychology Program because of its "flexibility and commitment to social justice."
Thinking back on her experience thus far at the Wright Institute, Lena said, "creating deep bonds with others in the program who I now consider dear friends has been my greatest highlight so far." She shared that these bonds go beyond her cohort as she has developed close friendships with students in other cohorts as well. "I think I bring a lot of things to the cohort," she said, but she hopes her cohort mates enjoy the sense of humor she brings to their work together.
Lena also enjoyed her first year classes. "Diagnosis and Empirically Supported Treatments with Dr. Sharma was my first class in my first term and it was such a great introduction into the program," she shared. "Dr. Sharma's approach to the topic was extremely validating and informative." Lena particularly enjoyed Counseling Theories and Techniques with Professor Lopez-Urbina. "Even though I haven't had the chance to practice any theories as a licensed clinician yet," she said, "this course sparked my interest in Attachment and Psychodynamic Theory."
Not everything about Lena's experience at the Wright Institute so far has been easy. "The increasing awareness of growth edges that you're constantly faced with in this type of program can be overwhelming!" she admitted. "I just finished my 1st year in the program and I don't even recognize who I was when I started just 12 months ago." According to Lena, she will never be able to use the phrase "ignorance is bliss" again after everything she has learned.
For the last two years, Lena has worked as a Communications Manager. In this wide-ranging role, she creates project plans, distributes internal communications, analyzes data, and produces social media content. She also leads DEI initiatives and training, which has been her first opportunity to do DEI work in a professional environment. "Now, I've been doing this work for them for 2 years and I can see how much I've learned based on the content I created before compared to now," she shared. "If anything, it's taught me that you never stop learning especially when it comes to this type of work and there's always room to improve."
In her first year at the Wright Institute, Lena was selected as a DEI Fellow. Reflecting on that experience, she said, "I feel like I learned a lot about the Wright, and grad school in general, and was very appreciative to have mentors in the DEI Office who helped guide me." As Lena enters her second year as a DEI Fellow, she hopes to "provide that same mentorship to 1st year students" that she received. She also aims to continue the amazing work she and Merle Maynard began during the 2021-22 academic year.
Lena shared that "connecting with other folks who are committed to ensuring that the Wright is upholding its values in regards to creating a diverse, inclusive, and safe environment" has been the most enjoyable part of her experience as a fellow thus far. "One of the most challenging aspects of this role has been balancing personal struggles related to my own historically oppressed identities while doing this work," she admitted, adding that "It sometimes feels like I'm unable to escape 'the world of DEI.'"
Recently, Lena decided to defer her practicum until her third year. "Initially I was upset that I wouldn't be able to experience practicum alongside my cohort-mates," she shared, "but I know this was the best decision for myself." Lena explained that the choice to defer was based on her need to continue working full-time. She wisely predicted that trying to juggle classes, practicum, and a full-time job would be overwhelming. "Focusing on some of the perks of deferring practicum, like having more free time in my 2nd and 3rd year and getting to learn from my cohort's practicum experience before starting my own, helped me feel better about my decision."
In her free time, Lena enjoys spending time outdoors, dancing, running, and writing. "I feel as if I'm able to connect with myself on a spiritual level when in nature," she reflected. Lena particularly enjoys hiking and camping with friends. "Anytime I'm seeking to gain more internal clarity," she shared, "I'll sit near water alone and write for hours, it's one of my favorite self-care practices." Growing up, she also studied a variety of dance styles. "I stopped after high school and hadn't taken a dance class until this year while trying to reconnect with my body," Lena recalled. She has now made time in her weekly schedule for a modern dance class.
In Fall 2024, Lena plans to graduate from the Wright Institute with her MA in Counseling Psychology. After graduation, her first goal is to "get licensed as soon as possible and some day open [her] own private practice." At this point, she's unsure what her areas of focus will be, but she's currently very interested in intimate partner counseling and sexuality. "Long-term I'd like to combine my love for writing and psychology and maybe even write a book!"


Click here to learn more about the Wright Institute's Master of Counseling Psychology program.
Click here to learn more about the Wright Institute's Doctor of Clinical Psychology (PsyD) program.