Transformation Through Creative Ritual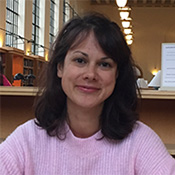 For the last five years, Clinical Psychology Doctoral Program student Chandra Merry has worked on a project, the Participatory Arts Ritual, which she first developed within the field of community theater. "Community theater is like drama therapy, but focused on empowerment of participants through the use of participatory theater games. It was developed with a theoretical basis in liberation theory, or the ideas of Paulo Freire," Chandra explains. Most recently, Chandra has been studying the applicability of her project to clinical group treatment.
Through three-hour workshops, Chandra guides a process in which participants create and facilitate a three-stage creative ritual based on a spontaneously chosen theme. Chandra explains that while she has a replicable protocol for her workshops, each is unique.
"The workshop is a bit like a living game in which participants are central players who create and then embark upon their own transformational journeys," she says. "Participants play a key role in producing both the structure as well as content of the ritual, and the use of drama leads to colorfully improvised moments throughout. While I provide similar cues each workshop, what is created is one-of-a-kind and as vital as the community involved." Past workshops she has facilitated focused on themes such as community relations, women's empowerment, and life narratives. Her most recent workshop was held in Berkeley.
"Because my work is rooted in the field of community theater, at its heart is a social justice ethic," said Chandra, who also earned master's degree in community theater at the University of Leeds in the United Kingdom. "In this workshop we are always asking ourselves 'What is the meaning of true democracy?' We always want to make sure that everything we are creating truly embodies the participatory and democratic spirit."
Having previously worked in a human rights NGO, Chandra has always been passionate about creating spaces in which everyone's voice has the opportunity to take center stage. She sees this ethic as being popular with her workshop participants: "I find that people are really drawn to the idea that a community can come together, create a ritual and have it be something coming from everyone. Many people have previously experienced rituals to be socially sanctioned, boring, and even oppressive. They realize that rituals can be transformative when the power is given back to the people, through being created by an inclusive community."
Past participants in her workshops have come from countries such as Australia, the United Kingdom, the United States, Canada, Lithuania, Greece, the Netherlands and Malaysia.
Now completing her training as a psychologist, Chandra believes that this project contains unique possibilities in clinical settings. "I think this method allows people to internalize the selected theme more deeply," Chandra says. "Everyone is involved in the ritual, and because everyone is seeing their peers participate and be vulnerable, it pushes them to reveal more of themselves. Because nothing is pre-planned, people have no choice but to act spontaneously and be totally in the moment, which creates authentic engagement in the process."
When asked about potential clinical populations for which this project may be useful, Chandra shared, "I think it is particularly powerful for anyone who feels like they haven't had a voice." Other ideas she mentioned were themes surrounding peoples' relationships to anxiety, depression, body image, and grief. She has a particular interest in applying this project to the healing of women's issues.
In late March 2018, Chandra—accompanied by fellow Psy.D. student Sean Rose—presented her work at the Division 32 (Humanistic Psychology) Annual Conference entitled, "Liberation through Wisdom and Love: Humanistic Psychology, Social Justice, and Contemplative Practice" at Naropa Institute in Colorado. Her presentation summarized the results of an introductory study to this project.


Click here to learn more about the Wright Institute's Doctor of Clinical Psychology (Psy.D.) program.
Click here to learn more about the Wright Institute's Master of Counseling Psychology program.