Students and Agencies Meet at The Wright Institute's Second Annual Practicum Fair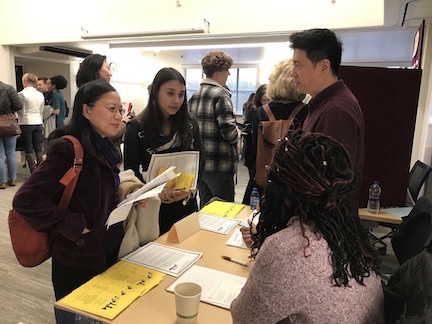 On January 14, representatives from over 40 community-based agencies came from around the Bay Area to visit the Wright Institute Counseling Psychology Program campus. The agency representatives met with over 70 Counseling Psychology students, each of whom are in the process of applying for practicum placements.
While first-year students have done plenty of research on which sites they would consider, most had not yet had opportunities to meet any representatives in person. "It's a good opportunity to see faces and get a feel for the personalities we'll be working with," said first-year student Anna Tyrer-Vasell. "A lot of agencies seem similar on paper, so you can't really get a sense of who they are without meeting the people themselves."
"It can be confusing to try and sift through all the different programs, so it's helpful to talk to potential supervisors in person and get a more concrete idea of what programs they offer," first-year student Ariel Golan added.
Several different types of clinical settings are available in the practicum program, and that diversity of settings was well-represented at the fair. Agency representatives also appreciated the chance to meet their future trainees. "It's a great opportunity to meet lots of interesting potential applicants," said Eva Gonzales, who was representing Community Options for Families and Youth.
The practicum fair also gave students an opportunity to learn what specific agencies look for in their trainees. "We look for enthusiasm when it comes to applicants," said Vikki Leff of New Bridge Foundation, "and we're open to trainees of all backgrounds. Some of our best trainees have no previous clinical experience."
Some Counseling Program students and alumni found themselves on the other side of the table at the fair. 2018 graduate Ian Salvage tabled for Marina Counseling Center, second-year student Heather Buchheim represented Pacific Center for Human Growth, and second-year student Julia Hollingshead tabled for Berkeley Christian Counselors.
Salvage, Buchheim, and Hollingshead were each able to lend unique perspectives to the current students they spoke to. "Having gone through the program myself, I've been in their shoes," said Salvage. "I feel like I can be real with the students since I know exactly what's in store for them."
"Events like these can be a little awkward, but they're great opportunities to meet and connect with potential trainees face-to-face," added Buchheim, who is also a student mentor.
After an afternoon of speaking with representatives from dozens of agencies, many students felt like their paths forward were a bit clearer. "The process of practicum can be overwhelming," said first-year student Katia Mosley, "but this will help me map out the journey."


Click here to learn more about the Wright Institute's Master of Counseling Psychology program.
Click here to learn more about the Wright Institute's Doctor of Clinical Psychology (Psy.D.) program.