Student Spotlight: Ada Musafir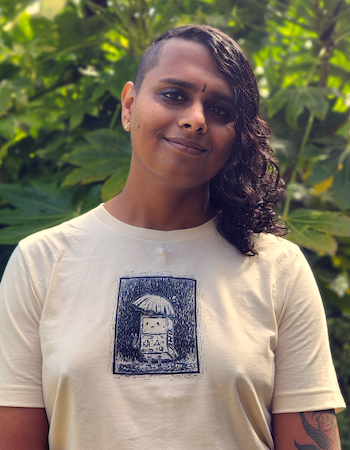 "At this point in my life, I'm not very prone to nerves or anxiety," admitted Wright Institute Counseling Psychology Program student Ada Musafir. "I am fully aware that I will sometimes make mistakes and that I can't help everyone, and that knowledge sets me free."
Ada was born in India and spent her childhood half in Delhi and half in Bangalore. "I'm ethnically Tamil and neither of those cities were my homeland, so I grew up a third culture kid," she shared, "but as a result I spoke 3 languages by the time I was 5." She described her K-12 education as "an interesting experience," noting that she had some difficulty acculturating, but was able to form some friendships. Ada enjoyed the rigor and certainty of mathematics and was also drawn to chemistry, physics, and biology. "Science instilled a sense of curiosity about and awe at the world around me," she explained. Ada retains that sense of wonder as an adult and aims to live every day as though it were her first.
For her undergraduate studies, Ada attended National Institute of Technology, India, where she earned a Bachelor of Technology in Computer Engineering in 2011. She described her undergraduate experience as "equal parts wonderful and frustrating." Ada also spent much of her time during college on the beautiful beach nearby. "I spent hours walking along the Arabian sea, spotting birds and looking at far off ships and wondering what life on the sea was like," she recalled. Her parents pushed her to pursue a career in STEM, so Ada never considered any other options. Fortunately, she found that she enjoyed computer science and engineering. "No other engineering discipline has the ease of creating systems and structures the way computer science does," she mused. "Imagine designing and building a bridge, testing various versions of it, and putting it out in the world to use within a week!"
From 2011-2014, Ada worked as a Customer Support Engineer, which she found quite challenging. She was part of the tier three support team, so the customers she interacted with had already been through two levels of support without their problem being resolved. "I learned that I had a skill for soothing angry and upset people while troubleshooting and fixing the problems in their large computer systems," she recalled. Despite the pressure of her position, Ada really enjoyed the work. "It was gratifying to be able to dig into these complex systems, identify hidden problems, trace them back to the source, and fix them," she reflected. "The job brought out my interpersonal counseling skills and honed my analytical thinking and troubleshooting skills."
After two years working in tech support, Ada no longer felt challenged. She had found ways to automate a lot of her work and felt that her current position didn't allow her any room for growth, so she decided to pursue a different career path in the field of computer science. "At the same time, my partner and I wanted to emigrate from India due to the pervasive and violent misogyny and the growing movement of fundamentalist Hinduism," she shared. "We didn't know we were queer at the time, but we had always felt different and apart from our peers and environment." They emigrated to the United States in January of 2014 and are now asylum applicants. "It is scary that the life I built could be disrupted by the decision of a government official," she admitted, "but I have decided to put down roots and build a life regardless."
Ada loved living in New York City, particularly the winter weather. "I had spent a few weeks hiking in the Middle Himalayas, but city snow is different; everything feels muffled, the cold is crisp, and the joy of sitting in a cozy warm coffee shop while it is snowing outside is incomparable," she reflected. "It was all so different from the tropical weather I was used to!" She enrolled in the NYU School of Engineering and graduated with a MS in Computer Science in 2015. "I built friendships with a couple of my professors and was considering pursuing a PhD in computer science, but money was tight," she recalled. "At some points, I was picking pennies off the sidewalks to fill penny sleeves and buy dollar slices of pizza." After graduating, she and her partner got married and moved to the Bay Area where Ada was able to secure a tech job with higher pay.
From 2015-2016, Ada worked for Yahoo! Inc. She came into the company at a very turbulent time, when quarterly layoffs were the norm. "A number of my fellow coworkers were Indian immigrants," she explained. "Our visas were contingent on our continued employment, so our lives in this country were threatened by the potential of getting laid off." Ada decided to leave Yahoo! and started at Facebook just after the 2016 presidential election. At Facebook, she became aware of systemic labor problems and felt compelled to help make a change. "When news broke out about the working conditions of Facebook's content moderators, I threw myself into organizing labor and amplifying the voices of underprivileged workers," she recalled. "Content moderators review flagged social media posts and deal with seeing violent imagery, hate speech, and worse every hour of every workday." Despite this extremely challenging work, they earn minimum wage and have minimal health benefits with no mental health care provisions. "My labor organizer cohort did not succeed, but we paved the way for future cohorts," Ada shared. This was a formative experience for Ada and helped her to build a new personal philosophy.
In 2021, Ada began working as a Volunteer Phone Hotline Operator for Trans Lifeline. "I was in therapy to deal with a lifetime of c-PTSD, I had just come out as trans, and the world was going through a life-threatening mass disabling event," she recalled. "My passion for computer science was lost and my therapist suggested volunteering for a crisis hotline to see if I'd like a helping career and I took to it like a duck to the water." Ada described her position at Trans Lifeline as difficult but very joyful as well. She shared with us just a few memories of her time there that exemplify this range of emotion:
"I wept happy tears when a 6 year old genderfluid child spoke with me about explaining their gender expression to their friends at school. I felt deeply moved after talking a disabled 50 year-old trans man out of dying by suicide. I felt so joyful when I spoke with a 70 year-old trans woman who had just come out and wanted to share her joy with someone."
Ada still thinks about some of the people she interacted with during her time at Trans Lifeline, but has set healthy boundaries that allow her not to dwell. "I have been on the phone with people in their last moments, which was devastating, but I felt so humbled and honored that they trusted me to share their decision and asked me to be there," she reflected. "The reward was so much trans joy and the challenge was coming face-to-face with all the struggles that we trans folks face in a world where cisgender is the null hypothesis."
Volunteering for Trans Lifeline gave Ada's life meaning and purpose just as she was burning out in her tech career, which led her to pursue a Master's Degree in Counseling Psychology at the Wright Institute in the fall of 2022. "A friend recommended the Wright Institute to me since I was looking for a program with a strong focus on social justice and dismantling systems that perpetuate inequity," she recalled. "The Wright fulfilled my requirements for providing emotional safety in a program where we share very intimate details of our lives with our peers."
Ada developed extremely close bonds with her cohort members during her first year at the Wright Institute. "I have opened up to them about my invisible disabilities, lived experience of chronic illness, my journey with gender, the strangeness of being an immigrant, and every time I have received so much love and support from them," she shared. "I share my lived experiences of abuse, transmisogyny, and ableism so that my cohort is better-equipped to help clients like me." Her cohort has demonstrated clear respect for one another and Ada is grateful for the opportunity to learn from the lived experiences of her peers.
The biggest challenge Ada faced during her first year was getting back into the mindset of a student. "In my prior academic programs, I was not aware that I have ADHD," she admitted. "I'm still unlearning the ableism I internalized during years of being in academic programs and work cultures designed for neurotypical people." Ada is now working on accepting her different work style and trusting herself. The most valuable lesson she has learned thus far in graduate school is to "take what you need" and leave the rest. "In my previous career, it was important to know everything in each class and training I took," Ada shared. "Here, I have learned to focus on the aspects of a theory or orientation that I like and ignore aspects that I know I won't use."
Last year, Ada co-founded and co-facilitated the Neurodiversity Affinity Group with her friend Amanda Gall, which she is very proud of. "Neurodiverse folks have to exist in a world that was not designed for them - homework, deadlines, 3 hour long classes, and other things that are the norm in graduate-level academia are not very accessible to us," she explained. "The Wright is wonderful about providing accommodations, but there are still a number of situations in which neurodivergent people need support." The affinity group was formed as a place to share knowledge and support one another. "We heard that the group was a source of comfort and that people learned coping strategies and accessibility aids from each other," Ada shared. "Every meeting was cozy and at its core, just a space for people to get together and commiserate."
During her time at the Wright Institute, several professors have had a lasting impact on Ada. Dr. Ulash Dunlap, her professor for Individual and Family Development, helped Ada determine that she wants to work with youth. "I realized how much I respected youth for thriving through every challenge that's thrown at them as they grow up in a capitalistic society and blossom into wonderful, unique individuals who contribute so much to the world," she reflected. "I realized that I want to help them along the way thanks to conversations with Dr. Dunlap." Ada also enjoyed Professor Jenna Robinson's Family Therapy I course. "Coming from a math-based career, I did not know that I could use my creative side in this field," she shared. "The expressive arts interventions she brought to class ignited my imagination." The check-ins that Professor Robinson demonstrated in class are something Ada plans to incorporate into her future work.
Ada will be serving as a student mentor during her second year of the Counseling Psychology Program. When asked what advice she has for new or prospective students, Ada encouraged them to "challenge the norms, question everything, support each other, make time for lunches and coffee walks and other social time." She particularly emphasized the importance of bonding with your cohort-members because "school is not just about the curriculum, it's also about the relationships you build with each other." Ada also recommends that fellow students embrace conflict when it arises. "You can't learn how to repair ruptures if no ruptures happen," she explained. "But in order to safely navigate conflicts, you need to have a good relationship with the people in your cohort.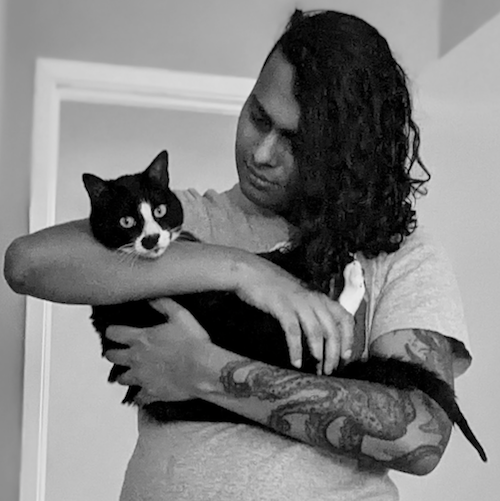 In her limited free time, Ada enjoys creating in a variety of ways. She is an accomplished cross stitcher, drafting her own patterns and making items for her loved ones. "At present, I'm stitching a 7x7 inch death's head moth onto a t-shirt for my spouse," she shared. Ada also loves writing and participates in a writing circle. "I enjoy writing solarpunk stories about little people rising up to defeat tyranny and then forming communes in which they bring together technology and nature to live harmonious lives," she explained. "I source elements of my stories from the histories outside of the White European world and get to learn fascinating things about the world." Ada also enjoys experimenting with flavors while cooking and baking. Her most recent creations are "miso and cashew vegan ice cream with cherry-serrano swirl and apple-serrano gastrique" as she explores the balance of sweet and heat. Recently, Ada was also selected to present a poster on Gender Expression in Digital Space at the CALPCC Conference.
After graduating from the Wright Institute, Ada plans to work as a school counselor. She feels as though the Counseling Program has taught her how to interact with and facilitate the growth of young people. "I think trans youth need so much support, especially in this time when there is a concerted effort to erase trans people from this country," she reflected. "I want trans youth to see my success and know that there is a future for them to thrive in." Undoubtedly, Ada's passion and creativity will make a huge impact on the students she will work with.