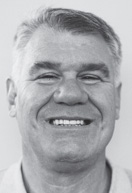 Andrew Pojman, Ed.D.
Adjunct Faculty
apojman@wi.edu
B.A. Biology and Secondary Education, Adams State College, 1972
M.A. General Psychology, University of Northern Colorado, 1975
Ed.D. School Psychology, University of Northern Colorado, 1977
Dr. Pojman is a psychodynamically oriented clinician with training and experience with a wide variety of patients in different clinical situations. Following his graduation, Dr. Pojman worked for three years as a school psychologist. He worked with handicapped children and adolescents with disabilities including mental retardation, learning disabilities, attention deficit hyperactive disorder, and psychotic disorders. Leaving the school district, Dr. Pojman entered into private practice and began consulting at local private schools and agencies. His experience at the Raskob Institute, a private facility serving learning-disabled adults and children, sharpened his diagnostic and clinical skills in evaluating the learning-disabled and neurologically handicapped. These work experiences have developed Dr. Pojman's skills in individual and group treatment and assessment of children and adolescents.
Since the early 1980s, Dr. Pojman maintained active professional involvement with psychiatric hospitals. This experience included caring for both adolescent and adult patients in conjunction with a psychiatrist and providing inpatient care to adolescents as the admitting clinician. He was the Chief of Psychology at Gladman Psychiatric Hospital for three years. Duties involved proctoring individual psychologists and serving as a liaison for psychologists to the medical staff and administration. Dr. Pojman went on to become the Coordinator of the Attention Deficit Hyperactive Disorder (ADHD) Program at Oak Grove Adolescent Treatment Center, where he developed a treatment program to provide specialized inpatient services for ADHD adolescents and their families. Dr. Pojman was particularly active at Walnut Creek Psychiatric Hospital. He was a Primary Care Clinician directly admitting and treating adolescents and their families. In addition, he also served on a variety of hospital committees related to the care and quality of psychiatric patients throughout the hospital.
These experiences have helped form Dr. Pojman's clinical interests in the diagnosis and assessment of psychopathology, the treatment of children and adolescents, family therapy, and group therapy. Teaching and consulting to various agencies has allowed Dr. Pojman to develop and expand these interests even more. He has been a consultant at WestCoast Children's Center, the Center for Living Skills, and the Summit Center, a county-run residential center for adolescent juvenile delinquents. Dr. Pojman has a private practice in clinical and forensic psychology. He presents nationally at trainings and conferences on topics related to child and adolescent psychology with an emphasis on group therapy, assessment and psychopathology.