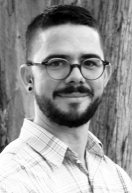 Benjamin Morsa, PsyD
Half-Time Institute Faculty
bmorsa@wi.edu
BS Foreign Service, Georgetown University, 2007
PsyD Clinical Psychology, The George Washington University Professional Psychology Program, 2015
Dr. Morsa completed his doctoral degree in Washington, DC where his clinical and research interests focused on the impact of systems of oppression on a patient's capacity to play and the potential of psychoanalysis to remediate this. He moved to Oakland, CA for his predoctoral internship at WestCoast Children's Clinic and continued his experience in community mental health and school-based intervention at the Ann Martin Center and the Access Institute.
Dr. Morsa has served as clinical adjunct faculty at the Wright Institute since 2018 supervising doctoral students in psychological assessment with a particular emphasis on child assessment and therapeutic-collaborative approaches to assessment. He has taught graduate students in psychometrics, statistics, child development, child and adolescent psychopathology, and psychoanalytic theory and technique.
Ever polymathic and autodidactic, Dr. Morsa's clinical work and writing is rooted in psychoanalytic theory and wanders divergently through several SPINS including: the educational assessment of bilingual children, queer and transgender theory and experience, neurodiversity and neuro-affirming approaches to assessment and psychoanalysis, historical and contemporary constructions of masculinity, critical autism studies, ecology, and mycology. He maintains a private practice in Berkeley, CA where he offers psychotherapy, psychological assessment, and consultation to clinicians on affirming work with gender diverse and neurodivergent patients.