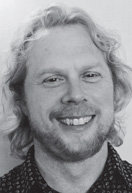 David Krause, Ph.D.
Full-Time Institute Faculty
dkrause@wi.edu
B.A. Communication, University of Wisconsin, 1985
Ph.D. Clinical Psychology, Wright Institute, 1994
Dr. Krause has a wide range of clinical experience working with children, families, adults, and couples, as well as performing psychological assessment. With regard to children and families, he has worked with multidisciplinary groups, providing consultation, assessment and therapy to residential treatment, day treatment, wrap-around services, probation services and hospitals. He completed his training at WestCoast Children's Center and served as senior clinician, which included providing training and presenting a paper entitled The importance of play in play therapy. Dr. Krause is a long time member of the San Francisco Psychotherapy Research Group where he has provided training and supervision and has been a regular presenter at the San Francisco Psychotherapy Research Group's annual international conference. Topics have included The role of emotion in psychotherapy and The relationship between anorexia nervosa and encopresis. Dr. Krause has provided training in Control-Mastery theory to a variety of agencies in the Bay Area.
Dr. Krause was the clinical director of San Leandro Community Counseling Center, a low fee community-based clinic. In this position he was responsible for training and individual and group supervision of interns. The agency provided services to a diverse population with a wide range of diagnoses. Treatment was available for Spanish speaking clients.
Dr. Krause is currently interested in neuroscientific research and it's impact on psychodynamic theory as well as the implications for conducting psychotherapy. Other interests include evolutionary psychology, appraisal and adaptation and psychopharmacology.