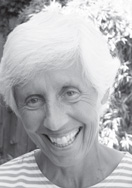 Jane Ariel, Ph.D.
Adjunct Faculty
jariel@wi.edu
B.A. Music and English Literature, Oberlin College, 1962
M.A. Comparative Literature, New York University, 1965
M.A. Educational Psychology, Hebrew University of Jerusalem, 1978
Ph.D. Family Psychology, California Graduate School of Family Psychology, 1986
Dr. Ariel is a family psychologist whose clinical work focuses on both systemic and psychodynamic theory, with a particular interest in the interface between the two. Also influenced by feminist and postmodern thought, her therapeutic work explores the influence of the social and cultural contexts shaping experiences. She searches with families and individuals for new meanings in the stories of their lives that enable them to articulate their own strengths and authentic voices.
Before receiving her doctorate, Dr. Ariel spent many years in Israel, where she served as Executive Director of the Research Institute for Innovation in Education at the Hebrew University of Jerusalem. Her research there led her to study the psychological, familial, and social influences that contribute to the educational gap that exists between different ethnic groups in the Israeli population. Upon her return to the United States, Dr. Ariel completed her Ph.D. and began supervising and teaching at the California Graduate School of Family Psychology, John F. Kennedy University, the Psychotherapy Institute, the Women's Therapy Center and the Wright Institute. Her teaching has focused on family therapy, group process, and the relationship of social justice issues to the psychological functioning of individuals, families, and community.
Dr. Ariel is an active member of a number of professional organizations, including the Northern California Family Therapist Association, the California Society for Psychoanalytic Psychotherapy, the California Association of Marital and Family Therapists, and the American Family Therapy Academy where she serves on the board. She is also a consultant at Visions, a national organization dedicated to training in multiculturalism.
In private practice, Dr. Ariel sees families, couples and individuals, and runs consultation groups for practicing psychotherapists. She also does mediation work, in particular concerning the effects of oppression in the workplace, for small businesses, agencies and organizations.