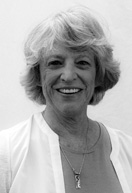 Lynnette Beall, PhD
Half-Time Institute Faculty
lbeall@wi.edu
BA Psychology, University of Michigan, 1959
MA Clinical Psychology, University of Michigan, 1966
PhD Clinical Psychology, University of Michigan, 1967
As one of the founders of the Wright Institute Clinic in 1969, Dr. Beall has played a pivotal role in the development of the Institute's clinical training program. She served as clinic director for several years and has been a faculty member of the Wright Institute for over 30 years. Her own clinical training included predoctoral work with Dr. Edward Bordin involving short- and long-term counseling with college students, and individual and conjoint therapy with adults and children under the supervision of Dr. Fred Wyatt at the University of Michigan.
Dr. Beall has had a private practice since the late 1960s, and she currently sees adults in long-term and brief psychotherapy. Her theoretical orientation encompasses psychoanalytic, object relations and self-psychological theories partly as a result of her intensive work with Dr. Tom Ogden and Dr. Robert Stolorow. Her primary focus at present is attachment theory and its relationship to emotion regulation as the primary basis for understanding what makes people change and how psychotherapy works.
Dr. Beall's extensive experience as a consultant includes two main tracks of work: serving as consultant and trainer of paraprofessionals, and as consultant for drug treatment programs. In her work with paraprofessionals, she trained probation officers in family therapy and crisis intervention with runaway adolescents and their families for the Juvenile Hall Delinquency Prevention Project in Sacramento. She also trained clinical psychologists and paraprofessionals in group therapy with adolescents for Project Community in Berkeley and Danville. For approximately ten years, Dr. Beall was a consultant to Walden House in San Francisco, a residential facility for substance abuse treatment, where she conducted staff training programs and continued independent consulting work. Her current consulting work is with therapists in private practice.
Dr. Beall was a faculty member of the California School of Professional Psychology for ten years, where she taught courses on ego psychology, personality theory, and object relations theory, and she was a lecturer and clinic staff member of the Psychology Clinic and Department of Psychology at the University of California, Berkeley.