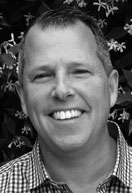 Tim Tisdell, Psy.D.
Adjunct Faculty
ttisdell@wi.edu
B.A. Psychology, University of Texas, Austin, TX, 1988
M.S. Clinical Psychology, San Francisco State University, 1994
Psy.D. Clinical Psychology, The Wright Institute, 2002
Dr. Tisdell is a psychodynamically oriented psychologist/psychotherapist with over 25 years of experience working with children, adolescents and adults. He has been in private practice for 14 years. He completed an APA pre-doctoral internship at RAMS (Richmond Area Multi-Services) in San Francisco, where he received rigorous training in working with Asian-Americans and other underserved populations. Dr. Tisdell also completed doctoral training at West Coast Children's Center, Circle of Care, and the Wright Institute Psychology Clinic. He completed his post-doctoral training at the Ann Martin Center, where he stayed on for 7 additional years as a supervising and treating, school-based psychologist.
After Ann Martin, Dr. Tisdell spent 6 years at Alliant International University's Psychological Services Center (PSC) in Oakland as a Supervising Faculty/Clinical Supervisor. At the PSC, Dr. Tisdell provided primary clinical supervision to students ranging from practicum students to post-doctoral fellows, while also teaching several components of the training program. These included teaching separate psychoanalytic case conferences for the pre-doctoral interns and for the post-doctoral fellows as well as teaching the post-doctoral professional development seminar and the practicum didactic seminar.
For much of his career, Dr. Tisdell has focused on child and adolescent treatment and parent consultation. However, in recent years, he has moved toward treating an almost equal number of younger kids, adolescents, adults and older adults in individual therapy. He is particularly interested in psychoanalytic theory with an emphasis in British Middle School and other Object Relations theories as well as Interpersonal thinking. He is also enlivened by adoption related concerns, major life transitions and by working with LGBTQIA+ youth and adults.