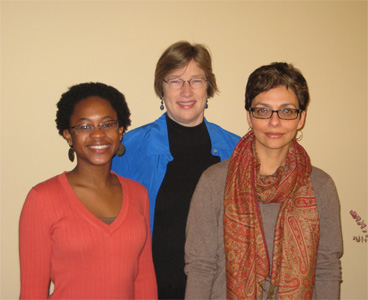 The School-Based Collaboration Leadership Team
(From left: Drs. Tracy Smith, Crystal A. Johnson,and Naheed Sheikh)
The Wright Network
The Wright Network was established by the Wright Institute Board of Trustees in June 2008 to further the Wright Institute's mission of educating Clinicians to Society and contribute to the health and welfare of the Bay Area community through new clinical projects. The Network has a twofold aspiration: 1) to establish clinical service and training programs that foster psychological flourishing in underserved communities and 2) to educate our students to apply psychological knowledge and skills, not just to treat clinical problems, but also to appreciate and cultivate the capacities of underserved communities to promote wellness, recovery and resiliency. In so doing, the Wright Network will strengthen students' ability to build a culturally diverse perspective grounded in their own developing experience.
Wright Network Training Programs
The Wright Network offers a number of training opportunities for graduate student clinicians, namely:
The School-Based Collaboration
Collaboration with Anka Behavioral Health, Inc.

The Henry Robinson Multi-Service Center
Homeless Multi-Service Centers and Adult Shelter
Solano County Jail Chemical Dependency Program
Nevin House
Phoenix Center

The Solano County Jail Counseling Program
The School-Based Collaboration
The School-Based Collaboration (SBC) is a strategic response to a confluence of systemic barriers--including discrimination, violence, racism and poverty--that affect the academic performance and social-emotional development of youth in Oakland public schools. SBC's mission is to foster academic and life success in children from multiply-stressed communities. We approach each school as a system, and looking for the places where clinical skills can make a difference.
Graduate student clinicians from the Psy.D. and Master's programs work in individual, group, consultation and family modalities to develop their knowledge, understanding and skills in offering culturally appropriate and sensitive psychological services. Students learn to develop effective collaborative relationships with teachers and staff, and come to appreciate the importance of meeting children's social and emotional needs as a means to support their success in school and in life. The didactic component of the placement offers a wide range of training, including intervention models, social justice theory and practice, gangs, legal and ethical issues and specialized case consultations.
SBC Case Example:
Ruben is an 8 year old boy who was referred for counseling after his mother came to school, cut and bruised, seeking help for herself and her son due to long-term domestic violence in the home. Ruben's father had been jailed and the family was now living with an uncle. The SBC on-site supervisor met with the mother to learn more about her situation, refer her to outside services focused on domestic violence and offer services for Ruben at the school. The mother gave her informed consent for the work to begin.
Ruben expressed his extreme distress through his behavior at school. He was alternately physically aggressive with episodes of acting out, and "freezing," refusing to participate in any activities. Initially, he refused to leave the classroom to meet with his therapist, so she began to work with him in the classroom. Ruben moved slowly from attacking and being angry with the therapist to allowing her to be in the classroom with him, to allowing her to play with his peers, to allowing her to join him during his free play. After some time, Ruben was comfortable leaving the classroom and meeting with his therapist in the playroom. Having established a safe and trusting relationship with his therapist, he was able to work with her to learn and apply self-regulating strategies that allowed him to stay calm in class and in the schoolyard. Through words and play he was also able to express his distress, fears and other feelings about his father's violence. He began to make progress again in his classroom work.
School Principal Perspective
This is our third year working with the Wright Institute. We've seen dramatic changes in children after they begin counseling. I've also had students ask me in the Fall if they can have a counselor again! Wright Institute students clinicians are mature, responsible, clinically savvy, and well-supervised. My teaching team and I are enormously pleased at the support we receive through this program.
Principal, EnCompass Academy
SBC Wright Institute Student Perspectives
I have grown exponentially as a clinician, and as a person.
Yesterday I spent six hours at [the school], meeting with various students and their teachers...I feel so lucky to be able to spend nine months working at this small East Oakland high school, sharing in its struggles and successes. I am truly grateful to the SBC for making this school a part of my life, and for giving me the opportunity to make a small contribution to its growth
I have been steeped in what it really looks like and takes to be an effective psychologist who is attuned to social justices issues... SBC has a tapped into a powerful resource in the ARC model and using it with my clients has given me a wider lens from which to understand and help in very practical ways.
If you wish to serve a diverse cultural, ethnic, and socioeconomic community, look no further. The SBC philosophy is based on providing caring support to students, families, professionals, and the community as a whole and focuses on social justice, empowerment, resiliency, and human dignity. An integration of attachment, trauma, cognitive, behavioral and psychodynamic theories will provide you with effective techniques and knowledge that will help you learn, develop, support, empower, and make a difference.
The School-Based Collaborative (SBC) offered me a wonderful and unique perspective from which to understand the variety of personal and systemic challenges that children, families, and schools must face. The SBC gave me the clinical tools to understand human development from an empathic, intuitive, and strengths-based approach tempered with simple, practical, and real-world interventions that help children and their caregiving systems work more harmoniously together. Any trainee will leave the SBC well prepared for future clinical work with any treatment population.
Collaboration with Anka Behavioral Health, Inc.
Anka Behavioral Health, Inc. is a leading provider of behavioral health programs in California, offering over 75 programs throughout California. Anka's mission is "to eliminate the impact of behavioral health problems for all people," and services include residential, intensive outpatient, and outpatient services for a wide range of client needs. This collaboration provides multiple training sites for Wright Institute students, offering opportunities to develop culturally-sensitive clinical skills and practices from the very beginning of their clinical training. All training sites include individual and group supervision, and didactic training. For additional information on Anka Behavioral Health, Inc. and their services, please see their website at www.ankabhi.org.
At all of the sites of the Collaboration, participating students will gain a firm foundation in the clinical skills required to serve a diverse population of clients. There will be a strong emphasis on developing multicultural competence and building on client strengths. Students will build expertise in developing productive professional relationships in a multi-disciplinary environment. In addition to clinical supervision, there will be didactic training and other training experiences specific to the clinical setting.
I trained at several of the sites of the Collaboration with Anka Behavioral Health. The high quality of supervision and didactic training, the positive teamwork among all members of the treatment teams, and the variety of settings available made it especially valuable. I gained a deep appreciation for the struggles of clients who are incarcerated, homeless,and/or addicted to drugs and alcohol, and a level of comfort in working with them all.
Wright Institute Student
The Henry Robinson Multi-Service Center ("The Henry")
Wright Institute Master's students have the opportunity to gain experience serving homeless adults, children and families in individual, group and family formats at The Henry, located in downtown Oakland. The Henry provides drop-in and emergency shelter services, as well as transitional housing for up to 52 families. Families are able to stay up to two years at and participate in a wide range of support services to help them get back on their feet.
Homeless Multi-Service Centers and Adult Shelter
Anka operates several drop-in centers for homeless adults, as well as an emergency shelter for the homeless mentally ill in Antioch. Students have the opportunity to work with adults who face many challenges in their lives, including trauma, poverty, homelessness, racism, discrimination, violence, histories of physical and sexual abuse and drug addiction. Student clinicians gain expertise in forming relationships with clients from a wide range of backgrounds, learning to meet the client where he/she is, and identifying the most important clinical priorities. Students will provide individual and group treatment, multidisciplinary collaboration, treatment planning, crisis assessment and milieu interventions.
Solano County Jail Chemical Dependency Program
Anka's chemical dependency program serves about 30 inmates at a time in the Solano County Jail. Psy.D. students lead groups, work with clients individually, conduct clinical assessments and prepare treatment plans. Students will be exposed to a chemical dependency treatment model, gain experience in structured assessment interviewing and diagnosis, and become familiar with the particular struggles and needs of people who are incarcerated.
Nevin House
Nevin House is a 16-bed 30-day residential dual diagnosis program located in Richmond, CA, serving adults who have both chemical dependency and mental health issues. In addition to gaining experience in basic counseling skills, students will gain knowledge and experience in working with clients who have substance abuse disorders and serious mental illnesses. Responsibilities will include individual and group therapy, multidisciplinary collaboration, treatment planning and crisis assessment and intervention.
Phoenix Center
Phoenix Center is a structured day treatment program for adults with serious mental illness. The Center supports clients who are just coming out of a higher level of care (e.g., the hospital or residential treatment) or who are living independently and need more support in order to maintain their level of functioning. Students will have the opportunity to meet with clients individually, to conduct groups, develop group therapy curriculum, and collaborate with team members from other disciplines.
The Solano County Jail Counseling Program
The United States imprisons its citizens at four to ten times the rate of any other industrialized country. Most people in jail are members of marginalized social groups (e.g., people of color who make up 70% of the jail population) who have experienced racism and discrimination as important formative life experiences. Many people held in the jail have personal histories of severe trauma and have themselves been victims of crime. Inmates may report histories of sexual/physical abuse, severe neglect, domestic violence, and/or being a witness/victim of community violence. Many struggle with drug and/or alcohol abuse and grew up/live in severe poverty.
A disproportionate percent of inmates also suffer from serious mental illness. About 30% of inmates at the jail are on psychotropic medication. Life in jail is, by its nature, detrimental to mental health, and can be catastrophic for people with serious mental illness.
The main goal of clinical work in the jail is to promote inmate and societal welfare by supporting positive inmate life choices and increasing inmates' chances of building a meaningful and sustainable life upon release. In the Jail Counseling Program the primary modality is individual therapy, to which inmates will bring a broad range of concerns. Many treatments will be dominated "simply" by the process of forming a helping/therapeutic relationship with someone who has not experienced being truly listened to in an empathic and non-judgmental manner. Students may find themselves hearing about traumatic events in a client's life, helping a client develop coping strategies for jail or prison life, and/or helping a client make sense of what has happened and what their most adaptive responses might be.