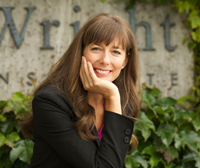 Oakland Veg Week invites Dr. Milena Esherick, MA Program Director, to speak about the benefits of a plant-strong diet
Dr. Milena Esherick, the Director of the Wright Institute's Counseling Psychology program, was the kick-off speaker for this year's Oakland Veg Week. Veg Week is a weeklong celebration of a plant-strong diet and its benefits on human health, animal welfare, and the environment.
For over fifteen years, Dr. Esherick has worked in a variety of community and medical settings to help people make healthy dietary and lifestyle changes. She educates people about the benefits of a plant-strong diet and shares strategies from cutting edge research in psychology about how to make dietary change as simple and easy as possible. Dr. Esherick's educational outreach in this arena is an extension of her interest in applying the principles of psychology to broader cultural and social issues.
Oakland Veg Week is part of a nationwide effort to encourage people to eat meat-free as a way to reduce carbon footprints, create more sustainable food streams, reduce animal cruelty, and reduce the risk of serious health problems like heart disease, stroke, and diabetes.
From April 21-27, Oakland Veg Week is hosting a number of events including educational lectures, cooking classes, grocery store tours, restaurant outings, and happy hours. The complete schedule of events is available here.
In addition to Veg Week, Dr. Milena Esherick will facilitate a discussion of the film Vegucated on April 28th at 6:00 pm at Cal State University East Bay in Hayward.