Student Spotlight: Erica Gallegos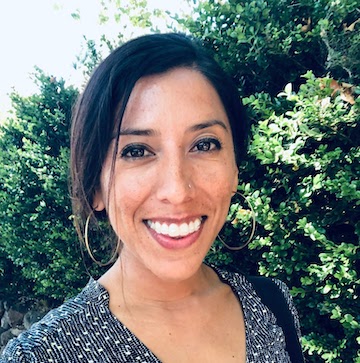 In her first year of the Wright Institute Counseling Psychology Program, Erica Gallegos has relished being on a different side of the teacher-student relationship. "The past year has been such a powerful learning experience, and I want to keep learning as much as I can," she says.
Aa a teacher, Gallegos has always been interested in making a significant impact in her students' lives. A native of Fairfield, California, Gallegos spent time working in her hometown and San Francisco before spending two years in Panama as a member of the Peace Corps. After returning to the Bay Area, Gallegos worked at a San Francisco school before settling in at a school in Berkeley, where she learned about the effect of mental health services on her students. "I was working in distressed communities with many different sources of trauma, and my students did much better when they were able to have a counselor or social worker to talk to," she recalls.
Gallegos has worked primarily with kindergarten and first grade students, which also gave her the opportunity to work with families. "As a teacher, I used social and emotional learning to identify students' feelings. That way, I'm able to find out what emotions they're experiencing instead of just putting up with tantrums, which is a lot easier," she laughs. Gallegos also worked with middle school students through Breakthrough Collaborative, an organization that partners with students from under-resourced communities. Today, she teaches GED classes for adults at Oakland's Laney College.
After over a decade of teaching, Gallegos was beginning to feel the effects of burnout. That feeling, alongside a major family event, led her to make a change. "My brother underwent a liver transplant last summer, and we thought he only had a few months to live. He and I are only a year apart, and it made me reflect that life truly is short. If I'm going to make a change, I might as well do it now."
It was Gallegos' teaching experience that led her to explore the mental health field in particular. "I was taking a look at what parts of teaching were draining me, and what parts were nourishing me," she says. That process led her to recall her students in Berkeley who had been helped by working with school counselors. "If I were to work as a therapist," she reasons, "I'd be able to have a much greater impact on my students' lives. I'd be able to help them on my own terms, rather than just by following state curriculum standards."
Gallegos was also struck by her own experiences with therapy. "Therapy has not been part of the culture for my family, despite a need for it," she says. When she began looking for her own therapist, Gallegos struggled to find a clinician who identified as Latina. As she saw the need for Latinx therapists through her own experiences, she once again thought of her students. "Most of the students I worked with were Latinx, and I wanted to be able to serve as a bridge for them," she says.
When exploring graduate psychology programs in the Bay Area, Gallegos was attracted to the Wright Institute for the ways it prioritizes its social justice values, as well as some positive experiences shared by colleagues. "I had some connections who spoke very highly of the program, but what made it my number one choice was knowing that my therapist had gone there," she recalls.
Once she scheduled an admissions interview, she was struck by the small group discussions that the classes are structured around. "I came from a huge undergraduate university, and the smaller settings give me a chance to truly connect with my classmates," Gallegos says.
In her first year in the Counseling Psychology Program, she has been impressed by the faculty. "Each of the professors have been amazing in their own way," she says. "It's been eye-opening to see their different styles of teaching and the different ways they convey information, whether it's lectures, stories, media, or exercises."
Alongside three other first-year Wright Institute Counseling Psychology students, Gallegos has been accepted to the Services for Transitional Age Youth (STAY) Fellowship. The American Psychological Association (APA) hosts the Minority Fellowship Program (MFP) for aspiring clinicians of color who are early in their psychology careers. The STAY Fellowship assists students in training to provide mental health services to transition age youth (ages 16 through 25) and their families.
"I'm excited about the opportunities it brings, especially the professional development aspects," says Gallegos of the fellowship. "I'm still very new to the field, so having mentorship from other professionals and aspiring therapists, especially therapists of color, will be invaluable."
The STAY Fellowship is a commitment to work with transition age youth, a population that Gallegos is looking forward to serving. "As much as I like working with kindergarteners, they take a lot of energy," she laughs. With a population range of 16 to 25, Gallegos will have plenty of opportunities to expand her work with young adults.
After graduating from the program, Gallegos hopes to continue working with the populations she has been drawn to over the years, as well as branch out into others. Through the STAY Fellowship, she hopes to gain experience with transition age youth and families. Alongside that work, she hopes to begin working with those affected by substance abuse. "Given my family history with substance abuse, I'm interested in that component in the fellowship," Gallegos says. The STAY Fellowship is funded by a grant from the federal Substance Abuse and Mental Health Services Administration (SAMHSA), so this is an integral part of the work for fellows.
As with all teaching professionals, Gallegos is facing the reality of teaching while under shelter-in-place as a result of the current COVID-19 pandemic. "Everyone is adjusting to what's going on in different ways, and the key is for us all to be gentle with ourselves and each other," she says. California schools are closed for at least the remainder of the academic year. Despite the severity of the situation, she is hopeful that good can come out of it. "Spending so much time at home has me reconsidering what practices really nourish me," she says. "We all have to find creative ways to feel peace and connection, whether it's through music, dance, writing, or drawing."
It's an unprecedented time, but Erica Gallegos has plenty of experience from which to draw wisdom. "This crisis is a reminder of how interconnected we all are," she says, "and that connection doesn't just go away. We just have to be creative in how we capture it."


Click here to learn more about the Wright Institute's Master of Counseling Psychology program.
Click here to learn more about the Wright Institute's Doctor of Clinical Psychology (Psy.D.) program.