Congratulations to 2020 STAY Fellows!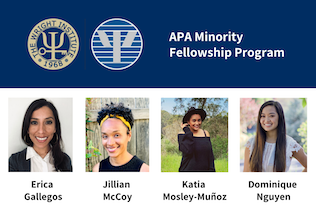 Four Wright Institute Counseling Psychology students have been accepted to the Services for Transition Age Youth (STAY) Fellowship through the American Psychological Association's (APA) Minority Fellowship Program (MFP). First-year students Erica Gallegos, Jillian McCoy, Katia Mosley-Muñoz, and Dominique Nguyen, are 2020 STAY Fellows.
The Fellowship assists students in training to provide mental health services to transition age youth (ages 16 through 25). "Transition age youth are a population who traditionally haven't been effectively served by psychologists and counselors," explains Ulash Thakore-Dunlap, LMFT, Wright Institute Faculty Member and Director of Diversity, Equity, and Inclusion.
"My hope for the students who have been accepted into the STAY Fellowship is that they take every opportunity they can to learn about effective ways to work with transition age youth," Thakore-Dunlap says. "I hope that they tap into this wonderful network, explore alternative career paths, and allow the experience to shape their trajectory in immeasurable ways."
The students awarded are all passionate about working with underrepresented populations, and are excited to be part of the MFP STAY Fellowship.
"I'm excited about the opportunities it brings, especially the professional development aspects," Gallegos says. "I'm still very new to the field, so having mentorship from other professionals and aspiring therapists, especially therapists of color, will be invaluable."
"What I'm most looking forward to is the opportunity to expand my professional network and make connections with those at similar stages in their careers from across the country," says McCoy. "I'm also excited to learn about the work that's being done in service of the TAY population and the ways in which I can contribute after graduation."
"As a STAY Fellow, I am dedicated to raising awareness for Black, Brown and Indigenous youth in the areas of crisis counseling and suicide prevention," Mosley-Muñoz says. "My focus is to support transition age youth of incarcerated parents in navigating family traumas by helping to promote post traumatic growth through positive psychology practices."
"I hope to take part in advocating for social justice and the well-being of transition age youth as a STAY Fellow. I am proud to be a part of a program that encourages diversity and representation in the mental health field," says Nguyen. "I am deeply appreciative for the support, training, and experiences that will come."
Congratulations to Dominique Nguyen, Katia Mosley-Muñoz, Jillian McCoy, and Erica Gallegos!


Click here to learn more about the Wright Institute's Master of Counseling Psychology program.
Click here to learn more about the Wright Institute's Doctor of Clinical Psychology (Psy.D.) program.