Student Spotlight: Pearl Penumaka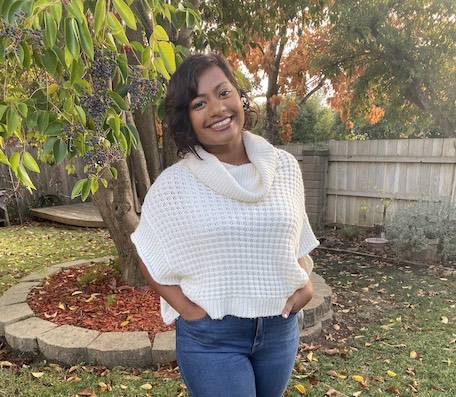 "I believe that there need to be more therapists who share lived experiences with people from my community. I realize that if that is something I want to see in the world, then I need to be the one to actually make that change." Just a few months into her time at the Wright Institute Counseling Psychology Program, Pearl Penumaka already has a strong idea of what impact she wants to have on the mental health field.
Penumaka was born in India, and moved to Berkeley with her family when she was nine years old. She and her family stayed on the west coast, and Penumaka graduated from UC Davis in 2012, where she studied English. After graduation, many of her colleagues expected her to become a teacher. "I've always enjoyed working with young adults and adolescents, but I've never wanted to teach," she says. "I think I mostly didn't want to because of the perception of it, and because it's what everyone expected of me. I'm glad I didn't, because I've gotten to do so many other exciting things, like fundraising, nonprofit administration, and data analysis."
Penumaka may not have taught inside the classroom, but she has spent time in education-based nonprofits. Right after graduating, she began working at the Sacramento Theatre Company before becoming the education coordinator at the Chabot Space and Science Center. "Those were great places to see young people learning outside the classroom," she says.
While working in Budapest, Hungary with a non-governmental organization (NGO) focused on Roma youth, she became interested in pursuing a graduate degree in psychology. "The people I was working with, who were from all over Europe, started telling me about their lives," Penumaka says. "I heard about their struggles, their joys, and their passions. I felt called to communicate with people in that way, but knew I had to learn the right methods to use."
"I identify as a South Asian, immigrant woman. I've gone to therapy in the past, but it is not something that is talked about in the community I'm from," she says. "If more people are going to have access to mental health care in the South Asian community or other immigrant communities, there needs to be more practitioners that people in those communities can actually relate to and share lived experiences with."
"I was having a conversation with my dad about therapy and he said, 'Why would I go to therapy? They're not going to understand me,'" Penumaka recounts. "As a field, we should be actively trying to solve that problem, and that's another central reason why I went back to school."
Wright Institute Counseling Psychology full-time faculty member and former Asian American Psychological Association board member Ulash Dunlap, LMFT, adds, "There is a lack of representation of South Asians in the field of counseling and psychology and mental health professionals, but this is not the case for those that hold a medical degree (MD) as there is more representation of South Asians who hold an MD and attend medical school. This results in the lack of trained South Asian mental health professionals to serve the South Asian community. In addition, this is compounded by the stigma and shame for many South Asians in seeking counseling and support."
After deciding that a graduate degree in psychology was what she wanted to pursue, Penumaka heard from a family friend and former Wright Institute faculty about the Counseling Psychology Program. The program's social justice orientation resonated with Penumaka, as did the opportunities that the Bay Area provides. "There are so many ways to pursue what I'm interested in, since we have such a large South Asian immigrant community," she says. "I wasn't specifically looking to stay in the Bay Area, but it's an added bonus." Penumaka now lives in Oakland, while her family resides in the North Bay.
During her first term, Penumaka was elected by her peers as a student representative to the Counseling Psychology Program Diversity Committee, which includes two elected students who partner with members of the faculty and administration to address diversity issues within the program.
During her time on the committee, she wants to increase conversations around intersectionality. "In a lot of places, 'diversity' is just code language for people of color. If we notice the effects of diversity only impacting certain groups of people, we have to think about our goals more intersectionally," she says. "Most of us, myself included, are still in the process of learning what true inclusion means."
In her first term in the Counseling Psychology program, she has found herself drawn to different classes for unexpected reasons. "I don't consider myself a person who is wired to think quantitatively, so I didn't think I would enjoy Diagnosis & Empirically Supported Treatments, she says. "But I've found it really interesting, since I've been able to learn what tools practitioners use, as well as the cultural considerations at play. Professor Stuart has really encouraged us to ask questions about what we are learning and critique the way we approach certain methods."
While she's not in class, Penumaka is working as the Development and Communications Associate at YES Nature to Neighborhoods, a Richmond-based organization that connects families and youth to the outdoors. Through trips to nature like hiking, camping, or kayaking, YES uses the outdoors as a healing space to nurture leadership skills.
She is also in the process of applying for practicum, the supervised clinical work that students complete in their second year of the Counseling Psychology Program. She is considering exploring sites that connect nature and mindfulness with therapy, and is also open to working with transitional age youth and families.
Penumaka grew up as the daughter of a Lutheran pastor, and served as a camp counselor at Lutheran camps from high school through college. That experience gave her chances to explore the worldview of adolescents in an outdoor space, something she still does today. "Young adults are curious and look at the world in such a unique way," she says. "They motivate older generations to improve our own views of the world."
After graduation, she wants to write. "I want to intertwine my skills and passion for writing along with the work that I'm learning to do here." If Pearl Penumaka writes what she is passionate about, she is sure to have an audience. "I want the impact I have to be beyond myself."


Click here to learn more about the Wright Institute's Master of Counseling Psychology program.
Click here to learn more about the Wright Institute's Doctor of Clinical Psychology (Psy.D.) program.