Congratulations to Dr. Newman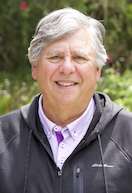 Dr. Gilbert Newman, Vice President for Academic Affairs at the Wright Institute, was honored with the Paul Nelson Award from the Council of Chairs of Training Councils this week at the National Council of Schools and Programs of Professional Psychology 2023 Summer Meeting.
According to the Council of Chairs of Training Councils,"the Paul Nelson Award recognizes individuals who have distinguished themselves through significant, long-term service to professional education and training, as evidenced by leadership in bringing together parties in a common purpose to address important problems. While many awards already recognize outstanding "achievement" in psychology, the Paul Nelson Award recognizes the spirit and model of collaboration established by Paul in his work with CCTC, a true statesman and diplomat."
In the award presentation, Catherine Grus, PhD, APA Chief of Education, stated: "Dr. Newman's success in program development, leadership, and advocacy stem from his skill in laying the foundation for collaboration through developing relationships. His capacity for perspective taking and reflection offer avenues for people to engage authentically and take risks that allow pursuit of common goals. His dedication to personal connection while maintaining a focus on the larger initiatives of psychology training, advocacy, and social justice represents his unique contribution to the field and embodies the spirit of the Paul Nelson Award."