Alumni Spotlight: Alonso Medrano, Class of 2018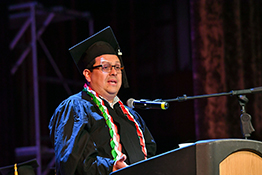 In the 11 months since graduating from the Wright Institute Counseling Psychology Program, Alonso Medrano has had no problems keeping busy. On top of raising his three children with his wife, Maria, Medrano spent time at Napa County Department of Children's Mental Health and Mentis before settling at Camille Creek Community School.
"I get the summers off at Camille Creek, which has been nice. Having time where I'm not working has really allowed me to realize how quickly life picks up," says Medrano, who lives in Napa County. "It was just a year ago that I graduated, and this summer I've been able to reflect on all the adjustments I've made in my life recently."
Medrano spent a total of 11 years at Napa County Children's Mental Health Services. Before starting at Napa County, he worked at a bank. "I was finishing up a Bachelor's in sociology and really wasn't sure what I wanted to do," Medrano says. As a native Spanish speaker, his first role with Napa County was simply "to provide transportation, interpretation, and translation," as he puts it. His time there became much more than that over the years.
Medrano met one of his mentors at Napa County, and developed an interest in pursuing a career in community mental health. "I started noticing I had an interest in engaging with people and really listening to their needs," he says. "Working [at Napa County] really set the foundation for me to pursue a Master's Degree at the Wright Institute." Medrano enrolled in the Counseling Psychology Program in 2017, and continued on at Napa County while taking classes. In his second year at the Wright Institute, he opted to complete his practicum at Napa County and begin accruing hours towards MFT licensure.
When Medrano graduated in 2018, his peers voted for him to serve as the student speaker at commencement. Medrano surprised everyone by delivering an impassioned speech entirely in Spanish, eliciting emotional reactions and strong support from his colleagues and their guests across the linguistic divide. "When giving the speech, I wanted to demonstrate how fragmented and disconnected we have become as a society and community, and I wanted to remind everyone how we can begin to reconnect by simply acknowledging those around us," says Medrano. "We need to have more open dialogues about each of our experiences to build our compassion and understanding of ourselves and others around us."
After graduation, Medrano took a position at Mentis, where he got the opportunity to take on new challenges and provide different treatments across Napa Valley. As well as providing Spanish-language therapy to couples and providing short-term therapy to clients in Calistoga, Medrano was co-located at Queen of the Valley Hospital in Napa. He worked with the hospital's CARE Network, where he had the opportunity to work with patients struggling with chronic and long-term illnesses, and to do home visits with high-need patients.
In January, Medrano took on the role of Behavioral Interventions Coordinator at Camille Creek, a community school for middle and high school students who have been dismissed from other schools, but still need the credits to graduate. "I've always enjoyed working with teenagers," says Medrano. "I feel like this population requires an open mind to be able to understand what's going on in their lives. Sometimes that's gang involvement, use of drugs, or family trauma. I'm a firm believer that if you can work with teenagers, you can work with anybody." Medrano also serves as Camille's Supervisor of Attendance, where he works with certain students and their families to support them to address whatever academic, mental health, social, and community struggles they may impact their ability to show up to school.
Camille Creek serves about 150 students, and Medrano estimates he works with 30 to 40 students on a daily basis. With so many clients, Medrano has the chance to lead a variety of groups, and build strong communities among the student body.
"One of the projects I'm leading at Camille Creek is a set of young men's groups," says Medrano. "Like myself, most of the students identify as Mexicano or Latino, and many come from cultures where the expectation for them is that they have to be able to provide for themselves and their families once they turn 18." Many of the students in Medrano's groups come from single-parent households or have incarcerated parents, and many come from families with negative preconceptions about mental health. "Just being able to talk to these young men without them feeling like it's a sign of weakness is healing," he says.
Medrano greatly values the opportunity to help shape the futures of the students in his groups. "I want to help these young men understand that they don't have to live their lives the same way their fathers did," he says. "Many of their relatives have worked in the fields here in Napa county, and the students of color I have in my groups don't want to work in agriculture like their parents did. I want to change their expectations and show them that's possible.
"For example, I want them to instead aspire to go to UC Davis and become viticultural students, and work in Napa's wine industry in a different way. There are many Latinos in Napa Valley who are successful winemakers - I want them to aspire to have that level of agency in their lives."
In addition to group therapy work, Medrano helps out the students of Camille Creek in a variety of other ways. "Not all kids that I work with are at the same intensity level," he says. "Sometimes, helping them is as simple as reviewing a résumé, or helping secure a work permit, or giving them the right phone number to call." While the size of his caseload can be challenging, Medrano appreciates that aspect of his job. "I've always enjoyed working with large family systems, so interacting with so many different personality types is enjoyable for me."
Securing MFT licensure is high on Medrano's list of priorities for the future, and he plans to take the California Law and Ethics Exam in September. He aims to finish his supervised hours within two years, and to take training classes in methods like Emotionally Focused Therapy (EFT) along the way. "I want to invest in myself and build my skill set," he says.
Just like the students in his groups, Medrano wants to be a part of a strong community as he continues to grow as a clinician. "I want to continue to build community with the other clinicians of color here in Napa Valley," he says. "I want to be able to discuss with my fellow clinicians the issues that impact the community that we live and work in - whether it is ICE raids, immigration policy, or the wildfires."


Learn more about the Wright Institute's Master of Counseling Psychology program.
Learn more about the Wright Institute's Doctor of Clinical Psychology (Psy.D.) program.