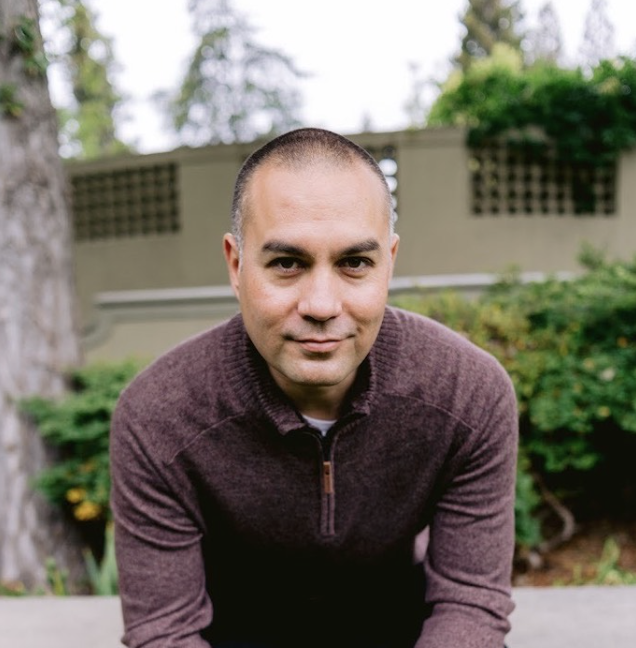 Alumni Spotlight: Eric Tian Qi Lindberg, Class of 2017
"I took the scenic route, and finished my licensure process almost seven years to the day since my New Student Orientation in 2015," shared Eric Tian Qi Lindberg. "It will take some time to integrate the new identity, but the leveling up feels nice!"
A lot has happened for Lindberg since he graduated from the Wright Institute Counseling Psychology Program in 2017. In 2019, he became a father, welcoming his son, Oliver. From 2019-2022, Lindberg held the position of field placement advisor in the Counseling Psychology Program, working with fellow Wright Institute alum Stuart Lee to guide students in their practicum experience. Along the way, he gained experience as a clinician in private practice, growing his client base each month. In 2022, he left his position as field placement advisor after passing the licensure exam. Lindberg is now a Licensed Marriage & Family Therapist working in private practice.
Before he delved into a career in psychology, Lindberg worked as a teacher and as a job counselor for high school students. He took environmental classes at Merritt College, and earned a certificate in environmental management and technology, as well as one in green building. "At the time, I had the desire to do something to 'save the world.' I wasn't sure what that looked like, but I knew I had to try," says Lindberg. After losing focus in the green building industry, Lindberg began to rethink his options and began to consider the prospect of becoming a college counselor. "Things changed after my mom got sick," says Lindberg, who lost his mother to cancer in 2014. "In my grieving process, I felt that she wouldn't want me to stand still in my life just because I lost her."
After some time, Lindberg began looking into counseling programs. "It clicked for me that the best way to help people would be on a deeper level than just as an academic counselor." While he explored several graduate programs in psychology around the Bay Area, the Wright Institute stood out after Lindberg visited the campus. "When I walked in, it sort of felt like Hogwarts!" he laughs. "It had a more homey, welcoming atmosphere than any of the other places I had seen." Lindberg quickly settled in and found a home in the Counseling Program. "While I was a student, I felt like my professors were my heroes," he says glowingly. "To me, they were the model of everything that was possible in the mental health field. It is exciting every day that I get to call my heroes my colleagues now."
When it came time to apply to practicum, Lindberg thought he was "done with schools" after spending so much time working in a school setting in his previous career. "At the time, my vision of being a therapist was just to work with adults in a clinical setting," he recalls, "but when it came time to be matched up with sites, I didn't get an opportunity at my top choices." Lindberg was placed at Albany High School, working with high school students once again. It ended up being a greatly rewarding experience. "That's one of the pieces of advice I aim to echo in my interactions with students," says Lindberg. "Even if you think you won't like something, it doesn't hurt to put in an application. It might be worth trying out, and you might even love it."
After graduating in 2017, Lindberg worked at Stars Community Services in San Leandro, a community mental health organization that operates across California. While he was there, Lindberg learned about the need for self care to be taken seriously. "After meeting my most acute clients, it finally clicked that my professors were right, and I needed to take self care seriously in order to avoid burnout early in my career," he recalls. "Instead of quitting after six weeks, I made it to 18 months before changing my clinical focus."
In 2021, Lindberg sat on a panel for the first-year course Multicultural Awareness and Sensitivity, and offered to explain his naming convention. "In that moment, I reflected on the lack of connection to my Asian heritage, an absence that I've felt for half my life," he says. "After that panel, I kept thinking back on how I'd lost my mother, and wanting to feel closer to her. I knew it was time to find a way to reclaim my Asian heritage." This inspired Lindberg to assume his Chinese name, and now he professionally goes by Eric Tian Qi Lindberg. "The name 'Tian Qi' was originally given to me by my mother in an off the cuff discussion many years ago," he says. "There are many different interpretations of the literal meaning, including 'celestial' or 'thoughtful'. To me, the meaning of having that name is much deeper."
In addition to the personal impact that assuming the name has, he is also aware of the positive ways it can impact the students he works with. "Claiming my name is in itself an action that can be inclusive of biracial and multicultural students. I've already heard feedback from students who have said they feel seen and heard through that action," notes Lindberg. "It's a mission of mine to raise the visibility of biracial and multicultural people in the profession. What better way to advertise my mixed heritage and mixed identity than my name?"
As a new father, Lindberg has limited time on his hands and has to be more conscious than ever about how he spends it. One hobby he always makes time for is drumming, which has been a major part of his life since he was in middle school. "Every time in my life that I'm not drumming, I feel like something is missing." In some ways, drumming can represent the ways different skills in therapy can be implemented. "You can rearrange drum sets in countless ways, using whatever tools you need at the time. I'm constantly switching new pieces and techniques in and out," says Lindberg, "but if you don't understand the tempo or the context, it doesn't matter what you have in front of you. The same is true when working with clients. You can learn every possible approach, but nothing is more important than understanding your client within their unique context."
In 2019, Lindberg began in his position as the Counseling Psychology Program's Field Placement Advisor, which had him working closely with fellow Wright Institute alum Stuart Lee, the Program's field placement director. "When Stuart and I first met (while I was applying to the Program), we both discovered that we had many similarities," says Lindberg. "We grew up in the same neighborhood, went to the same high school, chose psychology as a second or third career - our fathers even worked for the same company for decades. It was great to be able to work with him every day and discover even more connections." Lindberg shared that the position of field placement advisor felt like "coming full circle." His success in the role could be partly attributed to his closeness to the students' experiences, as he graduated from the same program they were working through, just a few years ago.
Now that he has passed the licensure exam, Lindberg is excited to step away from his role as field placement advisor and take the time to focus on improving the level of treatment he provides to clients. "I'd like to seek out training and certification in modalities that I've always been interested in learning more about, like EMDR, creative process, and multiracial identity development," Lindberg shared. "I'd like to rejoin my consulting group, continue to partner with my colleagues, and help each other get better at what we do and how we do it. Onward and upward!"
Lindberg has developed an amazing network that he was able to lean on as he explored private practice. "I sought out mentorship and opportunities from those around me. I am forever grateful for the tutelage from my wonderful mentors: Jeanette Lopez-Urbina, LCSW, and MacKenzie Stuart, LMFT," Lindberg noted, explaining that he spent time working with both of them in their private practices. "I will now shift my focus in my work with MacKenzie from being her associate to really understanding how to run my own practice," Lindberg noted, "and hopefully launch my own thing this fall."
When asked what advice he has for students going through the licensure process, Lindberg said "Take your time, and don't be in a rush. The longer it takes you, the better clinician you will be, as you accrue more and more experience." He encourages others to "try different things - new client populations, new presenting issues, and new settings and treatment modalities." As a final word of advice, Lindberg shared this reminder: "Take breaks when needed. It's a marathon, not a sprint!"


Click here to learn more about the Wright Institute's Master of Counseling Psychology program.
Click here to learn more about the Wright Institute's Doctor of Clinical Psychology (PsyD) program.