Alumni Spotlight: Meagan Rossin, Class of 2018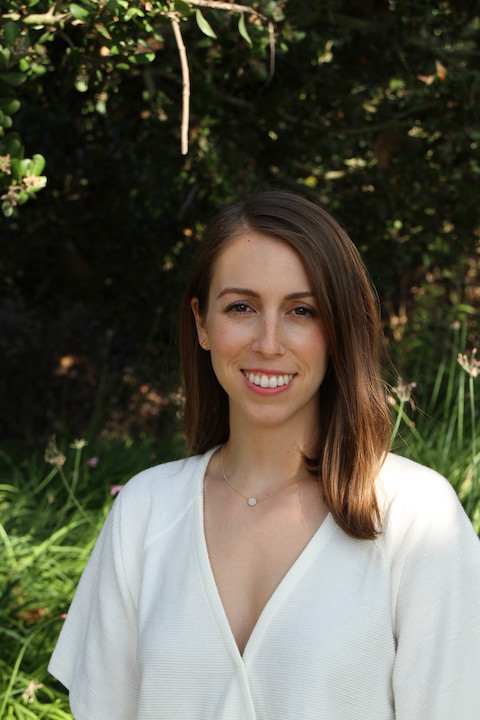 Meagan Rossin, LMFT, graduated from the Wright Institute Counseling Psychology Program in 2018. She spoke with the Wright Institute's Dalton Green about her career since graduation, launching her own independent practice during the COVID-19 pandemic, and how her background in performing arts has helped inform her career in psychology.
Dalton Green (DG): Where has your career taken you since you graduated in 2018?
Meagan Rossin (MR): I completed my practicum at Richmond Area Multi Services (RAMS), working at Mission High School in San Francisco, and stayed on there after graduation. I then enrolled in a two-year postgraduate training program at The Psychotherapy Institute (TPI), where I worked with a caseload of ten patients. I finished my hours required for MFT licensure in March of 2020, and I now have a caseload of 18 patients in my own practice.
DG: How did you become interested in psychology as a career?
MR: Like many people who enter the Counseling Psychology Program, I didn't always know I wanted to become a therapist. I'd fallen into my own therapy when I was 18, and had a very positive experience at an impressionable and transformative time in my life. That experience and curiosity stayed with me. After graduating from college, I told myself I would try other fields and when those didn't feel right I finally decided to commit to becoming a psychotherapist. I did like the parts of my previous roles when I would get to work more personally with people, and wanted to find a career path where I could sit with different people and learn about and support them.
DG: What brought you to the Wright Institute?
MR: I had a family member who encouraged me to get a little experience in the mental health field before jumping into grad school, which proved to be great advice. I began working at the San Francisco Night Ministry, offering crisis help over the phone between 10 p.m. and 2 a.m. Through that experience, I got to meet other volunteers who had come through various Master's programs in the Bay Area.
After looking at and researching a number of local Master's programs, the Wright Institute stood out to me as having a particular focus on community. I wanted a graduate program that felt warm and welcoming. I also appreciated the cohort model, and the faculty I met seemed engaged and invested in the students, which stood out to me.
DG: You come from a performing arts background. Has that given you some skills you might not have had otherwise?
MR: Growing up I was involved in performing arts, which felt like another way to understand people and communicate themes that are hard to grasp but resonate with so many of us. That still influences who I am as a person, and therefore who I am as a therapist. I think that my background in the arts helps me work more relationally, and makes it easier for me to go towards things that are difficult without being confrontational.
Becoming a therapist has also enhanced my relationship with theater. I mostly stopped doing theatre after college, but was able to stay connected with improv throughout my 20s. During the pandemic, I wanted to get back in touch with the theatrical part of myself, so I enrolled in an acting class on Zoom. It was surprising, scary, and delightful, and I loved getting to act again. I felt like my experience as a therapist actually deepened what I could access in myself while acting, which was fascinating to see how these two interests of mine could inform each other.
DG: You earned your MFT licensure and started your private practice last summer, at the height of the COVID-19 pandemic. What was it like to begin that journey in such uncertain times?
MR: Launching during the pandemic, into my own practice and with the uncertainty of COVID, felt unsteady at times. However, thanks to my two years at TPI and the relationships I built with patients, I was able to take my caseload with me to my independent practice. As I've gone through the past year of starting my practice, I've also learned to be okay with the inconsistency that can come with a larger caseload. Some people want more short-term treatment, and some will come in and out of treatment.
For solo practitioners, it is vital that you know how to market yourself. Advertising your business can be uncomfortable, because you have to clearly state on your website who you are for the whole world to see. I am still relatively new to this field, and I am still discovering who I am as a therapist as I continue to grow personally and professionally.
DG: What are some of the differences between working in community mental health and operating out of your own private practice?
MR: Through my practicum at RAMS, I worked with high school students. Teenagers can be intimidating! That being said, I was so eager and excited to be able to work with them every week, especially as we built rapport. That experience helped me build confidence as a clinician, and was invaluable for me at that stage of my career. I found working at a high school particularly rewarding, since I got to work with the same students for two years during one of the most pivotal times of their lives. It could be chaotic working in a system, but seeing the students' progress over time was so satisfying. I still work with adolescents - they make up about a third of my practice. I think that is definitely because of my practicum experience.
I also picked up a number of skills working inside a school system. I learned how to talk to patients in a language specific to their needs, and that reflected the school environment they were in. When establishing my own practice, I had to really think about language and its significance and implications. It can be a difficult balance. Language can be inviting, and it can be harmful. I feel it is my responsibility to be as mindful of this as I can be.
DG: What goals do you have for the future?
MR: I want to explore group work, and take advantage of trainings that are available from some of the amazing organizations here in the Bay Area. I'd also like to continue my anti-racism work, and someday I'd like to be a supervisor for clinicians coming into the field. I currently enjoy working with therapists in training and try to keep some sliding scale spots available in my practice for students and associates, when possible.
For the last few years, while earning my hours for MFT licensure, I was yearning for the freedom and autonomy that I thought would be waiting for me at the end of that path. I'm trying to enjoy the view right now, but I always want to learn more about the field and about myself.


Click here to learn more about the Wright Institute's Master of Counseling Psychology program.
Click here to learn more about the Wright Institute's Doctor of Clinical Psychology (PsyD) program.