Alumni Spotlight: Nicole Barr '13, NP, LMFT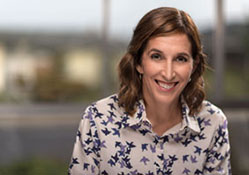 Nicole Barr is equal parts nurse practitioner, private practice therapist, and now, instructor at the Wright Institute. She also spends her time conducting research and teaching other health care providers. Barr wears many hats, but she is not someone who wastes a single day on something she does not feel is important.
"As a nurse practitioner for fifteen years, I've long been aware that cancer patients often don't have sufficient access to mental health support services," Barr says. After spending most of a decade as an oncology nurse practitioner (NP) at the Stanford Cancer Center, Barr decided to step in by starting a pilot program in which Stanford cancer patients could receive in-house psychotherapy. In the seven years since that half-day pilot program began, it has grown into a full-fledged clinical service with three psychiatrists, several licensed clinical social workers (LCSWs), and Barr as an NP and Licensed Marriage and Family Therapist (LMFT). The psycho oncology clinic is part of a range of supportive oncology programs arising in cancer care around the nation. Barr says "I was fortunate that my passion for offering this resource to patients dovetailed with some supportive MDs in an area in psychiatry that has national organization and forward-thinking management at Stanford that allowed this to flourish."
Barr is the only LMFT working in the program at the moment, but hopes it will grow to accommodate more. "The colleagues I have working with me do excellent work and I hope we can expand to a larger team in the future," she says. "I would love for more MFTs to be in the program." Currently, the program is aiming to work in a more integrated fashion, with LCSWs providing the majority of the therapy.
Since she began as an oncology nurse practitioner, Barr noticed how many cancer patients were struggling with their mental health and were not receiving the help they needed. However, the script was flipped when she was treating a patient with lymphoma. "This patient's mother was an MFT," Barr says. "After he died, his mother would say how she could not believe that patients like him weren't being offered mental health services. That moment motivated me to gain more training in counseling."
Barr came to the Wright Institute Counseling Psychology Program in 2011 while still working as an oncology NP. Despite her course load and her work, Barr still found the time to start the program at Stanford during her first year at the Wright Institute. "I really can't take all the credit," says Barr, whose supervisor during her clinical work was a psycho-oncology-trained psychiatrist at Stanford. "I told him my vision for the pilot, and he supported me in trying it."
During her second year at the Wright Institute, while continuing to expand the program and working as an NP, Barr completed her practicum at Mission Hospice and Home Care in San Mateo, an independent nonprofit in San Mateo that provides patients and families with end-of-life care and education. Mission Hospice mainly provides care for clients in their own homes, and provides patients with bereavement care and other mental health services.
At Stanford, Barr meets with clients suffering from various types of cancers, at several different stages of recovery. Her work is short-term focused, as she usually sees clients for 8 to 10 sessions while they are undergoing treatment, though there are exceptions. "Sometimes I will see clients for two or even three years," says Barr. "Once they are cancer free, I often continue to see them every couple of months to check in."
Mindful that cancer patients often rely on a support network of friends and family, Barr will often bring some of those key figures into sessions with patients. "Sometimes it will be a partner or a spouse, or one of the patient's kids, or even the whole family," she says. While the program is specifically focused on supporting the mental health of the patients themselves, Barr also acknowledges the toll that an illness can take on a person's loved ones. "Cancer is something that the whole family has to endure," she says.
Barr does some outreach to find clients, but most come through referrals by those close to the patients. "Sometimes I will get referrals from oncologists or radiologists, but most of the program's clients are referred by NPs," says Barr. "I think NPs are focused to care for the whole person, and really notice when someone is struggling."
Barr spends about 30 hours a week at Stanford, and it can be intense. "My coworkers can be workaholics, and the work can be difficult," she says. As a change of pace, Barr now runs a private practice in San Mateo. She finds this work with her clients, most of whom are couples, refreshing. "I'm liking the private practice model a lot. It's relaxing to not always have to work with the issues that come with active cancer treatment and to focus on the relationship." Barr is also pursuing EFT (Emotional Freedom Technique) certification for use in private practice.
While she is not with clients, Barr is involved in broader efforts in research and education at Stanford. "We're always searching for the best ways to help out our clients," she says. Barr can also be found lecturing in programs for other Advanced Practice Nurses at the Stanford Center for Health Education in the physician assistant training program, or in educational conferences for patients and families. "Teaching keeps me on my toes and encourages me to constantly search for new information," she says. At Stanford she is able to consistently integrate new evidence and new healthcare trends into both her research and her teaching.
In the coming weeks, Barr will take on another role: instructor at the Wright Institute. Barr will be teaching Psychopharmacology and the Biological Bases of Behavior, a course that each student takes during their final term in the Wright Institute Counseling Psychology program. "I'm so excited about teaching the psychopharmacology course," Barr says. "It's a class that really blends the two sides of what I'm most interested in, and I greatly enjoyed taking it when I was at the Wright Institute." The course provides a basic overview of neurobiology in order to understand the biological bases of behavior and the psychopharmacological treatment of mental disorders.
In her different lines of work, Barr embodies both of the different sides that the course explores. "At Stanford, I prescribe psychotropic drugs every day. But in my private practice, I'm in a setting where I'm not able to prescribe. It combines the work we do in therapy with the biological aspects of care." Always interested in searching for the best ways to help her clients, Barr is looking forward to showing students how she integrates these two approaches by bringing in examples and guest lecturers from her work at Stanford.
Before teaching the psychopharmacology course, Barr will be spending some much-needed time with family. She won't sit still for long, however. "I have so much preparation I have to do for the class!" she says.
Despite her incredible work navigating the program at Stanford, Barr is still hesitant to give herself credit for it. "I've had so much help at every step," she reiterates. With her work as an instructor, her students will undoubtedly give her plenty of credit for the help and wisdom she will provide.


Learn more about the Wright Institute's Master of Counseling Psychology program.
Learn more about the Wright Institute's Doctor of Clinical Psychology (Psy.D.) program.