Alumni Spotlight: Paige Pires de Almeida, Class of 2015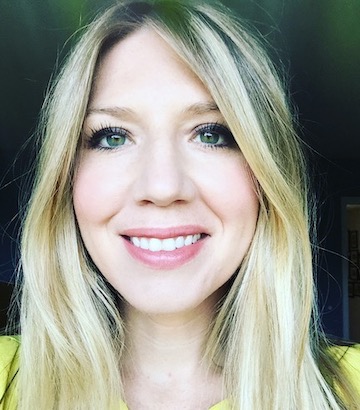 "I feel so proud of the contributions I can make to help people reach their goals or create a more meaningful life," says Paige Pires de Almeida, LMFT. "I feel so much gratitude that I'm able to do work that I love."
A 2015 graduate of the Wright Institute Counseling Psychology program, Pires de Almeida has spent the past seven years in the mental health field following careers in both the legal industry and technology/video game industry. This summer, she became an adjunct professor at the Wright Institute Counseling Psychology program, and also teaches at Dominican University's Counseling Psychology program.
A native of Cincinnati, Ohio, Pires de Almeida grew up traveling to the United Kingdom to visit her mother's family. "When it came time to decide where I wanted to go to college, I wanted to get as far away from Ohio as possible," she laughs. She attended The University of Manchester, earning her law degree (LLB), while working summers in London. She trained to become a solicitor in the UK, and had to return to the United States to sort out a passport issue.
"I came to the Bay Area to meet up with a friend, and I was only supposed to be here for nine months," she says. "Fifteen years later, I still haven't moved away." Pires de Almeida took a job at a law firm, and later left the legal field to work in the video game industry. She later worked for media and technology companies, producing conferences, magazines, and websites.
The year before she began the Counseling Psychology program at the Wright Institute, Pires de Almeida found herself questioning her path. "I think a lot of my career decisions up to that point were predicated on prestige and paycheck," she says. "I distinctly remember driving with a friend and asking her, 'Will you Google 'how to become a therapist?''"
With the help of internet search results and her own transformational experiences in therapy, Pires de Almeida decided that she wanted to pursue a career in mental health. "I thought to myself, 'If I could be of service to people in a way that I have found therapy to be a huge service to me, that would hold so much meaning,'" she recalls. "I knew I could see myself enjoying that career path."
Pires de Almedia sought a program that aligned with her worldview and values, and felt that the Wright Institute's mission did so. "After I had checked out a few schools, the Wright Institute's ethos of social justice, resiliency, and recovery really stood out to me," she says. Pires de Almeida continued to work part-time as a business consultant while taking classes.
While at the Wright Institute, Pires de Almeida found the experience of learning as part of a cohort to be beneficial for her development as a clinician. "Encountering ideas for the first time and practicing them with each other through the lens of each of our real life perspectives was such a unique experience," she says. "The greatest gift that the Wright Institute gave me was the feeling of being in community with my cohort from my very first day in the Counseling program."
During her second year of the program, Pires de Almeida completed her practicum training at Family Service Agency (FSA) of Marin, serving individuals, couples, and families. After graduating, she continued at FSA, where she co-piloted the agency's first Dialectical Behavior Therapy (DBT) group for adolescents, as well as a program called TeenScreen that sought to identify possible mental health and suicide risks for middle and high schoolers. After departing FSA, Pires de Almeida began facilitating dialectical behavioral therapy for teens and offered family therapy at Petaluma Counseling Center, and volunteering at retreats for first responders through First Responder Support Network.
At the same time, she began an internship with former Wright Institute Counseling Psychology professor, Dedalus Hyde, PsyD, at Bay Area Trauma Center. "Dr. Hyde was my professor at the Wright Institute, so it was helpful to have that familiarity when beginning to learn new modalities," Pires de Almeida says. "At Bay Area Trauma, I was using trauma-informed modalities and Eye Movement Desensitization and Reprocessing (EMDR) to work with people who had survived overwhelming experiences."
Pires de Almeida obtained her Marriage and Family Therapist (MFT) licensure in early 2018, and opened her own private practice later that year. She continues to work under the umbrella of Bay Area Trauma Center alongside Hyde. Pires de Almeida began providing telehealth services as a result of the COVID-19 pandemic.
In the seven years she's been in the behavioral health field, Pires de Almeida has consistently found herself drawn to supporting clients working through trauma, overcoming challenges with their mood, and improving closeness and connection in relationships. As she's grown her private practice, she's found balance in working with diverse issues.
Pires de Almeida taught her first class at the Wright Institute, Family Therapy II, this summer. "I really enjoy working with students, and it is rewarding to see these young professionals encounter certain theoretical models for the first time," Pires de Almeida says of the students whose position she was in just a few years ago. "I aim to teach in a collaborative way that allows students to bring their unique backgrounds and perspectives to each discussion. I'm often floored by their insights, and I always come away inspired from class sessions. It's been a deeply enriching experience for me."
Pires de Almeida became a parent late last year with the birth of her son, who is now ten months old. "Right now and going forward, I'm focused on finding the right balance of practicing therapy, teaching, and of course, being available for my son," she says of her goals for the future. "So far, I've enjoyed teaching so much, and I do have a desire to see what else may unfold."
With all that she has going on, Paige Pires de Almeida has to find some time and energy for herself. "Everyone in the psychology field talks about practicing self-care," she says. "For me, that means making sure I'm as present, rested, and focused as I can be when I'm in session. In this field, we can't help others without also taking care of ourselves."


Click here to learn more about the Wright Institute's Master of Counseling Psychology (MA) program.
Click here to learn more about the Wright Institute's Doctor of Clinical Psychology (PsyD) program.