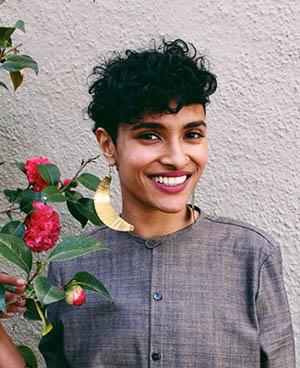 Healing Through Creative Expression
Chetna Mehta, a 2017 graduate of the Wright Institute's Master's in Counseling Psychology program, has combined her passions for art, spirituality and psychology to devise a personalized style of healing.
"I call myself a mystic because I am spiritual in my approach to mental health," Chetna explained. "I am a mixed-media artist, so I founded a brand that incorporates affirmation, spiritual study and evidence-based psychological techniques to create sacred spaces for creative and community-oriented healing."
While attending the Wright Institute, Chetna started crafting affirmations for herself to help manage the stress of graduate school and the recent presidential election. "I would draw visual affirmations to tell myself what I longed to hear. As I shared these art pieces, I learned that they resonated with people," Chetna said, adding that she started a product line of cards with these visual affirmations.
After seeing her work, many people approached Chetna expressing interest in creating similar affirmations in a connected and interactive way. With the group counseling experience she garnered at the Wright Institute, Chetna started devising workshops on topics such as beauty, shame, body image, shadow exploration, connecting with our inner child, dealing with transitions, stress reduction, and self-empowerment.
Today, Chetna does art commissions related to wellness and healing justice for clients all over the world; she engages in speaking opportunities to share her processes, experiences and study, and partners with various practitioners and organizations to create compassionate, reflective, and expressive healing experiences.
"One visual affirmation that resonates with me currently is, 'I find peace and release in the discomfort of uncertainty,'" she said. "I now have upwards of 60 designs and affirmations on themes such as interconnectedness, solidarity, self-realization, body intelligence, and shadow work." She hopes to make her practice and workshops as universally accessible and affordable as possible.
Chetna entered the Wright Institute with a Jungian perspective and leaning toward attachment theory. She now recognizes her brand, Mosaiceye, is a combination of her own personal wellness practice with her theoretical education in psychology.
"Talk therapy is immensely powerful, but it certainly has its limitations," Chetna said. "I think there are so many other modalities of healing that incorporate the body, movement and creative expression in languages beyond talk. I try to integrate all of these non-verbal facets of healing into my workshops and practice."
Chetna hopes her practice will serve predominantly people of color between the ages of 14 and 35. "Externalizing feelings in a piece of art has been very healing for me and for others," she said. "The emotion I pour into the expression seems to unlock something within people that talk-centered modalities haven't for them."
As is often the case in psychology, Chetna believes her most powerful interventions come from personal experience.
"I think my work resonates with others because when I draw these affirmations I am often in a place of strong pain or deep gratitude. And I often find that the ones that were the toughest or most joyful for me to create are the ones that have the greatest impact on people."
Learn more about Chetna's practice and work here. Learn more about her upcoming workshops here.
Click here to learn more about the Wright Institute's Doctor of Clinical Psychology (Psy.D.) program.
Click here to learn more about the Wright Institute's Master of Counseling Psychology program.