Congratulations to 2019 STAY Fellows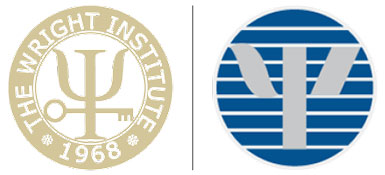 Four Wright Institute Counseling Psychology students have been accepted to the Services for Transition Age Youth (STAY) Fellowship. Second-year students Athenia Teng, Christina Yum, and Andre Jackson, alongside first-year student Adriana Delacruz, are 2019 STAY Fellows.
The American Psychological Association (APA) hosts the Minority Fellowship Program (MFP) for those who are early in their psychology careers. Historically, the MFP has only been open to those pursuing doctoral degrees, but the STAY Fellowship is open to students in terminal Master's programs. The Fellowship assists students whose "training prepares them to provide mental health services to transition age youth (ages 16 through 25) and their families."
"Transition age youth are a population who traditionally haven't been effectively served by psychologists and counselors," Wright Institute Counseling Psychology Program Full-Time Faculty Ulash Thakore-Dunlap, LMFT, explains. The fact that the prefrontal cortex isn't fully developed until age 25 is a relatively recent discovery, and has led to increased attention on developing effective interventions for psychologists and therapists to use with those in this stage of life.
"My hope for the students who have been accepted into the STAY Fellowship is that they take every opportunity they can to learn about effective ways to work with transition age youth," Thakore-Dunlap says. "I hope that they tap into this wonderful network, explore alternative career paths, and allow the experience to shape their trajectory in immeasurable ways."
Last year, Thakore-Dunlap was selected to serve on the Training Advisory Committee for the APA MFP with a focus on STAY. "It's an honor to be selected to serve on this committee, which is well-established and highly regarded within the APA and counseling psychology community," Thakore-Dunlap says. The Training Advisory Committee meets twice a year and works with MFP staff to read and evaluate applications of hundreds of candidates from various graduate programs.
Other functions of the committee include tracking the progress of Fellows and shaping the policies of the Mental Health and Substance Abuse Services (MHSAS) and STAY Fellowships. These successful and dedicated advisors serve as role models and mentors to MHSAS and STAY Fellows, helping them build a strong network early in their career. The Fellows also have access to trainings and workshops.
In part, Thakore-Dunlap was drawn to the committee as a way to promote diversity within the mental health field. "As a South Asian woman, I feel that it is important to increase visibility of ethnic minorities in the field of counseling psychology, specifically at the Master's level," she explains. South Asians make a small percentage of MFTs and leaders in the field. "The Minority Fellowship Program also is an excellent opportunity to provide mentorship for future leaders in our field. If you don't see someone like you working as a therapist or as a professor, it may not feel like an attainable goal. I want to do my part to change that in providing visibility that Master's-level people of color can be leaders in the counseling psychology field."
The students awarded - Teng, Yum, Jackson, and Delacruz - are all passionate about working with underrepresented populations, and are excited to be part of the MFP STAY Fellowship.
"I entered the mental health field with the hope of advocating for social justice by working with folks from ethnically and racially marginalized communities," Teng says. "I'm excited to be a part of the MFP STAY Fellowship and look forward to learning from and building with like-minded folks."
"I'm hoping to continue working with racial and ethnic minority transition age youth and their families to provide holistic and compassionate mental health treatment," Yum says. "In particular, I would like to focus on working with youth impacted by community violence and the juvenile justice system."
"I am looking forward to connecting with community and helping to guide them to a future that challenges and inspires them to find success in striving to live their best lives," says Jackson.
"I am eager to make a positive contribution through my learning and training," says Delacruz. "I will work very hard and eventually be in a position where I will have the ability to help transitional age youth who are under-represented both as a therapist and an advocate in my community."
Congratulations to Athenia Teng, Christina Yum, Adriana Delacruz, and Andre Jackson!


Learn more about the Wright Institute's Master of Counseling Psychology program.
Learn more about the Wright Institute's Doctor of Clinical Psychology (Psy.D.) program.