David Lin '05, PsyD, elected President-Elect of California Psychological Association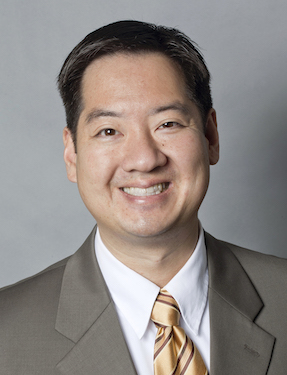 David Lin, PsyD, a 2005 graduate of the Wright Institute Clinical Psychology Program has been elected as President-elect of the California Psychological Association (CPA), the largest state psychological association in the nation.
Lin has spent much of his time since graduating working within the San Mateo County Health system, and currently holds the position of Chief Behavioral Health Officer at Ellipsis Health. Lin's role within San Mateo County Health was to create an integrated primary care behavioral health clinic. This clinic was focused on embedded behavioral health services, partnering with primary care providers and staff to meet the behavioral health needs of both mild and moderate cases.
By the time Lin departed San Mateo County Health in 2017, he had helped grow the program from a team of three people to a staff of seven psychologists, two psychiatrists, ten practicum students, interns and post-doctoral researchers, and dedicated administrative support.
While at San Mateo, Lin became connected with Dr. Susan Ehrlich, who now serves as the CEO of San Francisco General Hospital. Through Ehrlich's mentorship, Lin accepted and completed a fellowship from the California Health Care Foundation (CHCF).
"The CHCF Fellowship was actually life changing for me, as I began to see how big of an impact we as psychologists could have," says Lin. "I always knew I could make a difference at the individual level with patients, and at a system level within a medical center, but taking my skill set and bringing great things to a much greater population was something I had never considered before then."
Lin became involved with CPA when a colleague from the CHCF Fellowship invited him to join the division 1 board as a member. "I found the CPA leadership team to be an incredibly supportive community," said Lin. "I felt that running for president-elect would really be a great chance to give back to the profession in a very impactful way and serve fellow psychologists in the state of California."
"I've appreciated the Wright Institute community so much over the years, especially when I run into alumni," says Lin. Many in the Wright Institute community are currently members of CPA, and Gilbert Newman, the Wright Institute Clinical Psychology Program's Vice President for Academic Affairs, previously served as president.
Lin's interest around the intersection of behavioral health and technology ended up leading him to an opportunity with Ellipsis Health. "Being exposed to the medical community almost all of my life, I saw how technology was aiding physical health providers by providing precision medicine or data driving health care," says Lin. "In many ways, I wished I'd had the same for the patients in my clinic."
"My vision was to be able to gauge someone's emotional health at any given time so that we can help them before they decline, rather than wait for them to decline," says Lin. "Unfortunately, the integration of technology and behavioral health is about 20 years behind that of technology and physical health."
In his search for solutions, Lin came across Ellipsis, whose mission is to screen for vocal biomarkers of depression with results comparable to the PHQ-9, a questionnaire that objectives the degree of depression severity in a subject. "At first, I was hesitant to leave my position at the medical center because it was my "baby" in many ways, and was hard to let go of," says Lin, who moved to Ellipsis in 2017. "My time working in the private industry startup world has been an amazing opportunity to learn new skill sets and advance the intersection of behavioral health and technology for the greater good."


Click here to learn more about the Wright Institute's Master of Counseling Psychology (MA) program.
Click here to learn more about the Wright Institute's Doctor of Clinical Psychology (PsyD) program.