Get to know MacKenzie Stuart - Core Faculty, Counseling Psychology Program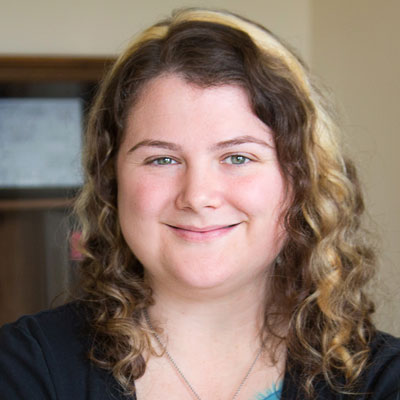 MacKenzie Stuart, LMFT, recently became a core faculty member with the Wright Institute Counseling Psychology Program. Prof. Stuart teaches Common Therapeutic Factors, Diagnosis and Empirically Supported Treatments, and Psychopharmacology. She spoke with the Wright Institute's Dalton Green to discuss her teaching career, her private practice work, and the mental health implications of the COVID-19 pandemic.
Dalton Green (DG): What made you want to pursue psychology as a career?
MS: I have lived experiences of mental health challenges, and have been a consumer of therapeutic services since childhood. I also have my own connections to depression, suicide, and other clinical issues. I grew up in Palo Alto, which has one of the highest teen suicide rates in the country. When I was in high school, many students in my hometown were attempting and dying by suicide.
I graduated with a degree in political theory from Scripps College, and then found a volunteer position at Crisis Support Services of Alameda County. I had a knack for working on the crisis line, and I really enjoyed it. After spending a few years there, I applied to grad school, and graduated from John F. Kennedy University in 2011.
In many ways, the opportunity at Crisis Support Services landed at my doorstep. I was looking on Craigslist for volunteer opportunities, and they were the only ones I came across that had put together a well-written posting with a clear statement of what my duties would be. I think that if someone at a community garden or a library program had written a better post, I might have given them a shot!
DG: How did you decide that you wanted to teach?
MS: I started out as a classroom speaker in high school and college. Once I became a mental health professional, I began leading day-long continuing education seminars on polyamory and BDSM around the Bay Area. A Wright Institute graduate who attended a seminar suggested me as a guest lecturer in the Couples Counseling course, which gave me the opportunity to connect with the program. I was no stranger to lecturing when I began teaching here, but I had never taught a multi-week course in the classroom before. Once I got the chance to teach students for 15 weeks in a row, I completely fell in love with it.
DG: How have you evolved as a teacher in the years since you started?
MS: I have gotten much better at shifting from didactic to experiential learning with my students. At a training in the community, the attendees want to hear my voice and my insights first and foremost. That approach doesn't necessarily work for clinicians at the first stages of their careers. I still lecture a lot, but I now incorporate more experiential exercises, discussions, and projects into classes to allow students to deepen their knowledge through experience.
DG: You've been conducting admissions interviews for prospective students. How has that experience been?
MS: I have a lot of experience hiring people in community mental health, and I find that I have been using some of the same benchmarks in admissions as I do in that setting. The prospective students who I interview don't have any course work under their belts, so I look for compassion in candidates. Not all people are able to talk about others in a way that genuinely displays care, love, and understanding. That's something that doesn't require any training and is very important in this field.
DG: What career advice do you want your students to leave your classroom with?
MS: It's important to be able to effectively critique some of the common interventions that we use in our work. However, I always emphasize that we only get to critique something after we truly understand its utility. If you try to freestyle without knowing the basic steps, you'll end up flailing. Once you have those steps, you can really engage with those critiques.
DG: What other unique advice do you impart to students?
MS: It is an honor to do this work. It's an honor for someone to let you into a private, personal piece of their life and ask you to help them become a better version of themselves. Even when I'm frustrated or having a rough time, it's still a privilege to have the opportunity to support another person's wellness. I appreciate the opportunity to help people find their own answers and take their own steps forward in life.
DG: How have you changed as a result of being in this field?
MS: Each client I meet with and each student I interact with shows me the value of strength, resilience, and wellness. As a result of being in this field, I am more patient, and believe more in humanity and people's ability to heal. People think bearing witness to darkness is sad, hard, and unsettling - it's not like that all the time. It makes your light shine brighter.
DG: How did you become interested in private practice work?
MS: After graduating, I took on a private practice associateship, which gave me the chance to get acquainted with the financial aspect of private practice. It also gave me the opportunity to familiarize myself with the burnout and compassion fatigue that we also face in this work. Before I became licensed as an MFT, I began working with the homeless outreach team at Bay Area Community Services. Unlike many other MFTs, I got the chance to spend a decent chunk of my formative clinical years working with clients in their own communities. I would drive with clients, take them to the grocery store, or to run other errands.
DG: How can that model of therapy be beneficial for both clinicians and clients?
MS: It's difficult to get accustomed to providing therapy while trying to navigate rush-hour traffic. Once I got used to having clients in my car, I began to appreciate the opportunity to have a more leisurely therapeutic environment. There's something fantastic about getting to work on client challenges in the spaces where those challenges are occurring. With clients who struggled with crowds, I'd be going with them to the DMV, sitting together in hard plastic chairs waiting for our number to be called. I'd use that time for breathing exercises, feeling our feet on the floor, and doing cognitive behavioral interventions to try to manage those anxieties. That method of literally "meeting people where they are" can help them to be confident in their abilities to perform those exercises on their own.
DG: Do you continue to integrate aspects of that theory into your work?
MS: My private practice is in Alameda, and I have the advantage of being able to go for walks with clients while in session. It's really interesting to see the ways in which clients open up when they're physically moving around the community. I live only five blocks away from my office, so I run into my clients in the community all the time!
DG: What populations do you primarily serve in your private practice now?
MS: I work with adults, many of whom really value face-to-face interaction. Most of my clients are managing chronic depression or suicidality, are part of LGBTQIA2-S populations, or are part of nontraditional relationship structures. I work a lot with people who are polyamorous, in open relationships, swingers, BDSM practitioners, or members of the kink community, which is a topic I continue to provide guest lectures on in our Couples Counseling course.
DG: Since your clients tend to value face-to-face interaction, how has your private practice been impacted by the lack of in-person visits in this time of social distancing during the COVID-19 pandemic?
MS: I am fortunate that my private practice has a hybrid model, so I'd already been doing online sessions as well as in-person sessions. I'm committed to providing telehealth since it can make therapy accessible to some people who wouldn't otherwise be able to access it. But not all of my clients are fans of virtual sessions, and I've had to make adjustments as well. It's meaningful to have the chance to hug a client hello or goodbye when that feels appropriate, or to see their breathing rise and fall. Those interactions are harder to replicate when you're not in the same room.
DG: What mental health trends do you see developing as a result of the coronavirus outbreak?
MS: I'm seeing a lot more anxiety symptoms stemming from COVID-19 and the shelter-in-place order we are living under. Humans are social creatures, and spending this much time away from each other can have serious downsides. However, I'm hopeful that those of my clients who were really craving some down time are able to find it, and that some people can have some positive introspection about what they want to do when things return to normal. This is a forced reset for all of us.
DG: What career goals do you have for the future?
MS: I hope to continue to deepen my relationship with the Wright Institute and our students. I'd like to continue to work as a faculty advisor, which is something I've started this year. I have workshops and trainings that I'd like to put together, and have thought about writing a book, but right now I'm just enjoying where I am. To be able to see both my clients and my Wright Institute students every week is deeply satisfying.


Click here to learn more about the Wright Institute's Master of Counseling Psychology program.
Click here to learn more about the Wright Institute's Doctor of Clinical Psychology (Psy.D.) program.