International Autism Mapping Project
See Dr. Diamond's professional biography here.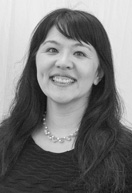 Motivated by statistics that showed that the prevalence of autism was on the rise in the US and in other countries, Emily Diamond, PsyD began asking families around the world to join her in a project to begin to understand why this might be. Dr. Diamond graduated from the Wright Institute Clinical Psychology Program in 2004, and is now a member of the Full Time Faculty in the same program.
Dr. Diamond knew from research conducted by the Centers for Disease Control and Prevention (CDC) that autism prevalence differed by region. "This was my first clue. I asked questions of parents who have a child with a confirmed diagnosis of autism. I asked about the postal code where they had lived the longest, where they conceived their child, the kinds of work they've done, their health problems, other diagnoses their children have, and several other factors." Using this information, she developed a screening measure to look at the types of struggles children had.
"I was delighted to get thousands of parents from several countries to participate," says Dr. Diamond. In September 2017, she took her initial findings to the International Society for Environmental Epidemiology conference in Sydney, Australia. She shared a portion of her data, focusing on California and the place a child was conceived. Dr. Diamond compared it to proximity to EPA chemical or toxic sites, using geospatial mapping. She found that among her participants, on average, they had conceived their child far closer to toxic sites than the national average. Click here to view the abstract of her presentation.
In data presented at the International Society for Autism Research this May in Rotterdam, The Netherlands, she looked at time windows of exposure to a particular class of pesticide, called neonicotinoids, which are implicated in the mass global bee die-off. They're important to look at because they are currently the most commonly used pesticide, and "Globally their use temporally coincides with a steep rise in autism diagnoses," Dr. Diamond explains. "I looked at the 3 months prior to conception when spermatogensis is taking place, the 3 trimesters of pregnancy, and the 3 months after the child was born." She found that among the 2,200+ mothers who participated in this arm of the study, the highest time period for those who reported only on a single time window, was the three months prior to conception.
Dr. Diamond says "this provides another clue: since most of the genetic de novo mutations are of paternal origin in autism, neonicotinoids may impact male reproductive health." Very importantly, those in clinical research of toxins need to focus on pesticide exposure that are happening close to the home, as neonics are common in pet products and home and garden products.
This May, Dr. Diamond reported on on her study's finding using proximity analysis to toxin waste sites at the 30th annual convention of The Association for Psychological Science in San Francisco. As the CDC's Autism and Developmental Disabilities Monitoring (ADDM) Network has found that autism prevalence is highest in New Jersey, she added to her work from California by looking at her data from New Jersey for this presentation. "I took a look at my participants from the counties that the CDC studies, and looked at their proximity to EPA toxic sites. In those counties 64.9% had conceived their child less than a mile from a toxic site," Dr. Diamond explains.
"At this conference, I focused on health inequality. My passion is doing what it takes to help close gaps in risk, gaps in outcomes, gaps in well-being," Dr. Diamond says.
One issue around the world is that children and their families have a long wait time until they can get fully evaluated for autism. In some places the wait is up to 5 years, and we know that children identified earlier and who start receiving help sooner do better. Dr. Diamond shares: "One amazing thing is that we created two autism screeners for our study that have now been used about 8,000 times. With a little work, we may be able to provide families with tools to quicken the assessment of their child. My idea is to have it several languages and make it free."


Click here to learn more about the Wright Institute's Doctor of Clinical Psychology (Psy.D.) program.
Click here to learn more about the Wright Institute's Master of Counseling Psychology program.