Alumna researches commercial sexual exploitation in women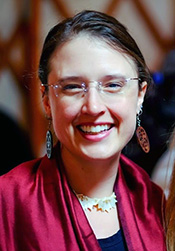 Maya Bruhns, a graduate of the Clinical Psychology program, has published an article based on her dissertation research. She co-authored the article with fellow alumni Jana Slezakova and Alexander J. Lapinski, current student Toni Li, and faculty members Alicia del Prado and Becky Pizer.
Abstract
This study explored the process of exiting and recovery from commercial sexual exploitation beginning in childhood, utilizing semistructured interviews with 11 adult female survivors who had been out of the commercial sex industry for at least six months. The narratives were analyzed using consensual qualitative research. Participants described a complex interface of internal motivation and external resources in the exiting process. They identified a need for comprehensive, nonjudgmental services across all stages of change, in order to support a profound reconstruction of identity and community. Subgroup comparisons revealed that women who were exploited at younger ages were more vulnerable to coercive and dehumanizing exploitation and required especially intensive services. These results support the methods of many survivor-led programs for sexually exploited youth. Implications of survivors' perspectives for counseling, research, and advocacy are discussed.
Click here to access the full article.
Click here to learn more about the Wright Institute's Doctor of Clinical Psychology (Psy.D.) program.
Click here to learn more about the Wright Institute's Master of Counseling Psychology program.