Theopia Jackson, PhD '95 joins Congressional Black Caucus panel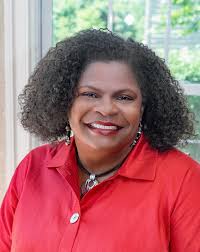 Wright Institute Clinical Psychology Program alum and Association of Black Psychologists president Theopia Jackson, PhD, participated in a panel hosted by the Congressional Black Caucus on Friday, July 24. The conversation, entitled "Black Mental Health in 2020: Speak Up and Speak Out," was hosted by Congresswoman Bonnie Watson Coleman (D-NJ), and discussed mental health issues facing the Black community brought on by the COVID-19 pandemic and the nationwide protests following the murder of George Floyd.
"It's important to practice having healing conversations," said Dr. Jackson when asked what steps individuals can take to help erase the stigma of discussing mental health.
Dr. Jackson was joined by Donna Holland Barnes, PhD, of DHB Wellness & Associates, Georgia pastor Rev. Dr. Jamal Harrison Bryant, and NYU professor Michael Lindsay, PhD. The panel was also briefly joined by Congressman Hank Johnson (D-GA).
"This is not the first crisis that our community has been contending with," said Dr. Jackson. "That we are still strong despite all we've gone through is evidence of our perseverance and resilience."


Click here to learn more about the Wright Institute's Master of Counseling Psychology program.
Click here to learn more about the Wright Institute's Doctor of Clinical Psychology (Psy.D.) program.