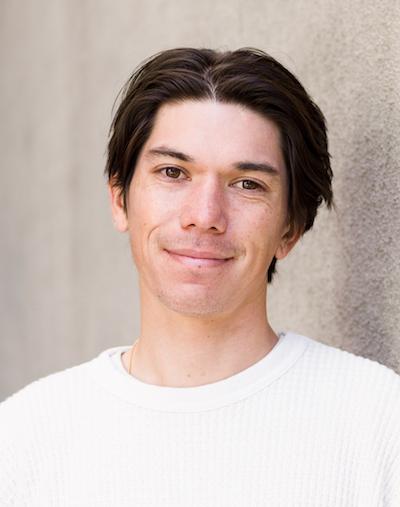 Alumni Spotlight: Graham Holoch
"The Wright Institute instilled in me a curiosity and an acceptance and excitement about continuing my own journey, learning, growing, adapting, and sometimes relearning," shared Graham Holoch, who graduated from the Wright Institute's Counseling Psychology Program in 2021. "In the world of mental health, there is no manual, there is no script. Everyone brings something different, clients and clinicians."
Graham was born in San Francisco and is the oldest of three brothers. His mother is from Hong Kong and his father is of German descent, but was raised in New Jersey. Over the course of his K-12 education, he attended a Montessori school, a Waldorf school, a private school, and several public schools. "I would say I didn't particularly enjoy high school," Graham admitted, but he did enjoy the high school's photography program. "We had a working dark room and a really good photography teacher," he shared, which inspired him to pursue photography.
The other thing that sparked Graham's interest in photography was his interest in snowboarding. During his teenage years, Graham spent a lot of time snowboarding and even working as a snowboarding instructor. He became engrossed in snowboarding magazines and aspired to become a sports photographer. As he learned about photography in school, he began taking photos of his friends snowboarding and even had a few photos published in magazines. He began to view photography as an "investigation into the self and the community" and even found that it was a "motivator for exploration." Graham reflected that there was "something really nice about documenting journeys" and he's glad to have all of those photos from his high school years today as a sort of personal history.
When he began his undergraduate studies at the California College of the Arts, Graham knew right away that he wanted to major in photography. "My parents were really supportive of my pursuing the arts," he shared, "but there was a lot of hesitation on their part to talk about what the future would be like after I graduated." His mom, who works in business, has always been a big supporter of Graham pursuing the things he's drawn to. "She gives me a ton of confidence and support," he reflected. His dad, who has more of an arts background, has always been very supportive of Graham's endeavors as well, but cautioned him more about pursuing a career in photography. "He reminded me that one in a million are going to have a visual art career that's viable," he recalled, "and actually that realism was really helpful."
Graham has worked as a freelance photographer in the Bay Area since 2013. What he loves most about freelance photography is that "every day is different." He particularly enjoys going to different neighborhoods and meeting new people as part of his work. "It's a small amount of time," he shared, "but there's an exchange with this stranger where they get to tell me their story." Graham doesn't have a specialty as he enjoys the variety of clients he has worked for, from businesses and fashion brands to individuals who need a wedding photographer or someone to take senior portraits. "There's a lot of flexibility and a lot of freedom and I like that," he reflected. Recently, the Wright Institute hired Graham for two candid photo shoots with students and we look forward to featuring his work on our website and social media.
For three years, Graham worked as the lead photographer for the KQED Art series "The Hustle," which won the Edward R. Murrow for Social Media Campaign award in 2019. He describes this as his favorite project that he has been involved in. Graham worked with a team of writers and art editors to investigate people who pursue creative careers in the Bay Area, such as artists, musicians, activists, and chefs. The focus of the series was that "it's incredibly hard to make it in the Bay Area, but you can do it and this is how people are doing it." As the photojournalist on this project, "I had the really fun task of going to their houses, studios, or wherever they were working and spending an hour or two just being with them and photographing them," Graham shared. "It was an amazing opportunity to meet so many great people."
His work on the series "The Hustle" inspired Graham to go back to school and pursue his master's degree in psychology. "I think that was the first series that I worked on where I was embedded in different communities, meeting different people, making these different connections, and really hearing their stories and being in conversation," he reflected. "I just realized that what I want to do is just hear people's stories, be with them, learn about them, and grow with them." Graham had never taken any psychology classes in high school or college, but he had worked with a therapist as a teenager and had friends who were pursuing careers in psychology. He followed his gut and began exploring his options for graduate school.
Several of Graham's friends were attending the Wright Institute and encouraged him to consider their Counseling Psychology Program for his graduate studies. What really drew him to the Wright Institute was their emphasis on social justice and equity. He also loved the idea of being part of a cohort of students, noting that the Wright Institute put "real consideration into who's in each cohort and building bonds and relationships" between the members of each cohort. "The program is geared towards shared knowledge and shared growth and that's the kind of space where I feel like I can really learn," Graham shared. At the Wright, he found the community and support he was seeking as he pursued his master's degree.
During his time at the Wright Institute, Graham's favorite class was Community Mental Health as it was a topic of specific interest to him. He also had high praise for Professor Biasetto who taught the course, noting that she "really organized the class in a lovely way and was great at creating space for everyone to converse and conceptualize community mental health." He also really enjoyed the discussions he had with members of his cohort in the Multicultural Awareness and Sensitivity course, which he found to be very engaging.
Graham shared that his toughest challenge at the Wright was switching to remote learning during the COVID-19 pandemic. Having been recently diagnosed with ADHD, he found online learning really challenging. "I will say that that the program did an excellent job in facilitating that switch," he shared, "and I'm really grateful for how effectively I think the Wright was able to do that." He was also pleased with how "open the Counseling Program was to meeting students' needs and finding ways to be flexible." Despite calling remote learning his toughest challenge, he called it "the best online school I could have asked for."
Many of Graham's happiest moments at the Wright Institute centered around his strong bonds with his cohort, who he feels grew even closer through the challenges of the COVID-19 pandemic and racial unrest beginning in 2020. "I think we were able to have those important discussions and we were able to go through this monumental shift together," Graham reflected. "We were able to think about these things and be challenged, and recognize that we're all still learning." He particularly remembers when his cohort arranged an in-person graduation and picnic at San Pablo Park because their commencement ceremony was remote. They had a graduation speaker, walked across the "stage," and received handwritten diplomas which Graham created. "It really felt like a special milestone even though it was very rag-tag," Graham reflected. Even post-graduation, Graham is still very close to his cohort-members.
The most valuable lesson Graham learned from his graduate studies was the concept of continuous learning and growth. Looking back at his experience, he reflected, "Two years is not enough to be an expert at anything, but I think having the tools to start the journey and learning the language of growth is my biggest takeaway." When meeting clients, he often reminds himself that he's not the expert in their experiences. "I'm here to meet people where they are and allow them to see me for who and where I am as well," he reflected. "Growth is possible from both seats in the room." Graham's advice to current and prospective Wright Institute Counseling Program students is to "stay curious about yourself throughout the process, let go of your expectations, and explore self compassion."
Since graduating from the Wright Institute, Graham has been working as a therapist at the California Integrative Counseling Center in San Francisco. "The thing that I really like about private practice in particular is the autonomy, the ability to develop treatment plans that are unique to each client," Graham reflected. He works specifically with neurodiverse clients, with a focus on individuals with ADHD and on the Autism spectrum. "I think often we look at neurodiversity as behaviors that need to be trained out of a person when in reality it's more a question of how the perception of normality can be shifted," he shared. At Graham's private practice, this is a common goal among the clinicians: celebrating people, meeting them where they are, and helping them continue to grow.
Looking back, Graham is grateful for the individualized attention he received in the Wright Institute's Counseling Psychology Program. He is particularly thankful for the guidance of Stuart Lee and Eric Lindberg in the Field Placement office who helped him find an associateship that was a perfect match for his interests and guided him through the licensure process. "A year and a half after graduating, people remember me and that's fantastic," he reflected, "I think it's just a really compassionate space."
Outside of psychology and photography, Graham has many other interests and hobbies. He loves physical activities, like snowboarding, biking, and hiking, which have interested him for most of his life. He also recently partnered with a friend on a new, exciting endeavor. "It's a social practice eating experience where we want to create events that are oriented around food specifically, but the event involves a scenario that kind of breaks down the typical social barriers of going to a restaurant, sitting down on your own table, and isolating," Graham shared. "The emphasis would be on community in what we call the 'Strange Situation,' so every event is going to have some sort of interactive piece that is essentially like the icebreaker." Their first event is planned for late January and Graham is excited to see how this idea grows.
Looking ahead, Graham plans to stay at his current practice for at least the next five years. After that, he'd love to branch out and possibly open his own practice. "One of my goals is to explore how I can integrate physical activity into the therapeutic relationship," Graham reflected, "Like having group therapy on mountain bikes while exploring the trail networks in Pacifica." This would combine some of his personal interests with therapy in a way that he feels would be beneficial to his clients by "creating community around healing through physical activity."


Click here to learn more about the Wright Institute's Master of Counseling Psychology program.
Click here to learn more about the Wright Institute's Doctor of Clinical Psychology (PsyD) program.