The Soul in Depression: Dr. Anita Barrows on NPR
See Dr. Barrow's professional biography here.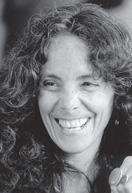 Depression and anxiety have a common duality in spirituality and the human experience. Is the melancholy of depression akin to the fervor of love? This week, NPR examined this question in its "On Being" radio show and podcast. Along with Andrew Solomon, author of National Book Award winner, Noonday Demon, and Parker Palmer, Quaker author and educator, Wright Institute Clinical Psychology Program faculty member Dr. Anita Barrows spoke with host Krista Tippett.
Dr. Barrows, a poet, psychologist, and Buddhist practitioner, "had her own first struggle with depression at 17, after she left home for college. Then, after the birth of her first, much-wanted child when she was 31, she suffered a major collapse." Dr Barrows "remains marked by the presence of this illness in her life, and she embraces it actively." Dr. Barrows' work as a poet and translator is one realm in which she explores depression as a kind of "minor-key chord that is a constant accompaniment to one's life." She honors the interplay between darkness and light as a commonplace feature of life, and hopes to redeem the idea of "darkness" from its solely negative medical and clinical connotations.
"Depression is also spiritual territory. It is a shadow side of human vitality and as such teaches us about vitality." To hear the entirety of this thought-provoking podcast, or to read the transcript, click here.
If you or someone you know someone is depressed, please seek help. The National Institute of Mental Health and The National Alliance on Mental Illness (1-800-950-NAMI) are helpful resources for those seeking support.


Click here to learn more about the Wright Institute's Doctor of Clinical Psychology (Psy.D.) program.
Click here to learn more about the Wright Institute's Master of Counseling Psychology program.