Dr. Diamond Deepening Our Understanding of Autism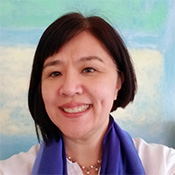 Since graduating from the Wright Institute Clinical Psychology Program in 2004, Faculty member Emily Diamond, PsyD has focused on gaining a deeper understanding of autism. In her groundbreaking International Autism Mapping Project, she found correlations between children with a confirmed diagnosis of autism and parents' proximity to toxic sites during the child's gestation.
Fueled by a desire to better understand the medical, genetic, and chromosomal issues which account for autism in the participants of her International Autism Mapping Project, Dr. Diamond and student Bridget Wieckowski are reviewing the records of over 8,000 project participants.
"This will help people doing assessments for autism to understand that the autism spectrum is made up of people with several conditions, and that medical and genetic testing is likely going to be a more and more important part of diagnosis," Dr. Diamond explains.
Dr. Diamond aims to not only shed more light on the causes of autism, but to increase access to information and support for adults and children with autism. "My passion is doing what it takes to help close gaps in risk, gaps in outcomes, gaps in well-being," Dr. Diamond says.
To that end, this summer Dr. Diamond began the process of making an adult autism measure. She and student Ashley Rediker worked with 780 participants from about 20 countries to establish screening questions.
"While there are some more steps to take for making a new measure, we are off to a nice strong start," says Dr. Diamond. "In many parts of the world, even with universal health care, an assessment for autism costs money. This measure can be part of that process and, like all my measures, will be free. I am making three autism screeners in all (in an effort to allow people who are living with uncertainty to determine the best way to move forward)."
Click here to learn more about the Wright Institute's Doctor of Clinical Psychology (Psy.D.) program.
Click here to learn more about the Wright Institute's Master of Counseling Psychology (M.A.) program.