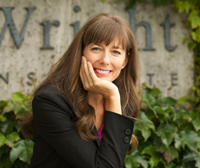 Dr. Milena Esherick, speaks at the East Bay Women's Conference
The Wright Institute's Counseling Psychology Program Director, Milena Esherick, Psy.D., was a featured speaker at the eighth annual East Bay Women's Conference. The aim of the conference, which was attended by over 500 people, is to "provide women an opportunity to come together and participate in a program of personal and professional enrichment, development and networking activities and provide the tools they need on their journey to their personal best as individuals, team members and leaders in family, community, political and business arenas." Dr. Esherick's presentation, "Extreme Networking," was an interactive session designed to inspire conference attendees to connect with their female peers on a more substantial, genuine level.
Contra Costa Times coverage of the conference can be read here.