Instructor Spotlight: Nathan Greene, PsyD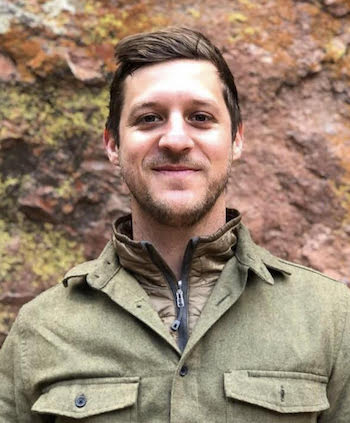 "Learn to embrace being in a position of not knowing," shared Nathan Greene, PsyD, a graduate of the Wright Institute's Clinical Psychology Program and current Case Conference instructor. "There's so much pressure in academic settings to show what you know, but as psychologists, we have to get very comfortable with tolerating existing in those murky gray areas of not knowing. That's where we learn the most about ourselves and other people."
Dr. Greene grew up in Laguna Beach in Southern California. His family lived only a few blocks from the beach and he developed a love of the ocean at a very early age. "The water was my playground and sanctuary," he recalled, "I was down there most days after school." Both of Dr. Greene's parents were educators - his father was a special education teacher and his mother was a guidance counselor. One thing that strongly impacted Dr. Greene's upbringing was that his mother was sick with cancer for most of his childhood. "She was an incredible woman and facing her illness really brought our family closer together," he shared. "Growing up with a parent facing death over the course of my life, I started to develop an orientation toward gratitude, seeing that our time on Earth is precious and limited."
For his undergraduate studies, Dr. Greene attended the University of California at Berkeley where he earned a BA in Integrated Biology and minored in Theater. At the time, his plan was to become a pediatric emergency doctor. Dr. Greene started at UC Davis School of Medicine right after graduating from UC Berkeley, but was only there 3-4 months before realizing that it wasn't the right path for him. "The process of becoming a doctor was so grueling," he reflected, "I felt like it was taking the humanity out of me that would have made me a good doctor."
"After leaving medical school, I had no idea what I wanted or who I wanted to be and I thought that education might be a path for me," Dr. Greene shared. In July 2010, he traveled to Honduras to spend a year working as a middle school science and theater teacher through Bilingual Education for Central America (BECA), a NGO founded in 2001 to provide quality bilingual education to low-income Honduran communities. "One of the things that was most powerful about it for me was that we were really connected to the kids in the community," he reflected, noting that they performed home visits as part of the teaching experience, which allowed him to forge strong connections with the families of the students he was teaching. Many of Dr. Greene's students had one or both parents living in the United States, which echoed his experience of losing a parent during his childhood.
Reflecting on his previous desire to pursue a career in medicine, Dr. Greene realized that it was inspired by the sanctity of the relationships he saw his mother form with her doctors. "It was starting to become clear to me that being of service through the healing relationship was what was driving me to medicine," he shared. Dr. Greene began taking psychology courses at a local community college and working at Planned Parenthood as a Reproductive Health Specialist. After he had completed the necessary psychology prerequisites, he applied to the Wright Institute's Clinical Psychology Program.
The Wright Institute was recommended to Dr. Greene by two friends who were current students and he was sure that he wanted to join the Wright community after his first visit. He loved the smaller size of the Wright Institute, noting that he felt anonymous during his time at UC Berkeley, but it was the WI culture that drew him in the most. "I was just so amazed by the quality of the relationships and the mentorship," he recalled. "The majority of the professors are still doing clinical work, which brought an aliveness to the learning that's very different from what you can get at large research institutions."
"The Wright Institute really teaches you how to guide your own learning, to be curious, and to question theory, systems, and power structures," Dr. Greene shared. Thinking back to his time as a student in the Clinical Psychology Program, the most valuable lesson he learned was to deepen his understanding of himself as a "cultural being" with his own beliefs, values, and biases. "I think there's a way in which white people can sort of operate under this privileged assumption that we're acultural and it's very much not true," he admitted. While studying at the Wright Institute, Dr. Greene began to think more deeply about his Jewish identity and his male identity, which he has found very rewarding. "I think I've been able to have deeper, more meaningful relationships with people as a result of it," he reflected.
From 2016-2018, Dr. Greene worked at Westcoast Children's Clinic in Oakland, first as a Doctoral Intern, then as a Postdoctoral Resident, providing bilingual therapy and assessment services to children and families. "We were seeing the kids wherever we could meet them, whether that was at home, at school, walking through Target, or in a McDonald's," he recalled. This was a community-based organization where Dr. Greene worked predominantly with youth in foster care. "In working with traumatized and disenfranchised communities, I learned about the importance of meeting people where they are," he shared. "I learned how to hold my own frame as a therapist and do therapy outside of four walls." Dr. Greene has applied this knowledge to his work in private practice, where he takes clients to walk around the lake if the confines of his office aren't comfortable for them.
Dr. Greene has worked in private practice in Oakland since 2018, providing psychotherapy and psychological assessment. His areas of specialty include adoption and transracial adoption, loss and bereavement, families coping with terminal illness, trauma/PTSD, divorce, and ADHD. Most of these specialties pertain to loss, transition, and/or trauma, which Dr. Greene can relate to personally. "As painful as the loss and trauma has been that I've experienced in my life, I have been fortunate enough to have the support to be able to transform it into resilience," he reflected. "The capacity for humans to heal from trauma is incredible to witness and to cultivate. When I feel most alive in my work, it's in those spaces of transforming trauma."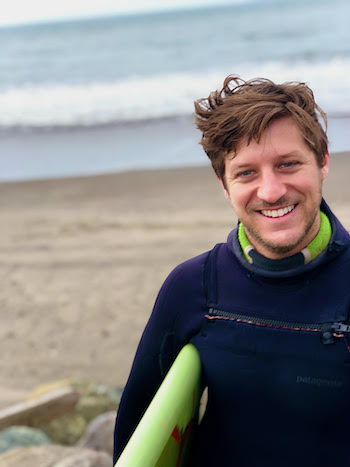 One of Dr. Greene's proudest accomplishments is being a co-founder and facilitator of Surf Circle, a therapeutic surfing program for adolescent boys. He started Surf Circle in 2018 with Adam Moss, another Wright Institute graduate, and two of his supervisors from Westcoast Children's Clinic, Roberto Lascano and Christopher Arrillaga. "We started to realize that we were all using surfing as a tool to metabolize the trauma we were taking in from supporting kids who had experienced unimaginable traumas," he recalled. "We were fantasizing about how powerful it could be to take these kids out onto the water and have them surf because we had experienced the impact of trauma on the body and saw that what was missing from treatment was body-based practice." Dr. Greene considered this all a pipe dream until he read that the US Navy was doing surf therapy with veterans with PTSD. He had a "light bulb moment" where he realized the fantasy could become a reality.
The Surf Circle team decided to focus on working with adolescent boys from age thirteen to eighteen because they saw them struggling to engage in traditional talk therapy settings. "Many have trouble just sitting on the couch and exploring their feelings in a traditional therapeutic way and need something different," Dr. Greene shared. "There's something about being in the ocean in the context of a group of peers with similar struggles that really just helps regulate their nervous systems and helps them open up to exploring issues that they can't explore in other places." Overall, they have found the program to be transformational for the participants. Looking forward, Dr. Greene shared that they hope to open up the program to female and non-binary adolescents as well.
In the fall of 2020, Dr. Greene returned to the Wright Institute as a Case Conference instructor. He has fond memories of his own Case Conference with Dr. Hanna Levenson during his time as a student, which he called his "most formative experience" at the Wright Institute. "I never experienced a class in which my learning of theory and material was so integrated with my work on myself," he reflected. Dr. Greene aspired to return to the Wright Institute and teach a Case Conference one day, but thought it would be much later in his career. "I just viewed these Case Conference leaders as wizards and I thought I was just a muggle," he admitted, so he felt honored to be hired for the position. He has since come to recognize some of the magic he holds.
During his free time, Dr. Greene loves surfing, hiking, and traveling. He enjoys hiking in Joaquin Miller Park and Redwoods Regional Park with his wife and his rescue dog, a small poodle mix who he sometimes has to carry when the hikes run long. A recent travel highlight for Dr. Greene was a trip to Laos a few years back. "The topography is so beautiful, with mountains that jet up from rice fields, the food is amazing, and the people that we encountered were very friendly," he shared. In general, Dr. Greene likes to travel anywhere he can surf!
Dr. Greene's biggest piece of advice to students at the Wright Institute is to embrace mentorship opportunities with their professors. "So many of the professors really want to connect with you and support you," he advised. Thinking back, Dr. Greene was surprised by how many of his professors went from being his mentors to being his friends and colleagues after he graduated from the Wright Institute.