Instructor Spotlight: Nico Storrow, LMFT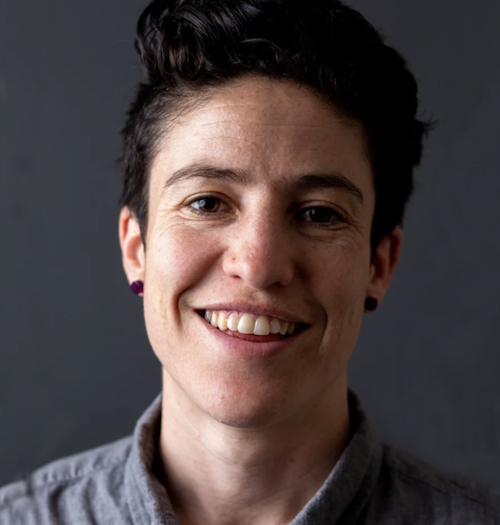 "My approach is warm, client centered, and grounded in the belief that each person is an expert in their own experiences," says Nico Storrow, a new professor in the Counseling Psychology Program at the Wright Institute. "Each client has lived their life in their body and their brain. They are the ones who really understand and know themselves best and I'm here to help them move towards their values and the things they want in their lives."
Professor Storrow is a Licensed Marriage and Family Therapist with experience providing individual and group psychotherapy to adolescents and adults, including individuals, couples, and groups. "I really love working with couples and folks in different relationship forms, whether that's monogamous or polyamorous relationships, helping folks learn skills around communication and identifying and changing damaging relational patterns," they said. "I also really like counseling adolescents and teens." Professor Storrow works with clients around topics of gender and sexuality, grief, loss, and anxiety, among others.
When asked about the theoretical orientation of their work, Professor Storrow replied that they are "always thinking and growing" and are "interested in continuing to learn new approaches." They primarily focus on psychodynamic and relational-cultural therapy in their counseling with individual clients. When working with couples, they regularly use Gottman, EFT, and the developmental model. They are also committed to centering and empowering their clients.
Early on, Professor Storrow spent a year in New Orleans working for the Southern Poverty Law Center as an AmeriCorps Community Advocate. While there, they enjoyed "getting to work with people who were passionate about making change." They recalled, "A lot of the activism [they] had been part of in the past was outside of the system. It was interesting to get to see a different perspective and the impacts and transformative power of making change from inside a system." Through their advocate role as a liaison between the attorneys and the clients, Professor Storrow says, "I noticed how much I liked building relationships with the clients and providing emotional support, which made me realize I wanted to do more of that - working with people and families, hearing their stories and supporting them."
Professor Storrow also worked as a Health Educator at Vista Community Clinic in San Diego as part of their HIV Prevention Program. During this time, they led workshops with adolescents on topics like knowing your rights, understanding your body, and sexual health. This led to the realization that there was a "dearth of resources for queer kids on sex education specifically." Thinking back, they shared, "Growing up there myself, I was remembering my own experience, the isolation at times of growing up in such a conservative place as a young queer person, and just feeling like we really need to do better for these young people." As a result, they worked to create a set of workshops with topics like loving your body, safe sex, and healthy relationships. "It was really fun getting to do workshops with mostly queer youth to provide education around these topics and do some community building," Professor Storrow recalled. They were also able to present on this work at the Sexual Health Summit in Los Angeles.
While studying at San Francisco State University, Professor Storrow participated in research on LGBQ affirming therapy and created scales for clients to rate their therapists. Their goal was to "go beyond asking 'Are you okay with queer people?' and think about what it actually looks like to be LGBQ affirming." They explored the "nuanced pieces of what it means to be good at working with queer folks." For example, "knowing the norms in a community but not assuming, bringing in someone's sexuality only when it's relevant, and thinking about all of the intersections of identities." Summing up their work, they said, "Queer folks come in with so many different identities and experiences, so really bringing all of that in was the goal" of their research.
In November of 2020, Professor Storrow opened their private practice. When asked if it was difficult starting a private practice during the pandemic, Professor Storrow said it was in some ways easier because they were able to ease into it slowly and did not need an office space as they were seeing clients remotely. They also shared that they believe "stigma around therapy has gone way down in the pandemic." Post-pandemic, they would like to get an office and begin meeting clients in person. "Remote works. We've made it work!" they exclaimed, "But there are things that are just not the same as when you're sitting with someone in a room and seeing their full self."
An important element of Professor Storrow's life is their mindfulness practice. Reflecting upon how it affects their counseling style, they said, "I think my own mindfulness and meditation practice make me think a lot about the body and what's happening in the body" during counseling sessions. "I try to be present and aware of my own stuff as it comes up and also aware of what's happening in the room," they reflected, "So I think my own practice influences the way I work as a therapist, and my ability to be present and grounded."
Outside of therapy and mindfulness, Professor Storrow's interests include playing basketball, crafting, and gardening. Speaking of their time spent gardening, they said, "Especially in the pandemic, just getting to see life and see things grow has been really great." They are also a self-proclaimed "nerd" who enjoys reading about psychology theory in their spare time.
This summer, Professor Storrow joined the Wright Institute Counseling Psychology Program faculty as an instructor for the Sexual Development and Health course, which they described as a "great experience." Thinking back on the course, Professor Storrow said, "There is something that's really powerful and meaningful about being in the room with folks." They shared that their goal in teaching a course like this is helping students "feel comfortable in being able to talk about these topics so they can talk about them with their clients." Professor Storrow looks forward to teaching more courses at the Wright Institute in the future, noting that "folks were so engaged, participatory, and open to sharing their own different experiences. I really loved getting to share space with them!"


Click here to learn more about the Wright Institute's Master of Counseling Psychology (MA) program.
Click here to learn more about the Wright Institute's Doctor of Clinical Psychology (PsyD) program.