Alumni Spotlight: Veronica Cruz-Martinez, AMFT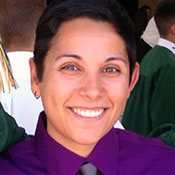 After a major life change like finding a new job, or moving across the country, it can be difficult for many people to adjust.
Not so for Veronica Cruz-Martinez, who graduated from the Wright Institute Counseling Psychology Program in 2015.
"I just moved to New Jersey," she says nonchalantly. "Just a few weeks ago, actually." Cruz-Martinez, who grew up in the Bay Area and had never lived outside of California until February, now works at New Jersey City University (NJCU) in Jersey City. She recently landed a position as a counselor in the NJCU Counseling Center, working face-to-face with college students on a variety of issues.
"It's only been a couple of weeks, but I'm really enjoying it," Cruz-Martinez says of her role at NJCU. "It's different from what I'm used to, especially in terms of the population I'm serving." NJCU has a student body that is rich in age diversity, and about half the students are over the age of 24.
Prior to her cross-country move, Cruz-Martinez was a mobile crisis supervisor at San Jose's Alum Rock Counseling Center (ARCC). She began as a trainee while at the Wright Institute, and was then hired full-time as a bilingual crisis counselor, working mainly with kids and teens between the ages of 6 and 18.
"I grew up with Spanish-speaking parents but it was never spoken in the house, so I had to learn it on my own," Cruz-Martinez explains. Working in Alum Rock, a San Jose neighborhood which has a large Spanish-speaking population, provided her with an opportunity to learn. "Working with so many monolingual Spanish-speaking families showed me just how important it was to speak the language. WIthin a year and a half of working there, I learned enough Spanish to be able to do an intake or a crisis assessment in Spanish." Cruz-Martinez eventually added "bilingual" to her title before becoming a supervisor at Alum Rock Counseling Center.
"The population at ARCC is coming there because they need the help," Cruz-Martinez says. "There are so many stigmas around counseling, and I was grateful for the opportunity to help so many people." Many of ARCC's services, including the mobile crisis team, are free for clients. "I got such a well-rounded experience at Alum Rock, especially in regard to direct client work," she says. Some of her experiences included learning grant-writing, working in a school setting, and working with Medi-Cal documentation.
Working in a college setting requires a different approach than ARCC did, says Cruz-Martinez. "Working with adults involves a lot more listening, since kids usually need more prompting to get engaged." Her clients are also coming to her with different motivations than she is accustomed to. "Often times, kids are in therapy because their parents want them there. It is unique for me to be working with a population that actually signed up for counseling services themselves."
"Being able to do so much crisis work was something I loved about Alum Rock," Cruz-Martinez says. Although the nature of college counseling is not as focused in crisis work, she does still get some opportunities to explore it at NJCU. "There is more opportunity for triage work at NJCU than I had expected," she says, "and I know I'll always have the chance to be somewhere with more opportunities for crisis work in the future."
As a student at the Wright Institute from 2013 to 2015, Cruz-Martinez enjoyed the focus on multicultural awareness in the Counseling Psychology program. "The emphasis on cultural sensitivity and mindfulness really challenged me to look within myself - my own background, my own biases, my own family dynamics," she says. "I don't feel like I could have been prepared any better to work at ARCC or in the larger field of counseling as a whole."
Before she came to the Wright Institute, Cruz-Martinez spent time at Sonoma's Hanna Boys Center as a residential group home supervisor. At Hanna, a school that assists at-risk teenage boys, Cruz-Martinez explored working with a high-need population. "My work there helped me get adjusted to the environment at Alum Rock," she says. "After my experience seeing trauma first-hand in Sonoma, it wasn't so daunting working with the mobile crisis team in San Jose."
For a short period of time, Cruz-Martinez was working in Sonoma, taking classes at the Wright Institute, completing her practicum in San Jose, and living on the Peninsula. "I spent a lot of time on the roads. Luckily, I don't have to drive as much here in New Jersey," she laughs.
Cruz-Martinez is on the verge of registering as a licensed Marriage and Family Therapist. She completed her supervised clinical hours in September of 2018, and will be taking the California MFT exam at the end of March. "Fortunately, New Jersey will acknowledge California licensure for a temporary three-year period," she says. She plans to take the national MFT exam within the next two years.
Life in New Jersey is understandably different than it is in California, but it is not surprising to hear that Cruz-Martinez is adjusting well. "The snow and cold weather are definitely not what I'm used to, but otherwise I really like it here," she says. "The people are all very nice, and I don't have to spend two hours in traffic!"
If Veronica Cruz-Martinez decides one day that she's had enough of the snow, she'll be able to adjust to wherever life finds her next. Whatever her next challenge is, she'll be ready for it.


Learn more about the Wright Institute's Master of Counseling Psychology program.
Learn more about the Wright Institute's Doctor of Clinical Psychology (Psy.D.) program.