Alumni Spotlight: April Kenney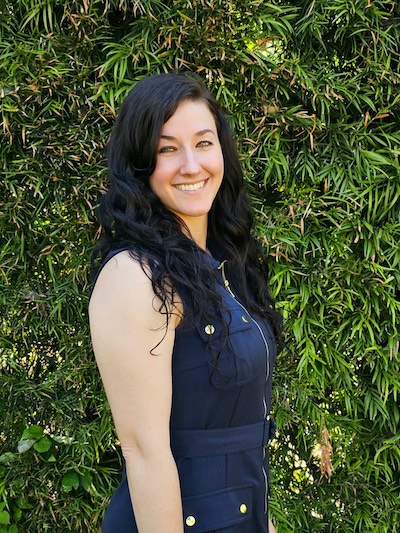 "My plan was always to do college then graduate school right after, but life panned out differently," shared Wright Institute Counseling Psychology Program graduate April Kenney. "I'm actually thankful because I needed to live all that life before I was ready to be a therapist."
April grew up in Ojai, California, which she describes as a "lovely, quaint town." She is an only child and has always been very close to her parents. "They're incredible, wise, loving humans," she said proudly. "I feel so thankful to be their daughter." April attended a Montessori school for Pre-K, then attended Ojai Valley School, a private school, from kindergarten through eighth grade. By high school, she was ready for a change and decided to attend the local public school, Nordhoff. "I'm so glad that I did," she exclaimed, "because I still have some of those friendships today!"
Throughout her life, April has had many incredible therapists who impacted her greatly. "I had my first therapist at age five as I was experiencing my first OCD symptoms, although I wasn't properly diagnosed until I was sixteen" she recalled. That first therapist, who specialized in art therapy, was particularly influential on young April. Her parents still remember her coming home from therapy and telling them "I want to go to grad school and be a therapist!" April had an early passion for helping others and has always been interested in pursuing a career in psychology.
For her undergraduate studies, April attended California Lutheran University. "It's funny because I'm actually an atheist and have been since I was a kid, but it was the best school I got into and it was near my family," she shared. "I'm so glad I did because it was an incredible experience." April started out with the plan to major in psychology, but struggled with the research statistics course that was required for the major. Despite getting tutors and taking the course twice, she couldn't pass the course. "Due to my inability to comprehend math, which literally feels like an alien language to my brain, I thought I had to give up on my dream," April recalled. Thankfully, someone in the registrar's office was able to assist April in creating her own Interdisciplinary Studies degree, which allowed her to graduate in four and a half years.
April's plan had been to go straight to graduate school, but she wasn't able to pass the mathematics portion of the GRE, so she thought she would have to pursue a different path. "After graduating from college, I went through an extremely difficult and painful time with my mental health," April shared. "I suffer from Obsessive Compulsive Disorder as well as Comorbid Generalized Anxiety and Persistent Depressive Disorder, which are both commonly comorbid with OCD." She found a job in retail management, but felt unmoored and was unsure what her next steps should be. Her mother suggested that she should pursue certification as a paralegal as it fit with her strengths of conscientiousness, organization, and attention to detail. In December of 2017, April earned her Paralegal Certificate from Cal State East Bay. "Even though it didn't end up being my lifelong career, I am very thankful for it," April reflected. "It surely gave me many extremely useful skills that have helped me with my therapy career so far."
From 2016-2021, April worked as a Family Law Legal Assistant and then as a Litigation Paralegal for a law group specializing in real estate. Of the two, she found family law both the most mentally taxing and the most rewarding. She heard stories of families spending all of their time and money on custody battles and legal bills instead of focusing on their children. "It made me even more thankful that my parents got divorced as smoothly as they did when I was 9 and made sure I never forgot how loved I was," she reflected. "I was one of the lucky ones." Looking back, April feels that her experience in family law helped her gain a deeper understanding of family systems, which informs her work today.
Since 2017, April has been a member of the East Bay OCD Group, and in 2020, she was asked to become a support group volunteer host. The group meets on Zoom every weekend and has about a dozen members and April loves hosting the group once or twice each month. "Every single person I've ever met who also suffers from OCD is such a compassionate person," she shared. "I personally believe that's because OCD is extremely painful (regardless of what OCD themes you suffer from), so OCD sufferers know what it's like to feel pain and never want to inflict pain on others." In 2023, April was offered a position on the board of directors of the International OCD Foundation (IOCDF), the agency that supports the East Bay OCD Group. "I actually just attended my first IOCDF conference in San Francisco and it was excellent," she recalled. "I felt such a deep sense of community there and I learned so much new valuable information."
April enrolled in the Wright Institute's Counseling Psychology Program in the fall of 2020. She had been working for years as a legal assistant or paralegal and, while she enjoyed some aspects of the work, she was not fulfilled by it and still wanted to pursue her passion for psychology. Thankfully, by this time, many graduate schools no longer required the GRE, so she decided to apply. "I had heard great things about the Wright Institute, but didn't think I'd get in!" she confessed. "I'd heard that it was an extremely prestigious graduate school with an incredible reputation and that it was known for its inclusivity and focus on social justice, which is definitely part of why I was drawn to it." Despite her concerns, April was accepted and began her journey at the Wright Institute.
Though April was excited to begin her graduate studies, her time at the Wright Institute wasn't without challenges. The first and most obvious challenge was having many classes during her first year of the program online due to the COVID-19 pandemic. Another challenge was balancing the demands of her life and the program. "For the first year, I was still working full time and for the second year, I left my job and was juggling my practicum and grad school," she recalled. "It's all just a lot to juggle but I made it work." April's happiest memory from the Wright Institute was the first time she and her cohort returned to in person classes. "It was incredible to see them live for the first time after being in online school with them for about a year!" she reflected. "Everyone in my cohort was wonderful and I feel so thankful to have grown with all of them."
During her time at the Wright Institute, April thoroughly enjoyed her classes and professors. She loved the Couples Counseling class with Dr. Ben Caldwell. "I was thrilled to have him as a professor," she shared. "He is highly skilled and I deeply appreciated his learning style and humility, despite his fame." April was shocked to find that she enjoyed the Research Based Practice course with Dr. Nnamdi Pole, noting that it completely changed her mind about research. April also loved her Professional Development Seminar with core faculty member Dr. Kristin Dempsey, who was also her faculty advisor. "I will always try to channel my inner Dr. Dempsey for the rest of my career," she admitted. "I feel so thankful to have grown under her wing. She's such a gem of a human!"
April worked as a School Counseling Intern at the Discovery Counseling Center for her practicum, where she had the opportunity to serve as an ECO CAMP Co-Facilitator. "I was very excited for this opportunity to be a part of Discovery's pilot eco camp during the district's spring break," she recalled. After a successful spring camp, she returned to help with summer camp as well. "It was a nice opportunity to help kids with their mental health in nature and support them in identity development and relationship building skills," she shared. April took away from this experience an understanding of the impact that programs like ECO CAMP can have on children.
The most valuable lesson April learned during her time at the Wright Institute was to believe in herself. "Graduate school really helped me to re-build faith in myself and that I'm where I'm meant to be in life and I deserve to be here," she reflected. "I definitely still have imposter syndrome sometimes, but in my heart I also know that I'm meant for this and I feel so thankful I'm able to follow my dream." Her advice to current or prospective Counseling Program students is to breathe and rest assured that they can do this and they're meant to be here. April also urges them to "plan ahead and organize, organize, organize" for the best results in their courses.
Reflecting on her time in the Counseling Program, April feels that "the program was thoughtfully tailored" to prepare her and her classmates for their careers. She gained exposure to many modalities during her graduate studies, but her favorites are Cognitive Behavioral Therapy (CBT), Dialectical Behavioral Therapy (DBT), Acceptance and Commitment Therapy (ACT), Narrative Therapy (NT) and Art Therapy (AT). "These therapies have helped me so much in my personal life and I feel they've impacted my participants in the same manner," she shared. "I especially feel that the values exploration of ACT is extremely powerful no matter what your diagnosis is, or frankly even if you don't have a diagnosis."
Since graduating from the Wright Institute in August of 2022, she has been working as a Mental Health Therapist at Fred Finch Youth & Family Services in their School Based Services program for Contra Costa County. "After doing my practicum at Discovery, I knew I wanted to continue working in the school system and I had heard of Fred Finch's excellent reputation, so the second I saw that ad for the position, I knew I had to apply," she recalled. April enjoys pretty much everything about her current role, especially supporting her participants and their families. The most challenging part of the job is that it's a high stress environment, so April monitors her stress levels and takes steps to keep them under control. "I'm an empath, so this work definitely drains me sometimes," she reflected, "but it's also extremely rewarding and I'm so passionate about it, so it evens out."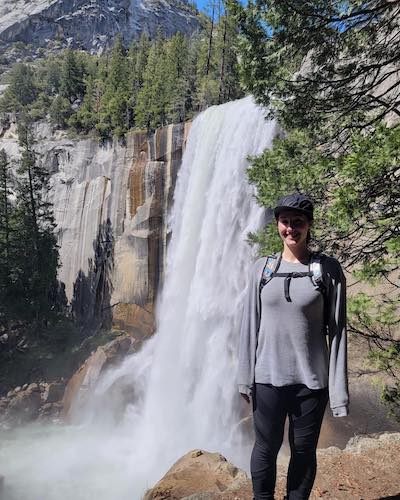 In her free time, April loves to spend time in nature. She is a very active person and enjoys camping, hiking, and snowboarding with her boyfriend. While spending time outdoors, they also spend time bird watching.. "I also enjoy working out at home or going on runs during the week as I feel it helps my mental health a lot," she shared. "I've been off of psychiatric meds for the last eight years, so nature and exercise are my medicine." Some of April's other interests are music, spending time in the water, yoga, and meditation, all of which she finds therapeutic. She and her boyfriend also enjoy playing Magic The Gathering and watching Lord of the Rings movies.
Looking to the future, April sees herself staying at Fred Finch for quite a while. "I have no intention of leaving as I feel extremely supported and they provide excellent training," she shared, "I also love working in community mental health and treating diverse clientele and supporting participants with a wide range of mental health challenges." She also loves the schedule that being in a school based system allows her. "Seeing as I have mental health challenges myself, self care is of the utmost importance in my life," she reflected. "I actually wish everyone had this schedule because it helps create a deep sense of essential work life balance." Despite being very happy in her current position, April shared that she may one day pursue a career as an OCD therapist. "Growing up I was always drawn to school based therapy and also being an OCD specialist," she recalled, "so who knows where I'll be in 5-10 years, but wherever it is, I know I'll be living my dream!"