Alumni Spotlight: Alison Hui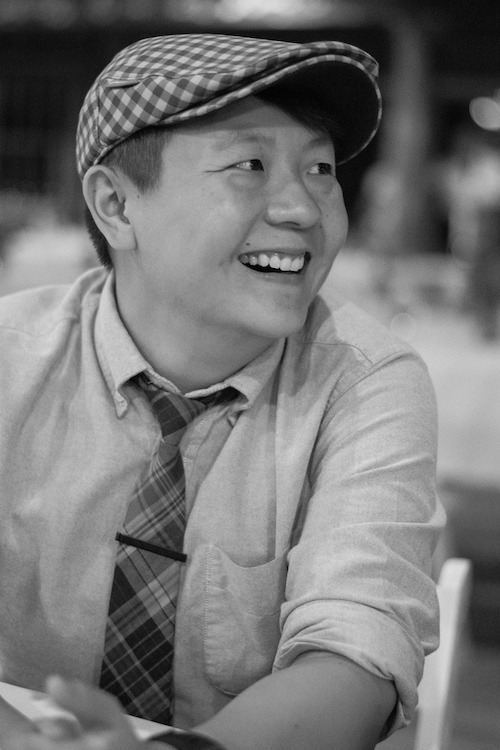 "People seem to be drawn to me and confide in me, so that was what piqued my interest in psychology," shared Wright Institute Clinical Psychology Program graduate, Dr. Alison Hui.
Alison was born and raised in Hong Kong in a middle-class home with their parents and two younger siblings. At fourteen, the family relocated to Guam. "It was a big transition, especially since it was the time in my life when I had just started having a little bit more autonomy," they reflected. "In Hong Kong, I could take the bus or the subway everywhere and then in Guam, you needed a car to get around." In addition to the lifestyle adjustments, Alison also had to learn to speak English. "I actually watched a lot of American television and movies to kind of get myself used to the lingo," Alison recalled. "It was a sink or swim kind of situation for me."
While in high school, Alison began taking college courses to get ahead and developed an interest in psychology. They went on to major in psychology during undergraduate studies at the University of Guam. After graduation, Alison chose to relocate to California to pursue a doctoral degree. They applied to several PsyD programs but chose the Wright Institute because of its "personal touch." Alison explained that "the Wright stood out as a smaller school, where it seemed like I would get personal attention from administrators and professors," unlike larger programs that seemed more like a business.
During their first year at the Wright Institute, Alison joined the Students of Color group and later became the president of the group as well as a Student Trustee. When asked how these opportunities shaped their experience, Alison said it taught them "not to be afraid to ask" for what they need. Alison shared that this experience has helped not only at the Wright Institute, but also later in their career. "I learned not to feel like I can't ask for things, and that allowed me to push the boundaries a bit," they reflected.
One of Alison's happiest memories of graduate school is helping to organize a Multicultural Symposium that took place in advance of the Multicultural Awareness course. They noticed pushback about the course and were concerned that "some people believe that clients are just people, that culture doesn't matter," a belief Alison thinks has become less persistent over time. Alison helped to organize the event, invite guest speakers and provide an opportunity to "expose students to these ideas before the start of the class, emphasizing the importance [of multicultural awareness], and addressing people's concerns."
Throughout their time at the Wright Institute, Alison took a wide array of courses and enjoyed the flexibility offered by the program. Unfortunately, they also found that flexibility to be a bit of a challenge. "I think it required me to be very structured, and I really wasn't," they admitted. "That created some challenging moments where I felt like I wasn't as anchored and I didn't know what I wanted to specialize in." After taking some time to explore their personal and professional identity, Alison found their path.
The title of Alison's dissertation is "Cultural sensitivity training in clinical neuropsychology post-doctoral training programs." While working on their dissertation, Alison developed a close bond with their dissertation chair, Dr. Anatasia Kim. In their research, Alison found a "significant gap in training programs surrounding the intersectionality of a patient's identity." They discovered that many programs espoused the idea that "a brain is a brain is a brain," ignoring the impact of exposure to different cultures, ways of thinking, ways of problem solving, and language. "I guess my hope is that it's changed since then, but it's still a kind of a struggle," Alison shared.
Alison's specialty is in Clinical Neuropsychology, a field that they find fascinating because of the many unknowns. "During the Obama Administration, he talked about the field of neuroscience being our next frontier, and I feel like that's true because it's so connected to everything that we do and everything that we are," Alison reflected. Thinking about their passion for the field, Alison shared an experience working at the Butler Hospital with patients with a condition called normal pressure hydrocephalus. The condition presents with low cognitive scores and "patients look like they have developed a degenerative disease, but that condition is actually reversible." Alison found great joy in watching these patients' recovery and hopes that, in the future, we can discover treatments for Alzheimer's, Parkinson's, and other neurological diseases.
Since graduating from the Wright Institute in 2012, Alison has gained experience in research and in teaching. Currently, they are an Associate Lecturer at the University of Massachusetts, a Teaching Fellow at Harvard University, and an Adjunct Faculty member at Endicott College, which makes for a very busy schedule. Alison is most proud of having the opportunity to teach at Harvard where they are "working alongside world famous psychologists and teaching Harvard students."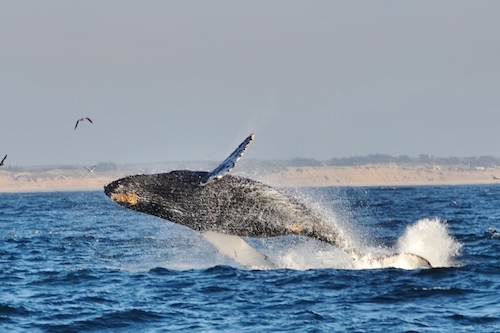 In their free time, Alison enjoys "spending time outdoors, kayaking, and just being in nature." They also enjoy photography, as evidenced by the beautiful photo of a humpback whale that they shared with us. This photo was taken outside of Moss Landing in Northern California while Alison was on a whale-watching trip where they were fortunate enough to see several species of whales, including blue whales, the largest mammals to have lived on earth. Another passion of Alison's is competitive dragon boating. "When I first came out here for my internship, I was working at South Cove Community Center, a clinic where we served mostly Chinese speaking patients, and on one of the first days, my supervisor told us we'd all be part of their dragon boat team," Alison recalled. Since then, they have participated in many competitions, winning an array of medals, and most recently they were part of the Harvard team that won three medals in Montreal in 2019. This carries on a tradition started by their father, who took part in corporate dragon boat competitions in Hong Kong when Alison was a child.
When asked to share their advice for current or prospective Wright Institute students, Alison emphasized the importance of connections and varied experiences. They encouraged students to "connect with people from other years, especially those who are more advanced than you, to get a sense of what courses and professors they liked." Alison shared that this not only benefited them at the time, but also helped them build the networking connections that would be important after graduation. Also, they suggested that students should "take as many electives as they can" and "try as many different kinds of placements as possible."
Looking to the future, Alison shared that they don't feel like it's sustainable to continue in their current adjunct teaching roles long-term. They enjoy the world of academia, but would like to "apply [their] teaching experience to instructional design, DEI consulting, or UX type roles." Their organizational and interpersonal skills would make them an excellent fit for such a role, and we wish them the best of luck on their journey!


Click here to learn more about the Wright Institute's Master of Counseling Psychology program.
Click here to learn more about the Wright Institute's Doctor of Clinical Psychology (PsyD) program.