Student Spotlight: Ananya Rajaraman, first year Diversity Committee Representative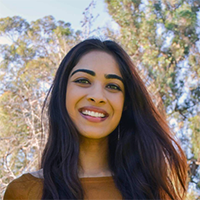 "I had a mentor that said stereotypes are like paper cuts - they may seem small and insignificant, and no one on the outside can really see them. But you feel each and every one, and they can really build up over time."
Fresh out of her Diagnosis & Empirically Supported Treatments class with Professor Beth Greivel, Ananya Rajaraman settles in for an interview. From her first answer, it's clear why she was elected as the representative of first year students on the new Counseling Psychology Program Diversity Committee. "Community advocacy is something I've always been interested in. Sometimes it feels like I can't change anything because I'm only one person, but I'll continue to make an impact in any way I can."
Ananya and her colleague Andre Jackson will serve as the inaugural members of the Wright Institute Counseling Psychology Program Diversity Committee. She will represent a cohort that is open-minded and devoted to crafting a safe space for every student. "I think we're playing things really safe right now as we're getting to know each other," she says. "People in my cohort are definitely respectful and responsive to issues of diversity and inclusion, and I hope this continues."
New in the 2018-2019 academic year, the Counseling Program Diversity Committee includes two elected students who partner with members of the faculty and administration to address diversity issues within the Counseling Psychology program. The purpose of the committee is to support efforts to better understand, define, articulate and act upon the program's mission to "prepare and inspire a diverse student body to provide culturally sensitive mental health services that support resiliency, recovery, and social justice." The committee will continuously cultivate a thoughtful approach toward inclusive education and community.
Ananya has a couple ideas on where to start her work with the Diversity Committee. "I want to provide a weekly forum where students can come forward with ideas, suggestions, and concerns." Her ideas even stretch beyond the confines of the Wright Institute. "I think learning from other schools that have diverse student bodies could help the Wright Institute become more diverse as a whole."
Ananya's faculty advisor, Dr. Kristin Dempsey, doesn't hold back when praising Ananya. "She has sought out opportunities to research addressing refugee needs, and has also volunteered to support advocacy for domestic violence survivors. I think such experience, along with her compassion and enthusiasm for the work, makes Ananya uniquely prepared early in her career to further develop her passion for serving diverse communities."
Her peers are also confident she is the right person to serve on the committee. "I think Ananya's fiery passion for equality will make her fantastic for the role," says Eva Cantor, Ananya's cohort-mate and friend. "I'm proud to have her as my representative in the Diversity Committee."
Ananya earned her undergraduate degree from UC San Diego after growing up in Kuwait and Singapore. When it came time to choose her next step, she was drawn to New York, but opted for the Wright Institute because of its program. "As a future counselor, I hope to advocate for the development of normalcy among commonly stigmatised behaviours in the community. So I was particularly attracted to the Wright Institute's mission to integrate issues of social justice into clinical settings. I hope to improve access to mental health facilities to marginalized communities, areas of low socioeconomic status, and at-risk populations"
The Wright Institute's location was also a determining factor. "I knew I was going to spend a lot of years here, so it had to be a place I liked!"
It's clear Ananya is aiming to take advantage of all the Bay Area has to offer, and that starts with her practicum, which she will begin in the fall as she enters her second year of the Counseling Psychology program. She is looking for an agency that aligns with her passion for social justice while providing a unique and new experience. "My top choice is the Prison Behavioral Center in San Francisco. I'm really interested in how people respond to trauma and how people represent themselves through pain."
The focus on trauma is another reason why she is so interested in her classes at the Wright Institute. "There was a lecture in the Diagnosis and Empirically Supported Treatments class where Professor Greivel brought in some bits of lavender. She wanted to use it to stimulate our sense of smell, to ground us in the present moment. This type of tactic is used to help treat severe trauma and PTSD. It's definitely something I can see myself using in the future."
Ananya's future clients will undoubtedly benefit from her experience working with marginalized populations. She spent six months working at the refugee health unit in San Diego while she was at UCSD, and is drawn to minority, immigrant, and refugee communities. "We can all learn from first-generation immigrants. Many people have parents that didn't grow up here, and that experience is important."
Ananya also has a clear vision of life after graduation. "I actually see myself working in an international high school." When told that Oakland International High School is a great practicum site, she responds with a smile. "Maybe. I don't really want to apply to any high schools, even though I need hours working with kids and families. I do see myself working in a high school setting long-term, but I want to have a different experience for practicum. But I might make an exception for Oakland International!"
While life after graduation is still over a year and a half away, Ananya is focused on helping the Wright Institute community now. "Inclusivity starts with educating people, especially when they make mistakes that they don't recognize." Making change starts in daily life, in conversations and in unnoticed mistakes.
"We're all going to mess up and give somebody an emotional papercut at some point. When we do, having a conversation about stereotypes and biases can turn that mistake into something positive."
Learn more about the Wright Institute's Doctor of Clinical Psychology (Psy.D.) program.
Learn more about the Wright Institute's Master of Counseling Psychology program.