Student Spotlight: Allie Jackson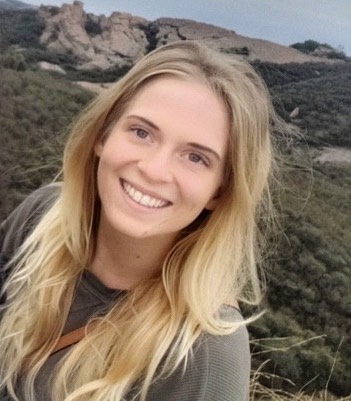 A few weeks before her graduation from the Wright Institute Counseling Psychology Program, Allie Jackson is reflecting on her past two years while looking ahead to her career as a clinician. "I don't know if it's possible for a student to finish this program as the same person they were when they started," she says. "I feel like I've grown immensely in the past two years."
A Southern California native, Jackson studied Psychology and Spanish at San Diego State University. She applied her studies into on-campus experience in the social psychology research lab. "That experience with research was one of the primary reasons why I wanted to go into psychology," she says.
Jackson also played on the club water polo team, serving as captain in her senior year while working in the research lab. "It was a lot of fun to be able to navigate those two very different worlds while being able to look at the group dynamics in my club team through a social psychology lens," she says.
Serving as club president also allowed Jackson to gain the experience of managing financial realities in an organizational setting. While scholarship-based sports are funded by each school, club sports are funded by the students on each team. Jackson gained valuable experience fundraising, as well as managing limited budgets - a precursor of working in community mental health settings where funding is often scarce.
Jackson has also been an avid swimmer for many years, and worked as a swim instructor and lifeguard throughout her time at San Diego State. "The pool has always been an area of inspiring human connection for me," she says. "Being able to see someone's growth as a swimmer, especially someone who hasn't learned those skills before, is deeply gratifying."
She continued to spend time as a swim instructor and lifeguard while at the Wright Institute.
"Working in the research lab for a few years was rewarding, but it made me long to work with people face-to-face," Jackson says. After graduating from San Diego State, she got a chance to do just that, working with children with Autism Spectrum Disorder at Coyne & Associates in Encinitas, California. Jackson administered Applied Behavioral Analysis (ABA) therapy to young children, collaborating with the children and their families to develop basic learning skills as well as using behavioral techniques to decrease some of their socially harmful behaviors.
The Wright Institute's cohort model attracted Jackson when she was looking for a program. "It struck me as an ideal way to build relationships with my future colleagues as well as an opportunity to truly connect with my professors," she says. "I came from a university where I would sit in a lecture hall with 500 students, and being in a room with just 14 other students is a much better learning environment for me." Jackson also cites the program's physical location in Berkeley, where a variety of clinical opportunities are available, as another draw.
In her two years with the program, Jackson has found that that smaller learning environment has worked to her advantage. "Having such a tight-knit group of peers that are learning alongside me has helped me come into my own as a clinician," she says. "We can bounce ideas off each other, compare practicum experiences, and check in with each other about the process of becoming a professional in this field."
Alongside her full slate of classes and her supervised clinical experience, Jackson served on the Counseling Psychology Program's Executive Committee during her second year. Along with three other student representatives, Jackson met with the Counseling Psychology Program Director and other members of the Wright Institute Administration and faculty to discuss issues such as academic culture, curriculum, and diversity.
"It was a unique experience to see the inner workings of how a program is run," Jackson says of her time on the committee. Elected by her fellow students, Jackson was responsible for receiving feedback from her peers and working with the administration to implement changes that addressed issues that they raise.
Jackson's own practicum experience took place at Bay Area Community Resources (BACR), working with elementary school students. However, as the COVID-19 pandemic forced schools to move classes online, Jackson's responsibilities changed as well. She ended up working much more with families than she had expected, and even held individual sessions with the parents of students.
For someone with no previous experience in telehealth, Jackson found the transition challenging yet rewarding. "There were a number of young students who I would engage in play therapy with, and that's not possible when you're not in the same place," she says. "Those limitations were a silver lining in that they pushed me to be more creative."
After graduation, Jackson wants to continue her work with children and families. After spending two years in the Bay Area, she is returning to Los Angeles to be closer to her family, and will secure an associateship there. "My parents, my brother, and my grandmother are all excited to get to spend a little more time with me!" she says. "My grandmother is a psychotherapist, and my experience in this program has given me a new way to connect with her as well."
Jackson's interest in conducting research grew through her time at San Diego State's social psychology research lab, and she considered pursuing a PsyD. While that is still a long-term goal, Jackson isn't looking to go in that direction any time soon. "I'm most interested in getting my feet wet with the day-to-day work of counseling," she says. "I have a lot of passion for the world of community mental health, and I would love to continue to work in that space for at least the next few years."
Though she won't rush into it, Jackson does eventually want to establish a private practice. "I've been interested in business management for some time, and I do want to put that into practice," she says. In some ways, it's an extension of her position as club water polo president back in college - finding out how to generate revenue after starting from scratch.
Until then, Allie Jackson will focus on growing as a clinician. "I want to get my MFT licensure, continue to learn new skills, and work to help individuals and families," she says. Even though Jackson no longer works as a swim instructor, she has found that the principles of support and guidance are continuing to lead her through her career in psychology. "Seeing someone float for the first time in the pool is a lot like helping someone in therapy. It's truly special."


Click here to learn more about the Wright Institute's Master of Counseling Psychology (MA) program.
Click here to learn more about the Wright Institute's Doctor of Clinical Psychology (PsyD) program.