Student Spotlight: Darcy Dittrich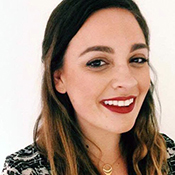 "Sometimes I see someone in need and ask myself, 'What can I do to change this person's reality?' I always come back to the idea that anything is helpful. Any amount of attention or energy can be healing."
After a decade-long career in sales, Darcy Dittrich is changing her reality in her first year of the daytime format of the Wright Institute Counseling Psychology Program. "The decision for me to pursue this degree was a long time coming," she says, "but it also felt like a fast decision in the moment."
Originally from Connecticut, Dittrich attended Michigan State University and came to the Bay Area by way of Baltimore. "I loved living in Connecticut because my community was diverse, fast-paced, and honest," she says. "But sometimes the interest in emotions and sensitivity that I have is not always valued as much as it is out west. The Bay Area feels like more of a fit for me."
Dittrich worked in sales at many different companies across the United States, including Dropbox and Johnson & Johnson, where she got some experience working with medical professionals. The last sales job she held before starting at the Wright Institute was at a startup called Big Health, which created a digital program called Sleepio to help people overcome insomnia . "We sold to large employers through their benefits departments as one answer for impacting mental health in employee populations," Dittrich says. "That experience really made it clear to me that we need more therapists, especially those who want to work towards making therapy more accessible."
"I began looking at different programs in July of 2018, and after attending an information session at the Wright Institute it became clear to me that it would be a good fit," Dittrich adds. Shortly after beginning the program, she knew it was the right decision for her. "On the first day of our Counseling Theories and Techniques course, the first thing Dr. Schechter said was 'You're all in the right place, pursuing the right path.'"
Dittrich has found a true passion for the field and the work throughout her time at the Wright Institute. "There's a lot of trauma, abuse, and social injustice in many different populations in the Bay Area," she says. "I'm particularly interested in working with marginalized communities who have limited access to mental health care."
In the coming months, Dittrich will begin her practicum placement at the Stonewall Project, which provides harm reduction-based counseling, treatment, and support services to gay men, trans men, and other men who have sex with men. A program of the San Francisco AIDS Foundation, Stonewall has been a practicum site for several Wright Institute students in recent years. "I'm super excited about it," Dittrich says. "Several different factors drew me there, most notably the culture, which is collaborative and focused on the harm reduction model. I think that an approach that doesn't demonize self-harming behavior is the best tool to helping this population."
The population that Stonewall serves was another draw for Dittrich. She says, "When thinking about the culture and history of the Bay Area, I was really attracted to working with an aspect of the LGBTQ community and seeing how I can become a better ally." Dittrich hopes to be able to take the skills she will learn at Stonewall and apply them to other situations in her career.
"A class I particularly enjoyed was Counseling Theories and Techniques, which was really interesting to me because it introduced the variety of ways in which we can work with clients." Dittrich has a distinct interest in the ways in which the field of psychology uses evidence, an idea that is explored in Research Based Practice, another first-year course. "I think it's essential to use evidence to develop treatments that are the most effective for clients. I love having the opportunity to explore different methodologies so I'll be able to be flexible and use myself in the best way for someone else."
In addition to her schedule of classes, Dittrich also serves as a student representative on the Wright Institute Counseling Psychology Program's Executive Committee. Alongside three other student representatives, Dittrich meets with the Counseling Psychology Program Director and other members of the Wright Institute Administration and faculty to discuss issues such as academic culture, curriculum, and diversity. "I have always enjoyed acting as a liason, so it's great to be able bring the student perspective and the administrative perspective together," Dittrich says. "Getting reacclimated to education can be overwhelming, and this term in particular has been stressful for many students." Her principal goal is to help her fellow students find ways to express their needs to the Wright Institute administration.
At Michigan State, Dittrich spent a lot of time cheering on the Spartans at basketball games. "I used to camp out for season tickets," she laughs. In the classroom, she majored in Interpersonal Communication, which she regards as a stepping stone for careers in both sales and therapy.
Dittrich feels that her sales experience will greatly help her as a therapist. "A sales career actually has many shared aspects with a counseling career," she says. In her eyes, those similarities are manifested in how people in each career achieve their goals. "The goal in sales is ultimately to close the deal, but there are often outside forces that can keep you from achieving that goal," she says. "It's important to be able to develop some humility and recognize that you are not the only creator of change."
That idea is something that Dittrich sees as being essential to her burgeoning mental health career. "I know that I will not be the creator of change in the therapist-client relationship. It's not me doing the healing - it's the client," she says. "I'll simply be a tool to help them."
Eventually, Dittrich plans to work in private practice. "In many of my past jobs, I've been under the thumb of a manager who often did not know how to be a manager. That had made life stressful in the past, so I'm looking forward to having the autonomy to run things the way I think is right," she says.
When she does establish her own private practice, Dittrich will have a deft hand at navigating the business side of therapy. "It's important to regard therapy as a business, because there are professional boundaries that we need to set for ourselves and for our clients that are safe and natural," she says. "I'm there to support the client and to help them heal, but this is also a business arrangement, even if it can be awkward to ask for payments."
No matter what private practice work Dittrich does pursue, she will continue to focus on the issues that she feels most connected to. "I see myself continuing to work with marginalized populations, but my lived experience has also given me a strong passion for equality in the workplace," she says. "I think it's important for me to try to empower people to voice what they need, because it can be scary."
She also cares deeply about helping people evaluate mental health care. "I've had so many friends who were confused about how to find a therapist or what questions to ask them," she says. "Since there's such a stigma around getting help, it can be easy for people to give up after having one bad experience. People start to think that maybe therapy just doesn't work for them. What I want to ask them is, 'Would therapy work for you if you had someone who works for you?'"
Beyond that, she tries not to worry too much about her future. "I think I'm guided by the idea that my plans often don't go according to plan," she says. With that mentality, Dittrich is looking forward to a career with a lot of variety, and wants to be able to integrate perspectives from many distinct sources.
"I believe it's possible to make an impact no matter where I am," she says. With her outlook on life, passion to help others, and professional know-how, it's clear Darcy Dittrich will be impacting lives for the better no matter where life takes her.


Learn more about the Wright Institute's Master of Counseling Psychology program.
Learn more about the Wright Institute's Doctor of Clinical Psychology (Psy.D.) program.