Student Spotlight: Joe Latuga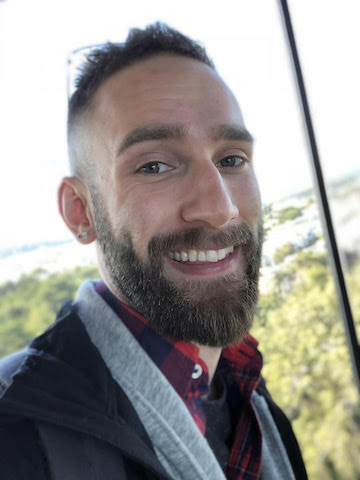 After two years in the Wright Institute Counseling Psychology Program, Joe Latuga is about to graduate and move on to the next challenge. "The last two years have been such a journey for me, both personally and professionally," he says. "My experience has reaffirmed my decision to come back to school, and I'm sad that it's almost over!"
Latuga studied psychology at the University of Massachusetts at Amherst, graduated in 2012, and became the director of a gymnastics school before working as an HIV test counselor. After participating in AIDS/LifeCycle in 2014, he moved to California and began working as a weekly volunteer for the San Francisco AIDS Foundation's Strut Program. "That work was really intense," Latuga says, "but it allowed me to realize that this is the kind of work I wanted to make a career out of."
While working in Massachusetts, Latuga was struck by how inadequate the services for the queer community were in his home state. "The difference between how services were delivered in Boston and how they were delivered in my hometown was mind-blowing," he says. "Even in Boston, a traditionally progressive city, a lot of the services for queer clients was fear- and abstinence-based, rather than being sexpositive or sexinclusive." When someone close to him was diagnosed with HIV, Latuga knew he had to contribute to improving services for queer clients. "The shame and stigma this person faced was staggering," he says. "Knowing I could have a hand in changing that was an incredible motivation to pursue a graduate degree."
Latuga's time at Queer LifeSpace in San Francisco, where he completed his practicum during the Counseling Psychology Program, was vastly different. "The harm-reduction model that I see being used out here makes a world of difference, but the most incredible part of working at Queer LifeSpace is the community," he says. "Seeing a community of dedicated clinicians that are like-minded and passionate about this work has also reinforced my decision to come back to school." Queer LifeSpace is a small, private practice-model agency made up of a collective of queer therapists delivering services on a sliding fee scale.
As a first-year student, Latuga had a powerful experience in the course Multicultural Awareness and Sensitivity (MAS), which "seeks to expand students' understanding of how diversity issues such as ability, class, gender, race/ethnicity, and sexual orientation inform effective mental health care." It is an opportunity for students to have purposeful cross-cultural conversations, and Latuga calls it one of the most formative classes in his two years at the Wright Institute.
As a second-year student, Latuga decided to return to the MAS class as a Teaching Assistant (TA). As a TA, he facilitated small groups that required students to have difficult and deeply personal discussions. "Being able to experience the class from the 'other side' was so unique," he says. "As a TA, I was able to work with the students to facilitate conversations that otherwise may not have happened."
Shining a light on difficult discussions was invaluable for Latuga's own growth and learning as a clinician. "'Containing' conversations like those is extremely challenging." Many of the small group discussions required him to adopt a trauma-informed approach, as students would address personal challenges on topics of race, gender, sexuality, and more. "For example, when you create discussions about racial inequity and systemic oppression, hard truths will come up. That always requires a level of trauma work."
After each class session, each of which were three hours long, the teaching team for MAS met to address how the session went, and how they could best guide the class for their students. Leading the class were Wright Institute core faculty members Taquelia Washington and Katherine Tarnoff. "Professor Tarnoff was my advisor when I began here, and she has helped me face the impostor syndrome that often comes with doing this job."
Joining Latuga as TAs were fellow second-year student Mireya Gonzalez, and 2018 graduate Teague Craig. "Those post-class sessions allowed each of us to be aware of how we handled difficult discussions on a personal level. It's important to remember that practicing self-compassion is what makes the process so valuable, both as a student and as a TA."
Spending three months connected to MAS has shaped how Latuga views his future in the field. "I want to stay connected to multicultural conversations in therapy," he says. "As a cisgender, queer, white guy, I have a responsibility to use my privilege to facilitate conversations about racism." Latuga began working at Richmond's Bay Area Community Resources (BACR) in August.
While he'll be working with middle school students at BACR, Latuga still has a strong passion for working with queer adults. "There's so many ways I can continue to help queer clients, whether it's with sex therapy, couples therapy, or substance abuse." he says. "I'm also enjoying working with queer people through focuses like sex therapy, relationships with more than two partners, and the link between substance abuse and sex in queer male culture."
Alongside his agency work, he has an upcoming associateship with a private practice clinician. While the experience will be helpful, Latuga doesn't want to jump straight to private practice. "There's so much amazing work that can only happen in community mental health," he says.
With BACR, Joe Latuga is spending time as a middle-school based counselor. It's a new challenge for him, but he's learned to apply the lessons learned at the Wright Institute to any population. "When you create intentional space for people to drop into their feelings, people will have powerful experiences. I'm glad I get a chance to help facilitate that."


Click here to learn more about the Wright Institute's Master of Counseling Psychology program.
Click here to learn more about the Wright Institute's Doctor of Clinical Psychology (Psy.D.) program.