Wright Institute Students of Color "Party in the Margins"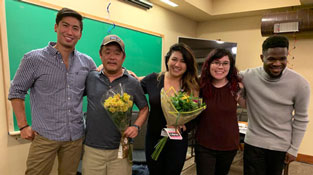 Photo: Joshua Chow, Leon Wann, Julianna Bianes, Candice Bain, and Chizite Igwe
From Wednesday, May 15, to Friday, May 17, Wright Institute Students of Color (WISOC) hosted the 2019 Wright Institute Multicultural Symposium. Titled "Party in the Margins," the event featured guest speakers and performers, music, food, a student open mic, and collaborative art pieces.
"As organizers, we felt we needed to have a strengths-based approach incorporated into our symposium," says Joshua Chow, a Wright Institute Clinical Psychology Program student and one of the organizers of the event. "That's why we supported the theme name 'Party in the Margins.' We're so often told to be silent with our marginalized identities, but as a form of resistance (and fun) we wanted to celebrate our identities."
"The name 'Party in the Margins' actually comes from a podcast, What's the Tee?, with RuPaul and Michelle Visage," says Chow. "They speak about being rejected because of their marginalized identities. Instead of being angry that they are in the margins, they decide to party in them instead."
"Too often marginalized communities are described as being victims," first-year Counseling Psychology student Ananya Rajaraman adds. "'Party in the Margins' allowed members of marginalized communities to come together to celebrate differences and honor different cultures through song and dance."
WISOC's edition of "Party in the Margins" kicked off with a presentation from Rahman Jamaal, founder of Rap Force Academy and star of the 2003 film The Beat. Jamaal wrote and produced the music for the movie, and works to use rap as a teaching tool in schools, juvenile halls, and non-profit organizations.
On Thursday, Breanna Sinclairé, the first trans woman to sing the American national anthem at a professional sporting event, shared her story with the students in attendance. Also the first trans singer to perform with the San Francisco Symphony, Sinclairé was interviewed by Chow.
Sinclairé was followed by "Perspectives of Womxn of Color on the #MeToo Movement," a panel featuring Marge Grow-Eppard, Rabi'a Keeble, and Kim Tran, PhD. A member of the Miwok tribe, Grow-Eppard is dedicated to giving more visibility to missing and murdered indigenous women. Keeble is the founder of Qal'bu Maryam, the second women's mosque in the United States, and the author of Activism in a Time of Change and Uncertainty: A Muslim Woman's Perspective from the Front Lines. Tran is a postdoctoral fellow in African American studies at UC Berkeley, and was an establishing member of the LGBTQ YouthSpace in San Jose.
Friday began with a performance by No Mirror Movement, a community of like-minded dancers using their art as a tool to develop self-worth, promote body acceptance, and challenge deeply held myths of beauty and health.
The final panel of the week, "Healing the Wounds of a Genocide Through Creating a Loving Community," featuring Mona Afary, PhD, Thavery Hov, and Elijah Chhum. Afary founded Center for Empowering Refugees and Immigrants (CERI), a nonprofit organization based in Oakland with a mission to improve the social, emotional, psychological, economic, and physical health of refugees and immigrant from Southeast Asia affected by war, torture, genocide or other forms of extreme trauma. Hov and Chhum initially came to CERI as clients, and now serve on the staff.
Before founding CERI in 2005, Afary worked mainly with a population of survivors of the Cambodian genocide, most of whom had suffered atrocities at the hands of the Khmer Rouge. In more recent years, she has seen many children of genocide survivors, such as Hov and Chhum, walk through CERI's doors. "While working with this population, you face so much injustice," Afary says. "You either need to fight it, or find some other way to help those affected by it."
"I think many survivors of the genocide took out the trauma they faced on their children," says Hov. Born and raised in Oakland, Hov had to navigate an incredibly traumatic childhood, and did not learn of her parents' experiences in Cambodia until she was about 17. She found a home at CERI, where she met Afary and began working for the Center's youth program. After many difficult years, Hov is now attending college and pursuing a degree in criminal justice. "I wouldn't have been able to achieve any of this if it wasn't for the CERI team," she says.
Chhum grew up in Rochester, Minnesota, and was also raised by two survivors of the Cambodian genocide. He shares Hov's viewpoint of the ways that genocide survivors often deal with their trauma. "Most parents won't talk about their trauma, they'll just take it out on their kids," Chhum says. After leaving Rochester, he spent four years in film development, and five years in talent management. "I did so many things to try and 'find myself,' only to discover that all I wanted to do is talk to my parents about their trauma," Chhum says.
"Hearing the personal and impactful stories of these second generation trauma survivors of the Khmer Rouge emphasized for me the impact that community can have for Cambodian survivors of war and genocide," Rajaraman says. "The Cambodian population is one that suffers in silence, and it felt energizing to listen to the voices of the community and learn more about the impact the genocide continues to have on the Cambodian population here in the Bay Area."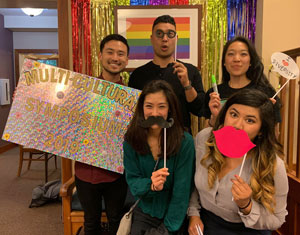 The event organizers believe that "Party in the Margins" and other events like it can inspire widespread change in the mental health field. "Events like ours may seem small and insignificant, but I believe that they are forms of resistance to some of the most prolific issues that we are facing in our society today," Chow says. "The voices of marginalized folks are not often heard, but we are able to invite them out and let them talk about their unique experiences."
About 125 Wright Institute students, faculty, and staff attended "Party in the Margins" over the course of the event. In between panels and performances, students discussed their stories, ate some fantastic food, and admired the collaborative art pieces that they had created together. A poster asked, "What is something that used to bring you shame that now brings you joy?" The responses, written by students and guests, encapsulate the sense of community that the event embodied. One student writes, "Living as a queer, Asian man in the U.S." Another, "My queerness and mixedness." One answer simply reads, "Being an immigrant." "Party in the Margins" invited all those who came to be celebrated for who they are.
"We need to remember to always recognize and honor the accomplishments of those who are celebrating their own identities," Chow says. "At our event this year, we had a lot of people to celebrate!"


Learn more about the Wright Institute's Master of Counseling Psychology program.
Learn more about the Wright Institute's Doctor of Clinical Psychology (Psy.D.) program.