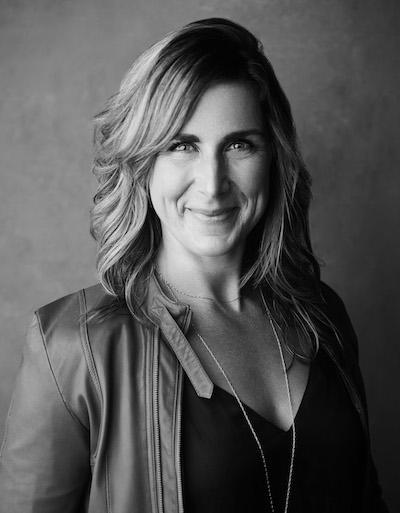 Student Spotlight: Erin Cafaro
"Because of my size, I knew I wasn't going to be able to play the same game as the rest of my teammates. So, I became interested in performance psychology and how to work on what lies within, rather than just the physical" reflected Erin Cafaro, Wright Institute Clinical Psychology Program student and two-time Olympic Gold Medalist in Women's Rowing.
Erin Cafaro grew up in Modesto, California, which was a small farming town at the time, with her parents and older brother. "The most important things in my community were farming, football and faith in no particular order," Erin shared. Her dad and brother were her heroes, "not just because they were local sport legends but because they were good teammates, good coaches, and good humans." Growing up, she had very supportive family and educational environments. In middle and high school, Erin recalled, "I straddled between two outward identities - the jock in my advanced classes and the nerd on my sports teams. "
While applying to colleges, Erin decided being part of a team was an important attribute she wanted to maintain in college. She had played basketball competitively throughout high school, but knew she didn't have the stats to be recruited to play at the colleges she wanted to attend for academics. One day, her father left a local newspaper article on the kitchen counter about an athlete from a rival high school who got recruited to row in college, not having rowed a day in her life. This athlete was now rowing at the highest level on the USRowing National Team. Erin immediately began calling an array of top colleges expressing her interest in rowing. Although most said no due to her size and inexperience, one college said yes: UC Berkeley. Thanks to a few fortunate connections and Erin's tenacity, she was able to walk on to the Cal Women's Rowing Team. "At Cal, I was able to find my community: a large niche of highly driven, nerdy athletes."
For her undergraduate studies at UC Berkeley, Erin majored in political science. "Government was not offered in my curriculum in high school and I wanted to understand more about the larger systems we operate within," Erin shared. Berkeley was a different world than the conservative farm town where she was raised. "I thought I would be taught how to be a good thoughtful liberal by majoring in Political Science at Berkeley," Erin reflected. "Instead, I was taught something more valuable: how to see all sides of an issue, how to see that any decision you make affects many humans."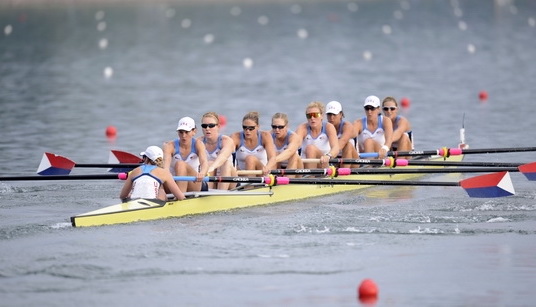 On the rowing team at UC Berkeley, Erin and her teammates won two national championships and gained the attention of the US National Team coach. Joining the US National Team, much less going to the Olympics, wasn't on Erin's radar due to her size and amateurism in the sport. However, when she saw her teammates excelling on the national stage, Erin's competitive spirit kicked in. She doubled down on her training and found wise mentors and coaches. Soon, she was invited to try out for the Under 23 team, the development team for the National Team. Erin made the Under 23 boat and before long, was invited to the National Team camp where she said, "I just kept showing up and thankfully they never kicked me out." On the National Team, Erin developed a new perspective on rowing, learning that "I didn't need to be the best. I just needed to help those around me tap into the best version of themselves."
At the 2008 Olympic Games in Beijing, Erin was part of an extraordinary group of women that were the first USRowing women's boat to win an Olympic Gold over 2000m. This achievement resulted in a range of emotions for her. "Typically the first question people ask me is 'How did it feel to be on the podium and hear your national anthem?' It's much easier to oversimplify it by saying 'Awesome!' But I experienced a full spectrum of emotions in those short moments from ecstatic joy to heavy grief and everything in between." She added, "I had dreamed and planned for the joy, but the immediate sense of loss, I did not expect."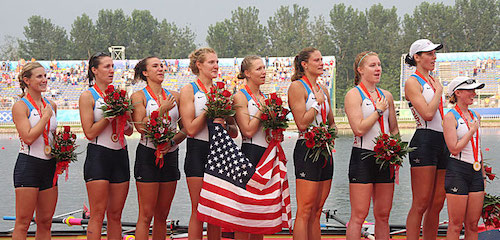 After the 2008 Olympics, Erin thought she must be "doing it wrong," so she tried again. As fate would have it, she found herself at the top of the podium again in 2012 at the London Olympic Games. "There I was again on the podium with all of my wonderful teammates who seemed to be savoring the moment smiling, laughing, and embracing," she reflected, "and somehow I felt an even deeper sense of loss." Her experience at the Olympics led Erin to a "greater curiosity about pain and pleasure and what really lies beneath our drives."
Following her Olympic victories, Erin served as a Goodwill Ambassador in Afghanistan, traveling to active conflict zones. She described the country and people as "breathtakingly beautiful" and shared, "I was grateful for the opportunity to thank those that allowed my teammates and I to be safe enough to train and perform at the highest level." Post-Olympics, Erin also got involved in coaching athletes of different ages and abilities, specializing in chronically injured athletes. "I liked working with athletes that were at a crossroads in their career. It's a special moment when something doesn't go according to plan," she reflected. "That's when I found people were more open to different ideas and ways of being."
Recently, Erin served on the United States Olympic and Paralympic Committee (USOPC) Council for Racial and Social Justice. Her biggest takeaway from her work on the committee was that barriers to entry to many Olympic sports begin long before the Olympic level. She witnessed this throughout her childhood, when members of her and her brother's sports teams faced social and financial obstacles to participation. "We all should have a chance to participate in sports and the educational opportunities that go along with it. We need to move and connect in order to learn," she shared. Erin is taking an additional year to finish the Wright Institute's Doctoral Program so she can help Oakland Unified School District build an accessible rowing program in an effort to expose students to the health and educational potentials in the sport of rowing.
In her admissions essay for the Wright Institute, Erin wrote that she "wanted to study, understand, and support athletes in their transition from their athletic career into civilian life." She shared, "It's understandable how adverse life experiences can affect people's trajectory, but after my own experiences on the podium, I became very curious why positive experiences could be so difficult to transition from as well. Most of the research points to loss of identity and social networks, however I wondered why folks at the top of their game could be so flexible and adaptive in one environment and not another." In her dissertation, Erin is exploring adverse childhood experiences of top performers and the "cost of winning." "It seems counterintuitive at first, however if you sit with it a second it makes sense. How could someone have the ability to be so resilient to physical stressors if they hadn't already had practice?" she questioned. "So it's coming full circle that folks with early adverse life experiences are usually the ones that push themselves to be the top performers."
One of Erin's best experiences at the Wright Institute was her Case Conference with Dr. Lohser during her first and second years. She described Dr. Lohser as having "an open, warm, and wise presence" that allowed her and other students to show up during the challenging years of early Covid-19 and racial reckoning. Another professor who had a huge impact on Erin was Dr. Evered, who taught her Advanced Assessment: Neuropsychological and Biological Bases of Behavior courses. "His excitement and passion for neuroanatomy was contagious," Erin shared, and he inspired her to delve deeper into the branch of neuropsychology. She's also been grateful for the steady guidance from her supervisor and Wright Institute graduate, Dr. Freitag.
The most valuable lesson Erin has learned in graduate school thus far is to get your first draft started early. "I love a good finish line," Erin admitted, "but I have also found the value of just free associating and writing a messy first draft as soon as possible. Just trust that you have good taste and you'll be able to come back and edit it later."
Outside of her studies and coaching, Erin enjoys being outdoors and spending time with her family. "I love to just go outside and hang out in nature for long periods of time," she shared. Recently she's also found joy in learning how to draw. "It has helped me process and honor the patients that I've learned so much from during my training," she reflected.
Erin is looking forward to integrating her interests in neuropsychology, chronic pain, and adverse childhood experiences in her career. When she entered the program, she felt certain that she wanted to work with athletes and assist with their transitions, but Erin has recently found herself more drawn to working in a rehabilitation setting. "Using the skills I have learned from coaching and being an athlete, I'd like to work with people who have a brain or spinal cord injury or disease they are working to rehabilitate or help them adapt to their new way of being." She believes she will likely come back to working with athletes at some point, however she is looking forward to working with people of all ages and abilities. Regardless of the career path she chooses, it seems certain that Erin will achieve great things in the future.


Click here to learn more about the Wright Institute's Master of Counseling Psychology program.
Click here to learn more about the Wright Institute's Doctor of Clinical Psychology (PsyD) program.