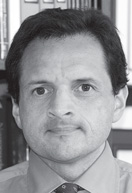 Laeeq Evered, PsyD
Half-Time Institute Faculty
levered@wi.edu
BS Psychology, St. Louis University, 1987
MA Clinical Psychology, The Wright Institute, 1997
PsyD Clinical Psychology, The Wright Institute, 2000
Dr. Evered is a neuropsychologist and clinical psychologist whose primary focus is the interplay between brain functioning and behavior. He maintains a clinical and forensic practice with areas of specific interest including complex trauma and PTSD; the impact of chronic stress, poverty, and exposure to violence on the brain; traumatic brain injury; schizophrenia; depression; personality disorders; learning disabilities; the impact of substance use on the brain; and diagnostic specificity in neuropathological conditions. The goal of Dr. Evered's clinical work and teaching is developing a model to better understand and treat psychological conditions based on current neuroscience findings.
Dr. Evered teaches courses in Neuropsychological Assessment, Biological Bases of Behavior, and the Neuroscience of Psychotherapy. In addition, he is a Board Expert Reviewer assisting the California Attorney General's Office and the Board of Psychology's Enforcement Program maintaining standards of care practiced by psychologists in the areas of neuropsychology and forensics. Dr. Evered is also a strong advocate of a broad integration of multiculturalism in his life and work.
Dr. Evered completed his predoctoral training in psychotherapy at the Karen Horney Clinic in Manhattan and his predoctoral training in neuropsychology at St. Mary's Medical Center, McAuley Behavioral Health in San Francisco. He also completed two-years postdoctoral training in neuropsychology at San Francisco Clinical Neurosciences under the mentorship of Dr. Ronald Ruff with primary focus on forensic neuropsychology.